Mount Royal's living classroom
The Child Development Lab enhances student learning using real-life scenarios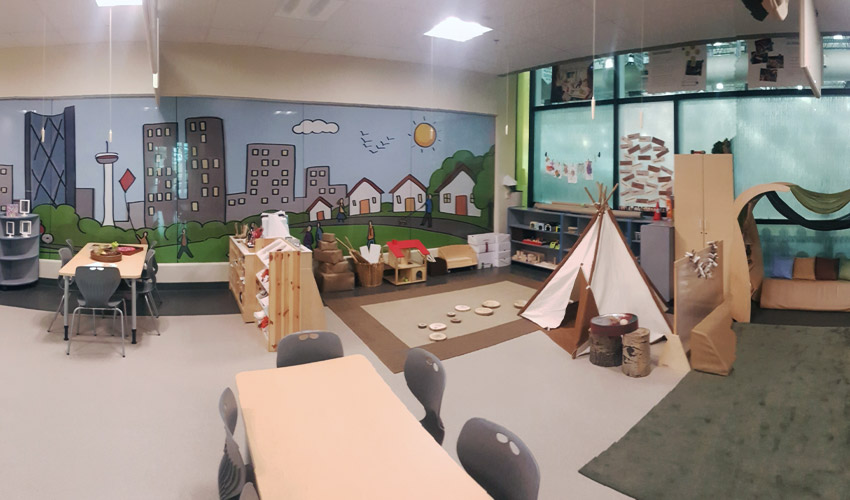 "The Child Development Lab is a space for students to learn in meaningful and intentional ways, as well as practise, learn and reflect," says Child Development Lab Co-ordinator Heather Pollard.
---
Mount Royal University's Child Development Lab is a state-of-the-art learning environment used by students enrolled in the Bachelor of Child Studies and the Social Work Diploma programs.
Students accessing the lab are pursuing careers that involve working with children and families. The lab allows them to transfer classroom theories into practical applications by providing the opportunity to observe and interact with children at play in a space furnished with a variety of traditional early learning play equipment and arts supplies.
Equipped with four cameras and 16 microphones that capture video and sound in all areas of the lab, activities are monitored in an observation room, which can also be used as a fully independent teaching and learning space.
Children's rights are always protected and respected. MRU obtains written consent not only from parents or guardians, but also from the children.
"When the children come to the lab for the first time, the course instructor and students show them the cameras and observation area, and talk to them about taking their photos and how this helps MRU students learn," says Child Development Lab Co-ordinator Heather Pollard.
"We view children as capable citizens in our Mount Royal community. And our students could not have this form of experiential learning without them."
Learning through doing is central to a Mount Royal education and the Child Development Lab is a space that supports that hands-on experience — for everybody.
Therese Wiart Jenkinson is an assistant professor in the Department of Child Studies and Social Work. Before COVID-19, she frequented the Child Development Lab with students in her first-year Early Learning and Child Care (ELCC 1180) course. The 100-hour field work course gave students the opportunity to apply their classroom theory by interacting with children in different early learning settings.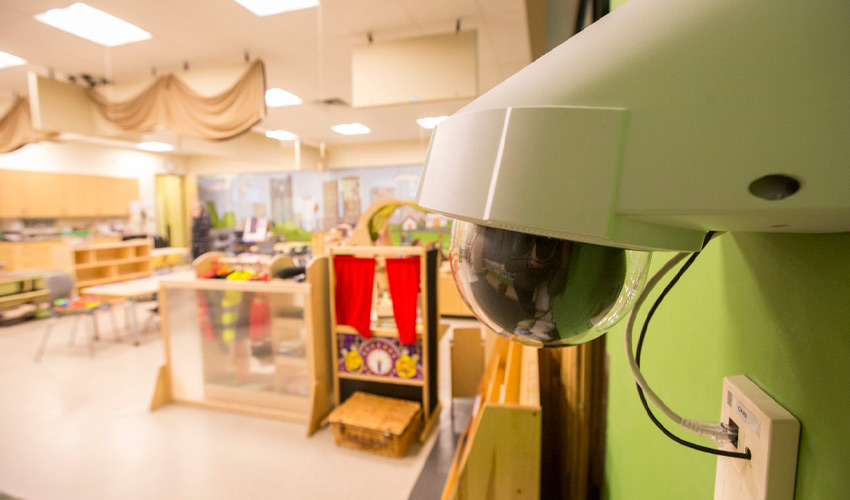 The Child Development Lab is equipped with four cameras and 16 microphones that capture video and sound in all areas of the space.
---
"Children from the Mount Royal University Child Care Centre would come to the lab and work with my ELCC 1180 students. When the children left and returned to the Child Care Centre, my class would debrief, take some time to review the play documentation and write observations," Jenkinson says.
Upon reflection, students have a better sense of how they can plan materials and play spaces for children. This type of planning allows children to learn while engaged in child-focused play.
"Learning may include developmental skills like literacy, early math and science concepts, fine motor skills, gross motor skills, creativity and social and emotional development," Pollard says.
"It also allows students to notice a child's disposition to learn, thus giving them more insight into how they may nurture the child's further learning."
Students can practice their observational and engagement skills in an environment that provides coaching from their instructor, making them "job-ready" when they go out into their first community practicum.
Jenkinson believes that "students begin their professional practices in the Child Development Lab."
"They learn to see children as capable mighty learners, and begin to understand what children learn as they play and how this lays the foundational capacities for future learning."
With the onset of the pandemic students are not coming into the lab, but Pollard does visit twice a week to work with students virtually.
"Our department Espoom tah (Blackfoot for helper), Roy Bear Chief recently conducted an online class showcasing the child tipi that we have in the lab and spoke to the students online about the significance of the poles and how this connects to their learning," Pollard says.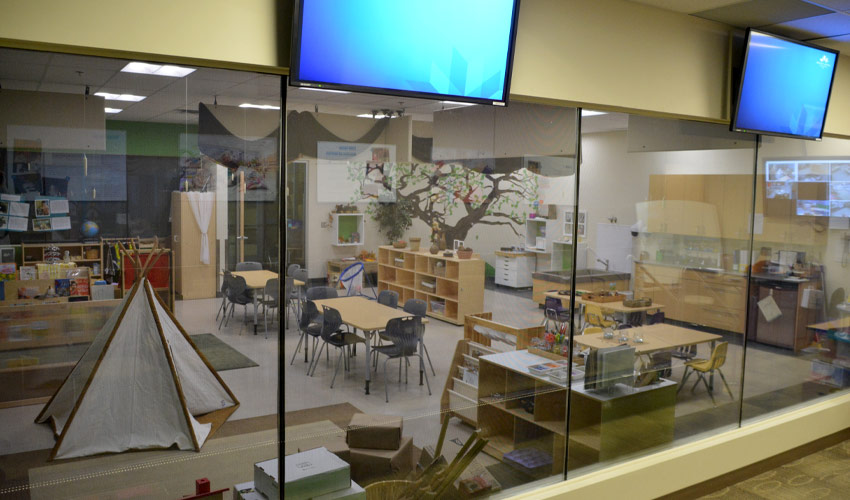 A view of the Child from Development Lab from the observation room.
---
Jenkinson and Pollard work as a team. Pollard would set up the play environments with input from the students, and operated a device called the Swivl.
"Heather would wear the Swivl, which is similar to a GoPro camera that sends and receives audio and video to something like an iPad, and walk amongst the children at play so the students could be part of the experience from the observation room," Jenkinson says. As Pollard moved through the lab, the students would dictate questions to her, which she would then ask the children. The feedback helped the students better understand how and why the children were engaging with the play environments.
Archival footage is readily available from past semesters, and Jenkinson and Pollard use this to fill the void for not being able to access the Child Development Lab at this time. Pollard also sets up the play environments that students ask of her and showcases them during virtual lab time using the Swivil tool. As planning for the winter semester continues, Pollard will look for ways to enhance virtual Child Development Lab activities.
"I really enjoyed (the Child Development Lab) with Heather. It was an amazing opportunity," says first-year Bachelor of Child Studies student Lauren Frick.
"It was a great way to be included in the program virtually and I learned new ways to support children in their play and learning through the environment."
Practicing how to observe children, using technology to guide observational practice and engage in guided reflection and group discussions are examples of experiential learning that give Mount Royal Students the advantage when they enter the job market.
"The Child Development Lab is a space for students to learn in meaningful and intentional ways, as well as practise, learn and reflect," Pollard says.
A Bachelor of Child Studies or a Social Work Diploma from Mount Royal University provides the theory and practical experience necessary to support and strengthen individuals, families, groups and communities.
Dec. 2, 2020 — Rob Petrollini
Media request contact information.
Have a story idea? Please fill out this form.