MRU earns high silver sustainability rating
More than 70 different indicators measured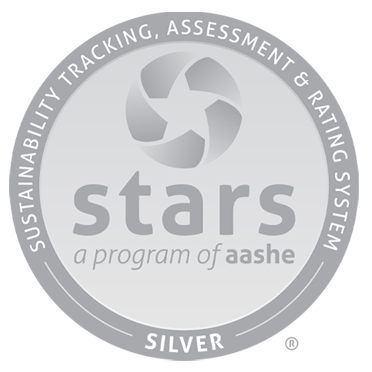 Sustainability Tracking, Assessment and Rating System silver seal.
---
Mount Royal has earned a 'high silver' in its first year of applying to a well-known international body that advocates for sustainability in post-secondary institutions.
The University scored full marks or near full marks across a range of indicators in the Sustainability Tracking, Assessment and Rating System (STARS) of the Association for the Advancement of Sustainability in Higher Education. The program considers all of the operations of an institution — from what's taught in the classroom to how hazardous waste is managed.
The indicators for which Mount Royal scored full or near full points included research, inter-campus collaboration, community partnerships, innovation, continuing education and sustainability coordination. Under the innovation category, the JMH LaunchPad program, the Iniskim Centre and Indigenous Housing Program, and the Office of Academic Indigenization were highlighted, along with the Pride Centre operated by the Students Association of Mount Royal University.
"We are in the top quartiles compared with Canadian graduate and undergraduate universities for curriculum, research, campus engagement, public engagement, purchasing and coordination of planning," says Jessica Russell, a project analyst in Facilities Management and the overall lead for the application.
"Overall we were very close to getting gold." In academics and research, Mount Royal's performance is comparable to much larger Canadian research institutions.
In all, 34 different functions, services or outcomes across campus received full or near full marks.
Cross-campus initiatives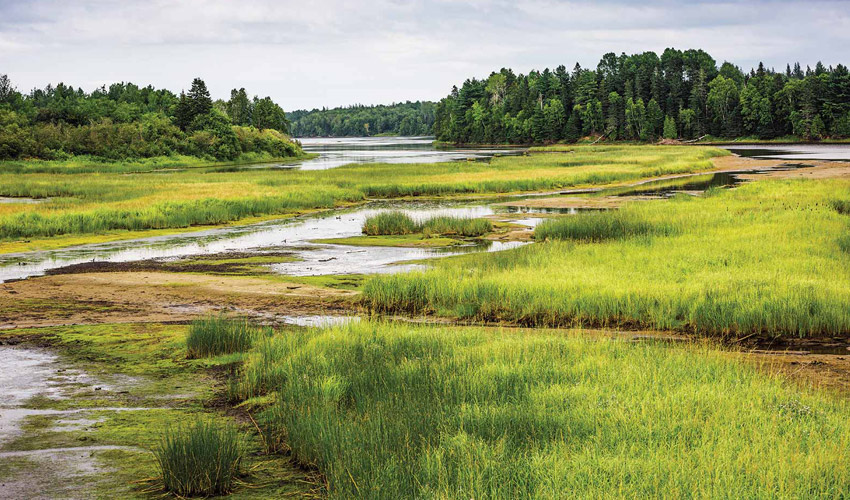 Mount Royal University's professors are connecting with industry partners and their communities to challenge long-held beliefs, improve student wellness and introduce progressive policies for the planet and our workplaces. For example, Professor Felix Nwaishi has been working with the oil and gas industry to help them meet and exceed environmental regulatory requirement of ecosystem reclamation and has recently brought this work to MRU classrooms in his ecology classes.
---
Connie Van der Byl, academic director of the Institute for Environmental Sustainability (IES), says the rating brings Mount Royal into the community of universities and post-secondaries in North America formally recognized for their leadership in this area. The IES supports sustainability research and scholarship, student learning and engagement across campus, acting as a hub and connector within the University and with external groups.
"We were not part of that community even though we were doing some really important and valuable sustainability work in pretty much all of those facets," she says. "We scored really well on research in sustainability, and our institute supports that," Van der Byl says. "We're proud of our faculty and student researchers who are doing some really great work." The IES funds research on campus and Van der Byl says the rating validates that mandate.
"At another university that type of research may be restricted to environmental science courses, but at Mount Royal we have research in sustainability happening in the Faculty of Arts quite significantly, as well as business and communication studies, nursing, and health and physical education, in addition to Science and Technology — virtually everywhere on campus faculties are engaged in this research area." Learning outcomes in many courses across campus also relate to sustainability.
Van der Byl points to research that shows prospective students place high importance on social and environmental issues when choosing a university.
"In their academic choices but also in their career choices, they care about sustainability, the environment, social justice and so on. The rating is a signal that as an institution we also care about those things and it's a place where you can live those values — both in terms of what you're studying but also in terms of how the campus is set up."
A new system for benchmarking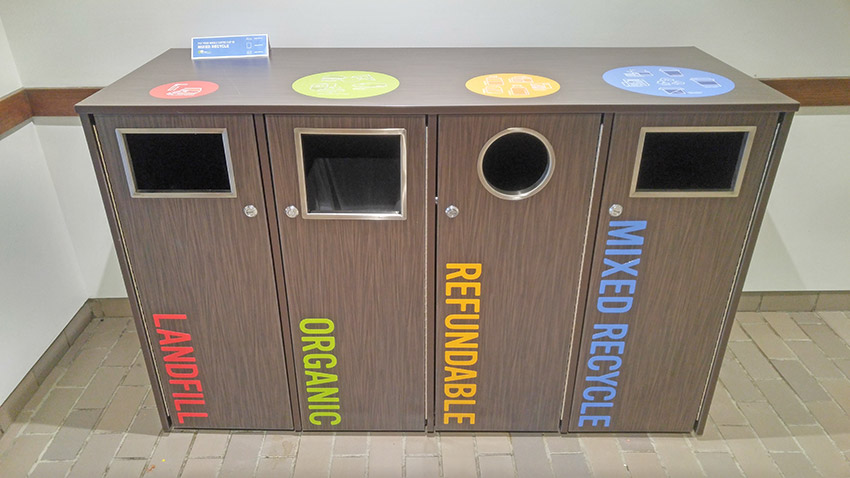 A campus-wide campaign to encourage more sustainable practices is showing results, according to an assessment of waste.
---
Sustainability is a cross-campus effort championed by Facilities Management and the Institute for Environmental Sustainability. "Applying for STARS is a massive undertaking, especially the first time," says Van der Byl, who coordinated the data-gathering with Russell. Jorden Dye of the IES and Kaylene McTavish, coordinator in the Office of Student Success, were also key contributors, helping to compile data to include in Mount Royal's application.
In addition to earning a silver rating, the process established a better mechanism for measuring all of the sustainability work being done on campus, Russell says.
"We have benchmarking now," Russell notes. "We can see areas where we're doing really well, and areas that need improvement and can strategize accordingly. If we weren't tracking something we put measures in place."
Some of the STARS categories are difficult for Mount Royal to perform well in — such as commuting options, water use and energy consumption — because of limited budgets, the location of campus or the age of infrastructure.
"A big part of that is the requirements are stringent. For example, Mount Royal would need to get its energy from solar thermal, solar photovoltaic, geothermal, hydroelectric power, wave and tidal power, or wind energy sources. Or, we'd have to buy renewable energy certifications equivalent to one hundred per cent of our total energy consumption. For a place like Mount Royal that's currently not feasible," Russell says. "But we are doing great things, like installing a CHP unit and solar panels, so we foresee scoring better in future reports."
Van der Byl adds that support at the leadership level was necessary for the application to succeed. "The champions of this were Grant Sommerfeld, Mike Quinn and Annalise Van Ham," she says. Sommerfeld is the associate vice-president of Facilities Management; Quinn is vice-provost and associate vice-president, Academic; and Van Ham is the vice-president of Finance and Administration.
The silver rating will expire in three years, Russell notes, so the University will have to decide whether to apply again in the fall of 2022.
In the meantime, Van der Byl notes, "the work goes on. The engagement of the Mount Royal community in this space is strong and continues to be strong."
"Mount Royal has always had that culture. We care about things and we express that. The STARS rating lets the world know that we do."
The STARS rating complements Mount Royal University's Ashoka U Changemaker and PRME (Principles for Responsible Management Education) designations.
Read more about how Mount Royal is developing a green campus. Learn about faculties and Institutes at Mount Royal. Stay up to date on campus sustainability initiatives and hear about the wide range of events hosted at Mount Royal University at @MRUSustainable on Twitter.
March 4, 2020 —  Melissa Rolfe
Media request contact information.
Have a story idea? Please fill out this form.