The MRU experience across borders and time zones
International students learning here and abroad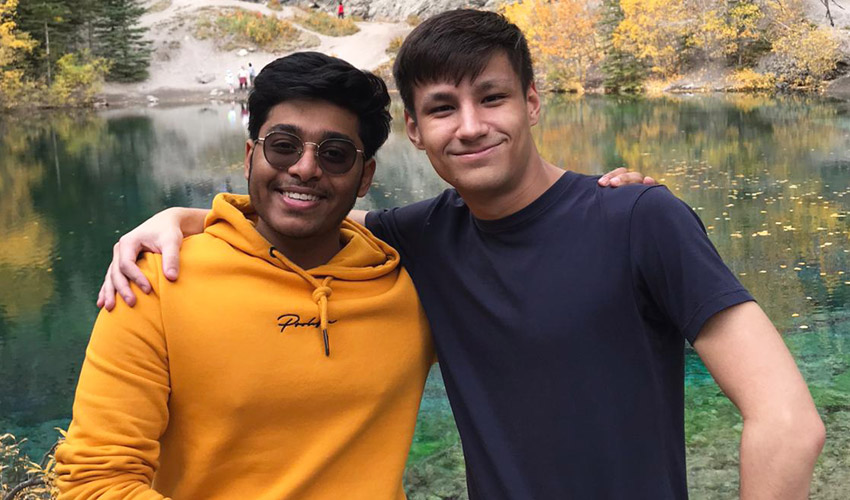 Allen Ellett, right, is a business student majoring in international business.
---
A Nigerian Mount Royal student now living in the U.K. and a student from the Phillipines living on campus both say learning during a pandemic has had its challenges and its rewards.
About two per cent of Mount Royal's credit students are international. Many, like Bunmi Afolabi, have stayed overseas while studying online. Others, like Allen Ellett, chose to stay in Calgary and live in Residence. Both Afolabi and Ellett say that although they miss the on-campus experiences they were looking forward to this year, they are as engaged in their own learning as they'd hoped to be.
"The international community and friends that I've made here have made me feel welcome," Ellett says. "Since joining the International Student Support Centre, I have met a lot of interesting people who have expanded my view in many ways."
Afolabi adds, "I was really looking forward to the physical student experience, but without that I'd say student services (are the best thing about being an MRU student). I feel so cared for by all the support available."
Supports move online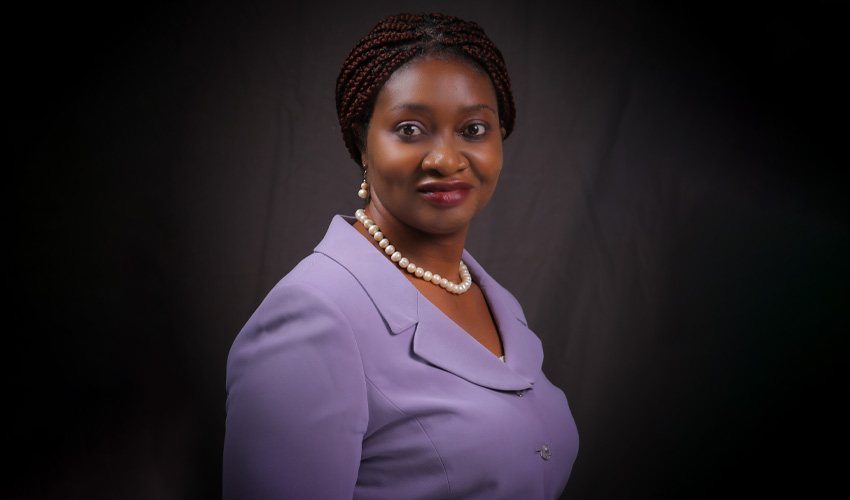 Bunmi Afolabi is studying human resources in the Bissett School of Business.
---
International Student Support Co-ordinator Kristen Chappell says the difficulties of learning in a pandemic are compounded for international students. "We have a group of global learners who are trying to connect globally with different time zones and build connections with classmates they've never met in a country they've never been to."
International students can face many additional challenges besides the COVID-19 pandemic as well, Chappell explains. "In Nigeria, as an example, there's a lot of political unrest. Students based there have experiences and stressors on top of what everyone is experiencing with the pandemic."
"I moved to the U.K. temporarily to be able to study online without any of the challenges I knew I'd face in Nigeria, such as poor internet connectivity," Afolabi says. "The protests that happened recently made that decision even better in hindsight now."
International students who have come to Canada, Chappell adds, can feel isolated without the support networks other students enjoy. "They haven't been to high school here, they haven't built communities and they're not with their families back home."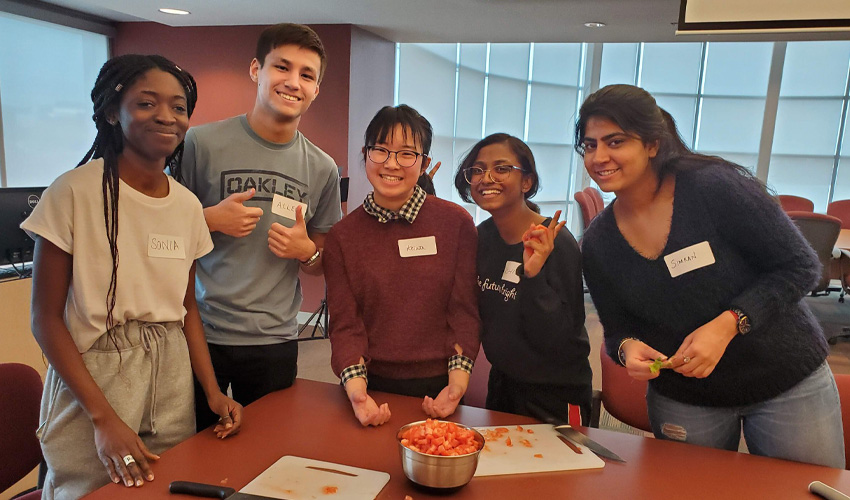 Ellett, second from left, and other international students in Residence.
---
Chappell says all students can expand their awareness of how experiences around the globe differ, and finding ways to relate to one another can help bridge the gap. She encourages domestic students to reach out to their international classmates through their classes or by participating in some of the international support programs that are available. The International Student Support Centre has moved its many programs online, and the Language Partners Program matches new international students with a volunteer to help learn one another's language. The program needs more volunteers in high-demand languages, Chappell notes.
There are also monthly meet-and-greets, game nights and wellness chats available to international — and domestic — students wherever they are located. A new Buddy Program was launched this year, which groups students in twos or threes and ensures every new student has someone they can reach out to. "Those pairings have been really successful," Chappell says.
An international kitchen that was started last year has moved online and features a volunteer who hosts an evening of cooking. Events are recorded and the videos are posted on Facebook and the International Education Week website so students can follow along. "Last time it was a Brazillian meal," Chappell says, "and people are now accessing the video frequently."
International students Bunmi Afolabi and Allen Ellett describe why they chose Mount Royal, their impressions so far and the online learning environment 
Why Mount Royal
Afolabi: "Mount Royal was the only university that I found that offered a one-year certificate course in the program I wanted: Human Resources. Most other schools were only doing the diploma program. When I applied the admissions team was very quick in responding to my questions and processed my application quickly as well. The other school I applied to didn't respond until I had started processing my student visa, despite several emails."
Ellett: "The small class sizes that Mount Royal offers helped me choose to pursue my education here. I personally find it easier to focus on my studies when I'm not in a crowded area."
Afolabi: "I have found MRU to be a very welcoming and helpful community. Throughout the admission and orientation process everything was done to a high standard. I was very impressed with the online orientation program. It was probably better than anything we could have done face-to-face except for the lack of physical interaction, but they made up even for that as much as was possible.
"Having done two months of classes, I can say that the professors are really good and very willing to help students succeed. All my initial concerns were eased within a few weeks and I am truly happy with my student experience, save for the lack of interaction, which isn't anyone's fault."
Ellett: "Looking through personal experience, my first few days here were a bit daunting, but I slowly got used to the new culture and environment here. I made a couple of friends that I had something in common with and now I feel right at home here."
Learning in a pandemic
Afolabi: "I was really looking forward to things like the trip to Banff and so many other student-to-student events, which would have allowed me to develop relationships with other students and also my lecturers. I had hoped to volunteer on campus as well during my time here, but that also hasn't been possible."
Ellett: "There have definitely been both ups and downs due to the pandemic. It is unfortunate that I could not see my family and friends in my home country, but because I stayed in Canada during the summer I had the opportunity to volunteer and gain experience in some organizations here."
Read more about International Education Week, including how to vote in the international photo contest. Learn about how Mount Royal helps international students adapt to online learning. Find out how to volunteer with the International Students Support Centre.
Nov. 16, 2020 — Melissa Rolfe
Media request contact information.
Have a story idea? Please fill out this form.