MRU grads serve up sociology
Trendy eatery The Allium is a worker-co-operative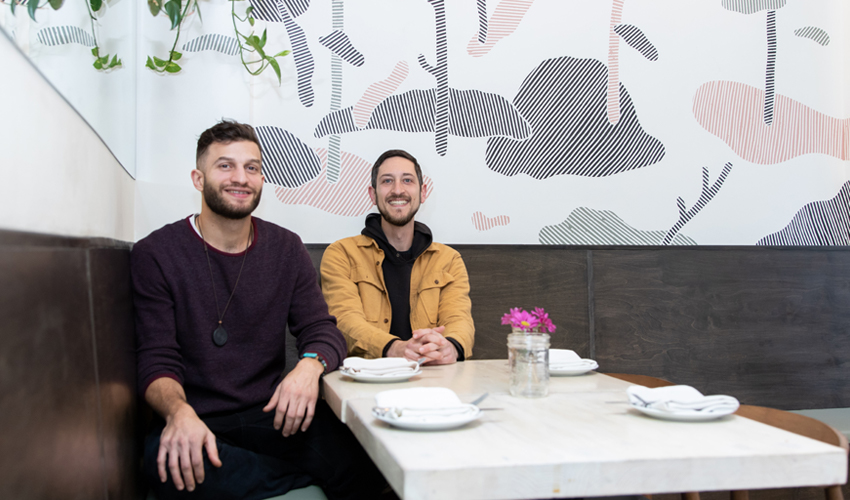 Richard Alame, left, and Jared Blustein — both graduates of Mount Royal's Bachelor of Arts — Sociology program — are members of the worker co-operative that own and run The Allium, a restaurant in Calgary.
---
A recent addition to Calgary's dining scene has some expected elements — hip decor, enticing menu items and a cleverly worded cocktail list that includes sippers such as the Hammer and Sickle — and an unseen, unexpected one: the restaurant on 12th Avenue S.W. aims to throw off the shackles of capitalism.
The Allium — a vegetarian, community-focused restaurant with an emphasis on the ethical — is the brainchild of Jared Blustein (Bachelor of Arts — Sociology, 2013). It's a worker co-operative, so everyone who works in the restaurant, from the server to the chef to the bartender, is either an invested owner, or on their way to becoming one.
"I think that's the myth of capitalism that all of us really believe, that you work hard now so at some point you can step back and just kind of profit off other people's work," Blustein says. "But in (The Allium's) structure, there's no investor class. No one can make a profit without actually being here and putting in time. Your profit is only proportionate to how many hours you work."
It's heady, systems-shattering talk. It flashes back to when Blustein and co-owners Laura Blustein (married to Jared) and Richard Alame (Bachelor of Arts — Sociology, 2014) met at Mount Royal. The trio first met in Associate Professor Tracy Nielsen's Theories of Race and Ethnicity class and were greatly inspired by Isha Sharma's Economic Sociology courses.
After graduation, Blustein finished a graduate degree on issues of economy at Simon Fraser University. He then put his learning into action with a biodiesel co-operative on Vancouver Island and as co-owner of a collective bookstore and social space in Vancouver before moving back to Calgary.
Although Blustein repeatedly says he did not like the idea of opening a restaurant, it's a sector he — along with the other five co-owners and five probationary owners — know well. Alame's family, for instance, owns a restaurant in Strathmore, and he grew up as a part of the family business, and Laura was eventually able to talk Jared into returning to Calgary to open a worker co-operative-based eatery. A social enterprise incubator program at the non-profit organization Momentum provided the 35-year-old with valuable insight and skills. The Allium opened to acclaim in mid-August.
After the initial all-hands-on-deck flurry of opening the restaurant and getting it up and running, things have settled down in terms of workload for its 15 members. And that's the way it was designed. Blustein, for instance, works with two non-profits while Alame is a substitute teacher with the Calgary Board of Education. The Allium is a labour of love, with the proceeds of that labour going directly to the worker.
The power of critical thinking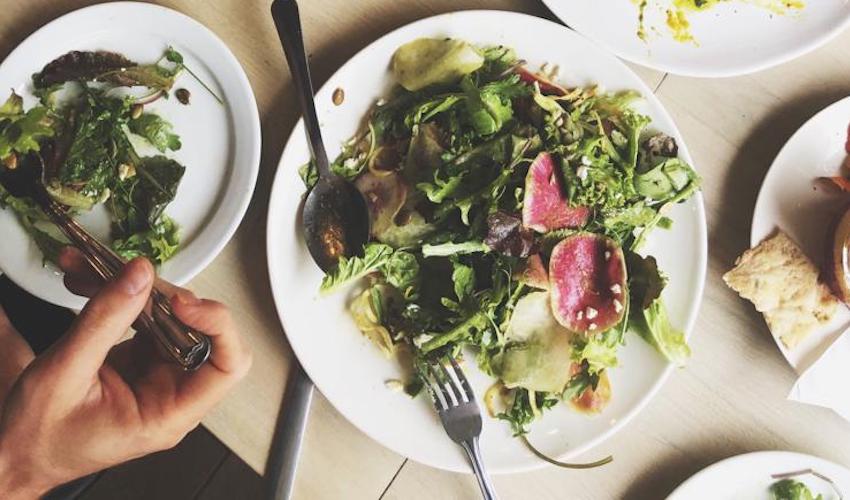 The Allium serves a vegetarian menu, with vegan and gluten-free options. The worker co-operative chose a plant-based menu to fit the group's ethical beliefs and to fill an underserved market in Calgary. Photo by Jamie Geddes.
---
Professor Tim Haney, PhD, taught Blustein and Alame at Mount Royal. In addition, Alame went on Haney's Sociology of Disaster field school in New Orleans. Haney is interested in seeing if millennials and Gen Zers pick up on The Allium's model, which disrupts traditional hierarchies in the workplace.
"They are more critical than the older generation, which, to me, suggests that we are going to see more innovative organizations like The Allium spring up in North America — organizations that focus less on pure profit motive and take a more egalitarian and communitarian approach to nurturing the community while taking social and environmental responsibility seriously," Haney says.
It's rewarding to see Mount Royal students and graduates challenge the status quo, a movement consistent with the University's initiatives in change-making and social innovation, he adds.
"The world faces numerous problems — climate change, racism, poverty and many more — and we need university graduates who are not afraid to learn, critique, suggest alternatives and, most importantly, pilot and introduce these alternatives." Alame says critical thinking skills he honed at Mount Royal play into how he sees the world.
"It's the idea of challenging the existing structure, but if you're not going to challenge it, at least question it to understand is this how it ought to be? I mean, we're born into this system of capitalism. We were born into patriarchy," Alame says. "So as long as we accept it will persist and maintain. If we question it, then we can deconstruct it and address the root of the problem."
Making it work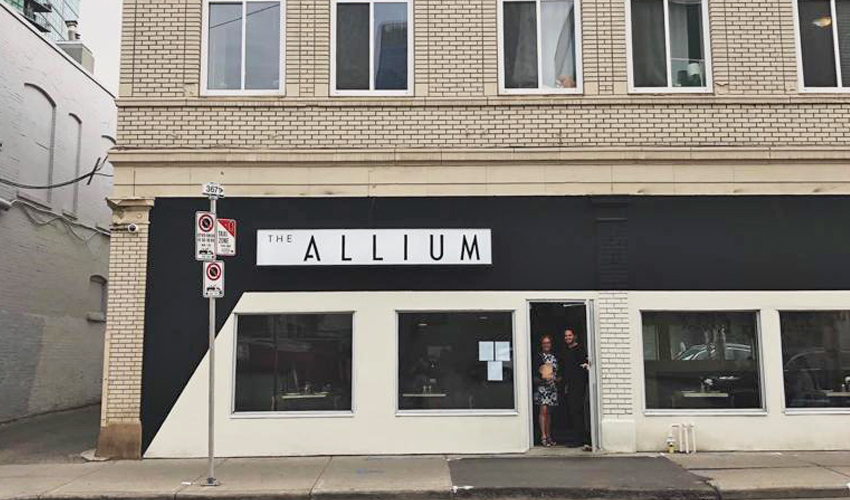 The Allium, located on 12th Avenue SW, opened in August. Photo by Jamie Geddes.
---
The group's commitment to being ethical includes looking at the "entire production and distribution and labour process" involved in all facets of running The Allium, from how the kale is grown to sourcing the wine list. So how do you run a business with no boss? Communication, they say, a lot of communication that's filtered through a consensus-based decision-making model. And it's not always kumbaya and solidarity forever.
"Everyone says the most vital thing to any relationship, romantic or not, is communication. It's so easy to say that, but it's so hard to actually effectuate," Alame says. "It's a constant process. We don't give up on each other. You have a bad day, you try to talk it out, you try to mediate it. We've had mediators before."
The Allium is open six nights a week for dinner, and will soon be adding a weekend brunch. They're also working on creating a pay-what-you-can buffet on Mondays, the day they're usually closed. The menu is being tweaked for seasonality and availability. While some menu items are going away, favourites such as the fried pickled mixed mushrooms are staying on. It's strictly vegetarian fare, with options for vegans as well. It took weeks of talking to arrive on the meat-free position.
For bigger decisions, the members have three options: "I'm okay with this. Let's go ahead with it," "I'm not okay with this, but I'm not going to block it," or "I'm blocking this, but here are alternative options." For day-to-day matters, business operations are broken down into hubs (front of house hub, kitchen hub, member hub, etc.) that include a hub lead. Those leads don't have more power, the pair point out. Rather, leads are responsible to make sure things are going well, and they're responsible to the people in that hub.
While The Allium may share similarities with its trendy neighbours, its members are "living sociology, in all honesty," Blustein says.
"It's about examining those systems we live with and to start to push into them, to create new spaces of being," he says. "Mount Royal 100 per cent gave us an environment and a context to explore these ideas and think for ourselves."
Nov. 27, 2019 — Ruth Myles
Media request contact information.
Have a story idea? Please fill out this form.