MRU to celebrate virtual Pride Week as partner of Calgary Pride
Events will run from August 24 to the September 6 Calgary Pride Parade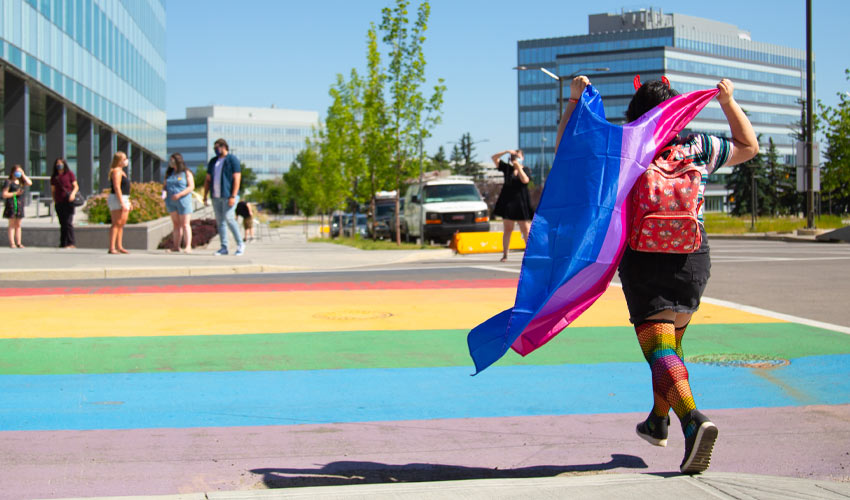 Being a sponsor of Calgary Pride gives Mount Royal an opportunity to show its commitment to creating a diverse, inclusive and safe environment on campus where everyone feels like they belong.
---
Mount Royal University is proud to once again partner with Calgary Pride in 2020 for the annual Calgary Pride Parade. 2020 marks Calgary Pride's 30th anniversary, and despite the challenges presented by COVID-19, "This year will be no different," according to their website.
Calgary Pride Week runs August 28 to September 6, and MRU and the Students' Association of Mount Royal University (SAMRU) have scheduled two weeks worth of events celebrating Calgary Pride starting August 24. These celebrations will lead into the virtual Calgary Pride Parade held on September 6.
"We recognize that the crowd is going to look a little bit different this year for everyone, but we wanted to provide a space where students and the MRU community can still engage with others as well as express and explore parts of themselves in the pride community," says SAMRU's Relationships, Identity and Sex Programmer, Sarah Armstrong. "We're hoping that people who may not know much about the LGBTQ2SIA+ community can learn a bit more through the events"
Despite celebrations being forced online, Armstrong says that they might be able to expand the event more than usual.
"I'm a little sad I won't get to see folks face-to-face, but I really like the idea that we're doing more than walking a parade," she says. "We're going to provide educational bits, fun pieces of engagement and provide support for the community through hiring local drag performers. It's going to be a lot of fun."
Being a sponsor of Calgary Pride gives Mount Royal an opportunity to show its commitment to creating a diverse, inclusive and safe environment on campus where everyone feels like they belong.
MRU and @SAMRUBuzz are proud to be a part of @CalgaryPride 2020 and to also celebrate inclusion and a sense of community on campus. https://t.co/EzExhR2A0y #MRU #OurPride #youbelonghere pic.twitter.com/T8MYBGjHPz

— Mount Royal U (@mountroyal4u) August 20, 2020
MRU began partnering with Calgary Pride as a part of the Positive Space Initiative, a grassroots awareness and advocacy campus movement that has grown and evolved over the last 15 years to provide more formalized advocacy, awareness and education to the MRU campus community.
"Pride is a way to show that we are unapologetically welcoming for those who are most marginalized in our community," says SAMRU President Spirit River Striped Wolf. "MRU says that 'You Belong Here' and Pride is a big part of that because it promotes our encouraging, welcoming and diverse community."
Students who show leadership in the Pride community can receive $500 through The Pride Scholarship. The two recipients will be students who are recognized for creating more inclusive spaces for people of diverse sexual orientations and gender identities.
As a part of their Enrichment Awards, SAMRU also offers a scholarship of their own called the Gender and Sexual Diversity Award. This award is given to students who make outstanding contributions to campus diversity and is for $2,000.
"MRU's partnership with Calgary Pride and focus on Pride communities shows our support and willingness to adapt and grow as a campus community," says Armstrong.
Along with the Pride Scholarship and Pride Parade, MRU and SAMRU have a dedicated space on campus to provide students with a safe, inclusive, and celebratory environment for people of all genders and sexual orientations in the SAMRU Pride Centre.
"A big reason I came to MRU was because of the work the university and students' association was doing for queer folks," says Striped Wolf. "A Pride centre is such an important space to have, and I find myself over in the centre a lot because it shows students that there is a space for them on campus."
Information about Pride Parade celebrations, along with a full schedule of events, can be found at mru.ca/Pride. Additional information on Calgary Pride and their Calgary Pride Week celebrations and virtual parade can be found on their website.
Aug. 20, 2020 ― Zach Worden
Media request contact information.
Have a story idea? Please fill out this form.