Nursing receives more than $1 million
Funds to be directed towards enhancing technology, seniors care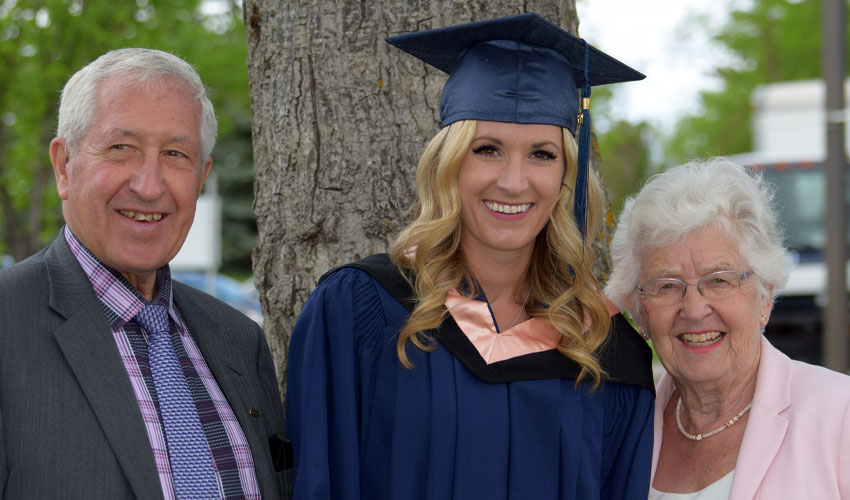 Bob Brawn, Jenn Whyte and Carole Brawn proudly celebrate Whyte's graduation from Mount Royal's nursing program in 2018.
---
Two families with intrinsic ties to health care and a commitment to exceptional learning opportunities have been brought together to make a deep and long-lasting contribution to Mount Royal's nursing program.
Nursing alumna Jenn Whyte graduated in 2018 and has been working in her field ever since. Currently on a psychiatric unit in a casual position, as well as floating between units in hospitals, she says that the pandemic has been a "steep learning curve" for everyone in health care, one for which nobody could have been totally prepared. But she has a way she can help change that.
President and CEO of Perpetual Energy, and a family member representing the Riddell Family
Charitable Foundation, Sue Riddell Rose, meanwhile, says that the pandemic has revealed gaps in health-care services, one of which is in the delivery of senior care. Riddell Rose's mother was a nurse for more than four decades.
"The way we help our seniors and manage their inevitable aging process is something that I don't feel that society has done as well as we could," Riddell Rose says. "We could do so much better in so many ways." Riddell Rose's father, Clay Riddell, is the namesake of Mount Royal's Riddell Library and Learning Centre, opened in 2017, to which he provided a generous donation.
Both Whyte and Riddell Rose deeply support the nursing profession and the "strength to care" that is one of its mantras. Together, they have produced a remarkable gift of more than $1 million to the School of Nursing and Midwifery.
As a family member and representative of the Brawn Family Foundation, Whyte approached two of her former professors with an idea. The Brawn Family Foundation was started by Whyte's grandfather, Bob Brawn, a pioneer of Alberta's energy industry, and his wife Carole in 1976, and provides funds to causes they believe will help improve Calgary for its citizens.
Whyte says students should be exposed to as many learning opportunities as possible, and wants to see the Health Simulation Learning Centre better utilized.
"I've been an advocate for Mount Royal because I thought the nursing program had a lot of great things about it, but there were some things I thought could be improved upon," Whyte says. "One of them was the use of the Health Simulation Learning Centre and the amount of time and scenarios we got to go through as students." With the donation from her family's foundation, Whyte wants to improve upon the capacity and flexibility of the "Sim Lab" to allow for more access for students and additional learning opportunities.
"The more the Sim Lab can be utilized and the more different avenues that can be explored for learning opportunities for students, the better. Everyone learns in their own way, but for me and others who are more hands-on, lectures don't necessarily sink in until you can actually practice what you learned."
More opportunities with a focus on seniors care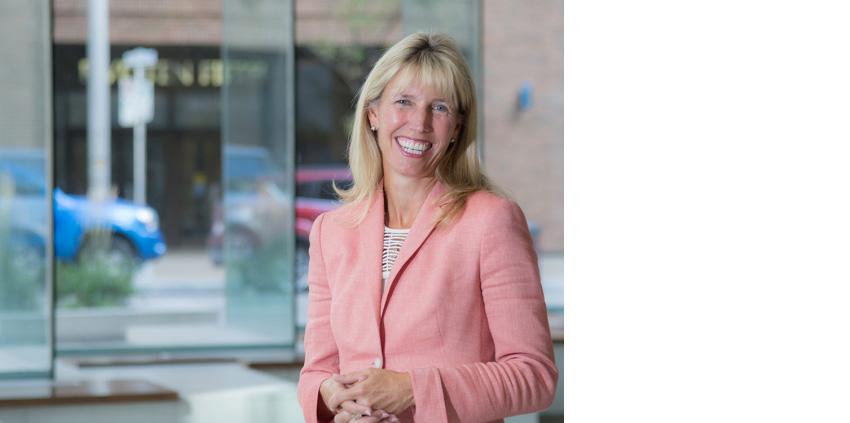 President and CEO of Perpetual Energy, Sue Riddell Rose. Photo courtesy Calgary Herald.
---
To further both Whyte and Riddell Rose's incentives, funds will be allocated to expand and enhance training aides and technologies in the Sim Lab to reflect a greater diversity of patient population, with a strong focus on seniors' care. Three new teaching manikins will be provided for students, with one to represent an older patient. Accessories will also "age" existing manikins, such as diabetic feet and realistic face skins that replicate the texture and fragility of older skin. Specialized equipment, such as feeding infusion pumps for those who are unable to eat, will be brought in. Cameras, webcams and audio equipment will be upgraded to enable virtual access to the Sim Lab, allowing for participation in live simulations from remote settings.
Stephen Price, PhD, dean of the Faculty of Health, Community and Education, says, "We are in need of improving access to virtual technology as we adapt our teaching practices during the pandemic. This investment in improved virtual technology will be felt for many years, as it will improve educational access for students in rural and remote settings.
"It is time to reinject the centre with some new ideas and get caught up with the latest technologies and pedagogical practices. This support is going to help us bring in new enhancements to expand what we have been doing."
Addressing the impending nursing shortage for an aging population
The Health Simulation Learning Centre allows students to practise a variety of skills in an area that closely replicates a health-related environment.
---
The Canadian Nurses Association predicts a shortage of up to 60,000 nurses by 2022. This will be driven in part by shifting demographics as aging Baby Boomers increasingly experience health concerns associated with older populations.
Price is especially excited by two additional opportunities being provided through the Riddell Rose and Brawn Family Foundation donation. The first is the creation of a four-year Seniors Health Teaching Chair with expertise in seniors care to lead training throughout the departments in the Faculty of Health, Community and Education and integrate simulation into their pedagogies.
A standardized patient program will also be implemented, using trained volunteers to help students develop non-technical skills such as empathy, family-centred care, shared decision making, communication, and assessment of clinical skills. Students will be exposed more fulsomely to patients with health-care concerns common among the older population to increase their comfort level in interacting with this demographic.
Riddell Rose is hopeful there will eventually be a chance for the creation of a micro-credential in seniors' health as well.
"What's really unique about Mount Royal is this link we have with the community. There's more and more opportunity for micro-credentialing, with seniors care being a specialty area in which we can really help raise the bar for caregivers. The programs that these funds are targeting are going to enhance the delivery of hand-on services and increase the number of qualified people."
Price says that a key reason MRU nursing graduates are so highly sought-after is because of the variety and number of immersive experiences they have undergone by the time of their graduation.
"Immersive experiences reinforce their critical thinking in clinical and ethical reasoning, standards that Albertans expect from their nurses and midwives," Price says.
This sort of research is the "hub of new thinking," Riddell Rose says. "Post-secondary is just a vital part of the whole ecosystem. We're churning out students who are transitioning to creative thinkers — problem solvers who are actually going to keep making our society better and better."
Extending many thanks to the Brawn Family Foundation and Riddell Rose, Liz Van Den Kerkhof, director of the School of Nursing and Midwifery says, "The gift is truly transformational and will help transform our nursing and midwifery students' experiences for years to come."
Find out more about how Mount Royal's Health Simulation Learning Centre provides experiential, hands-on learning.
Aug. 12, 2020  — Michelle Bodnar
Media request contact information.
Have a story idea? Please fill out this form.