Paramedics gain professional development at MRU
Flexible, focused program delivered online and in the community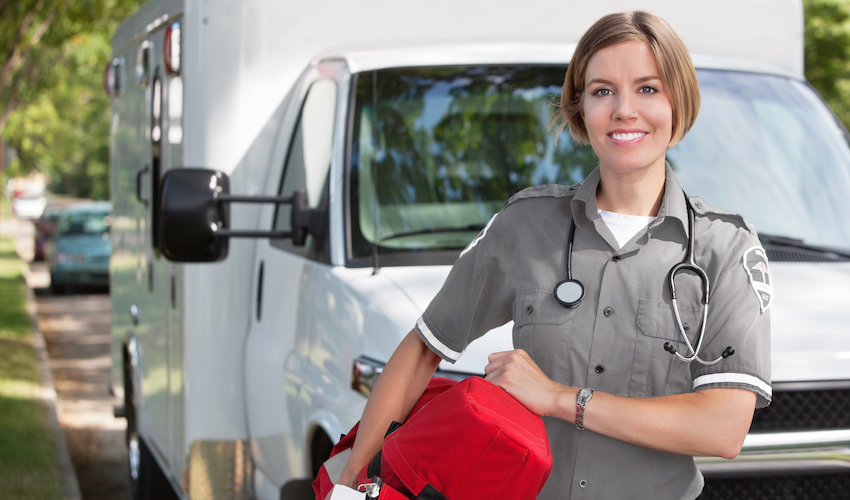 When Belle Clark sends her two daughters off for the day, she always says, "I love you. Now go learn something." 
Clark practices what she preaches: she's enrolled in the Community Paramedicine Extension Certificate program with Mount Royal University's Faculty of Continuing Education and Extension. 
"As paramedics, we should be continuously learning and trying to better ourselves, to become better patient advocates and better practitioners," says Clark, an advanced care paramedic (ACP) based in Rocky Mountain House. "We should also be paying it forward, mentoring and sharing our knowledge and learning with the community of paramedics."
Community paramedics provide primary and urgent care for at-risk patients and those with chronic health-care concerns in community settings under the supervision of a physician. Graduates are prepared to provide assessments, diagnostics, treatments and follow-up care plans at the community level in collaboration with the patient, their family members and the medical team. This health-care delivery model provides care in place, from private homes to seniors' living centres, reducing the need for emergency room visits and hospital stays.
"I have already been able to apply what I'm learning at Mount Royal to my profession and my practice."

Advanced Care Paramedic Belle Clark
Mount Royal's Community Paramedicine Extension Certificate — consisting of core online courses, plus practicum components that take place in the community — was developed in collaboration with Alberta Health Services' EMS Mobile Integrated Healthcare Community Paramedics program.
"I am very excited about where the profession is heading and community care is an integral part of that. I love that we are reaching out to our community and looking at people who need access to health care and how we can achieve that," Clark says. "I have already been able to apply what I'm learning at Mount Royal to my profession and my practice. With community care, I am enlarging my toolbox and who I can help."
The core online courses in the certificate can be taken as professional development for ACPs and currently practicing community paramedics. The courses provide breadth and depth in soft-skills and include Diversity, Communication and Ethics, Palliative Care and Team Approaches to Chronic Disease Management.
ACPs currently registered with the Alberta College of Paramedics (or equivalent) with a minimum of two years work-related experience can complete the 375-hour certificate in a minimum of two years. In some cases, the practicum may be eligible for Prior Learning Assessment and Recognition, which can reduce the number of courses needed for the certificate.
"It's a win-win combination: through professional development, both ACPs and community paramedics gain skills and knowledge that they can apply to their everyday work," says Tammy Cross, program administrator with Mount Royal's Faculty of Continuing Education and Extension. "By having both ACPs and current practicing community paramedics in the same class, the student experience is enhanced through shared experiences. Our instructors are experienced practitioners and educators with real-world knowledge which together translate into a very enriching learning environment."
Registration for Winter 2020 courses — which start in January — is now open. Visit mru.ca/CommunityParamedicine for more information.
Nov. 19, 2019 — Ruth Myles
Media request contact information.
Have a story idea? Please fill out this form.