Queen Elizabeth Scholars return from overseas practicums
Physical literacy students benefit from access to international internships

As beneficiaries of the Canadian Queen Elizabeth II Diamond Jubilee Scholarships program (QES), three Bachelor of Health and Physical Education ― Physical Literacy students have returned to campus from life-changing international practicums.
The scholarship fund was awarded to Mount Royal University, in partnership with Commonwealth Games Canada (CGC), and it provides up to $82,000 and supports 12 international internships ($6,000 each) for qualified students. The students were placed at Commonwealth Games sites.
"Being recipients of this award creates the opportunity for students to engage in amazing experiences," says Associate Professor Julie Booke, PhD, of the Department of Health and Physical Education (HPED).
It is often financially difficult for students to participate in long-distance travel. The QES funding opens doors for students to apply their classroom knowledge as global citizens, as well as build their resumes in the field of physical literacy.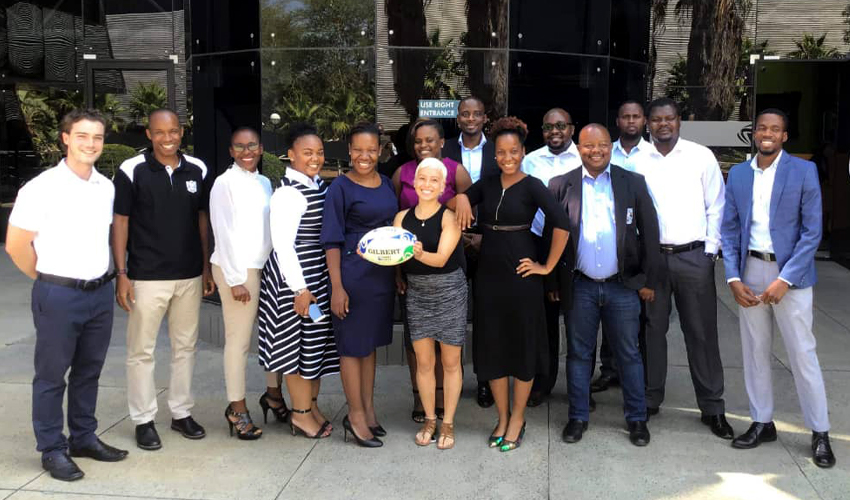 Savannah Cruz, centre, holding rugby ball, stands with the Botswana Olympic Committee, Botswana Rugby Union and international student Paul Morra, left, from Brock University.
---
Fifth-year physical literacy student Savannah Cruz was overcome with excitement and nervous energy when she found out she was accepted into the QES program. "I was the first scholar from Mount Royal to go into the Botswana Long-Term Athletic Development Program," Cruz says, which was created to grow and sustain participation and success in sports in various regions of the country. She was placed with the Botswana National Olympic Committee and Botswana Rugby Union in Gaborone, and also worked on a team to create a sustainable development program for the rugby union, as well as to develop concussion baseline testing and a first-aid protocol plan.
"Not only did I work with and learn from amazing organizations, I was able to make many connections in and outside of the sports world," Cruz says.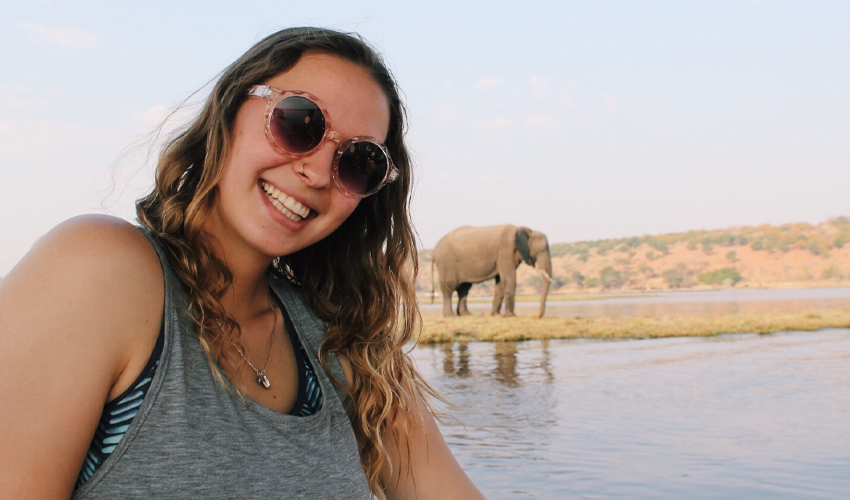 Aleia Robin enjoyed a weekend excursion to Chobe National Park in northern Botswana.
---
Aleia Robin, a third-year student who was also placed in Gaborone, says, "Not many will get an experience like this in their life, so I grasped the opportunity and soaked it all up."
In addition to working with the Botswana National Olympic Committee and the Botswana Badminton Association, Robin also collaborated on the creation of the Long-Term Athlete Development Plan. "This truly was one of the most authentic, challenging, beautiful and rewarding adventures."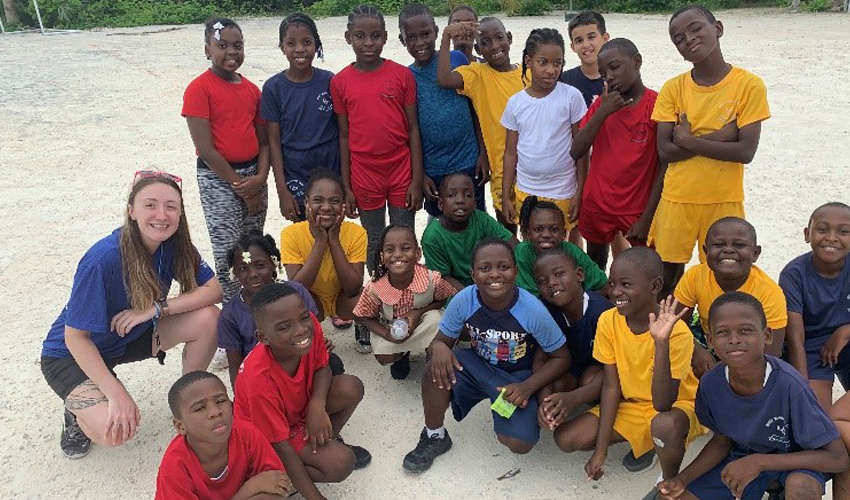 Margo Elliot, left, worked with students from Wesley Methodist School in Providenciales, an island in the Turks and Caicos. The group had just finished a rugby session.
---
Fourth-year physical literacy student Margo Elliot had the opportunity to travel to the Turks and Caicos Islands to work with their rugby football union. Elliot developed rugby programs and taught youth how to play the sport in schools across the island of Providenciales. Rugby is a developing sport in the Turks and Caicos, and ensuring that youth participation continues to grow is important in order to improve the up-and-coming international team.
"I also had the privilege of working with the international team and to be a part of one of the biggest legends dinner fundraisers that they have hosted to date," Elliot says. "I will forever be grateful for the life lessons and people who I met during the internship."
Cruz, Robin and Elliot are the inaugural MRU QES participants. Two other students are currently in Botswana.
The QES is an amazing opportunity to push out of one's comfort zone and with support for the experience, Booke says. The program is offered to HPED students who have successfully completed HPED 2050, have a minimum GPA of 2.0, are a returning student and are available to travel for 90 days. Those who have shown leadership skills and investment in community engagement and development are sought after.
Applications for spring/summer 2020 will be due Feb. 1, 2020.
"We will be holding two information sessions in 2020 — Wednesday, Jan. 15 from 4 to 4:30 p.m. and Thursday, Jan. 16 from noon to 12:30 p.m. in U241. Students can come speak to me for more information." Booke can be reached at jbooke@mtroyal.ca or 403.440.6986.
The Bachelor of Health and Physical Education ― Physical Literacy creates community leaders for the health and wellness movement by educating, facilitating and promoting healthy lifestyles as a champion of physical literacy.
Nov. 25, 2019 ― Rob Petrollini
Media request  contact information.
Have a story idea?  Please fill out this form.