Science faculty contribute to COVID-related research and public understanding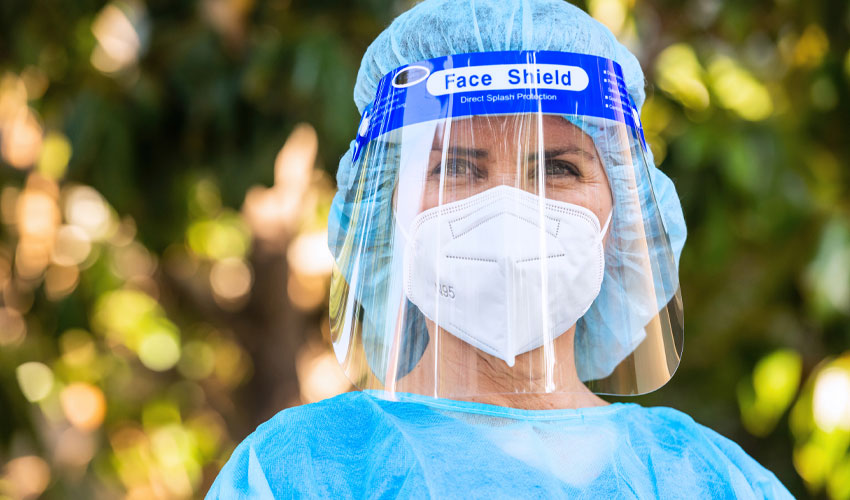 A health-care worker wears an N95 mask under a face shield.
---
Professors in the Faculty of Science and Technology are helping to increase understanding of COVID-related issues. Among the work underway is research into the physiological effects on health-care workers of wearing N95 respirators and advancing public trust in science and scientists.
With masks now mandatory in Alberta and more people hospitalized with COVID-19, physiology professor Trevor Day, PhD, is undertaking timely research into the temporary physiological effects on health-care workers of wearing N95 respirators. Day teaches in the Department of Biology.
While similar research has been done, Day's study includes testing participants' blood and other novel aspects including brain blood flow and face temperature, as well as comparing surgical masks with N95 respirators when worn at rest and during mild exercise.
In a campus lab, he's comparing lay persons wearing looser-fitting surgical masks with health-care workers wearing the N95s. One at a time, people in the two groups will sit for about an hour and then walk on a treadmill for 20 minutes, wearing the surgical mask or N95 during both activities.
"There's very limited data assessing blood gases using blood draws," Day explains. "People always measure respiratory gases at the nose or (to measure oxygen levels in the blood) use a peripheral pulse oximeter for oxygen levels at the finger — all noninvasive values. So, we wanted to add the blood acid-base status to this as well, which is potentially more important and I think more relevant to the symptoms people might experience."
Day was interested in pursuing this study after hearing health-care workers report mild, but temporary symptoms like headache, potentially due to a small amount of rebreathing of their own expired air over a period of time while wearing the masks.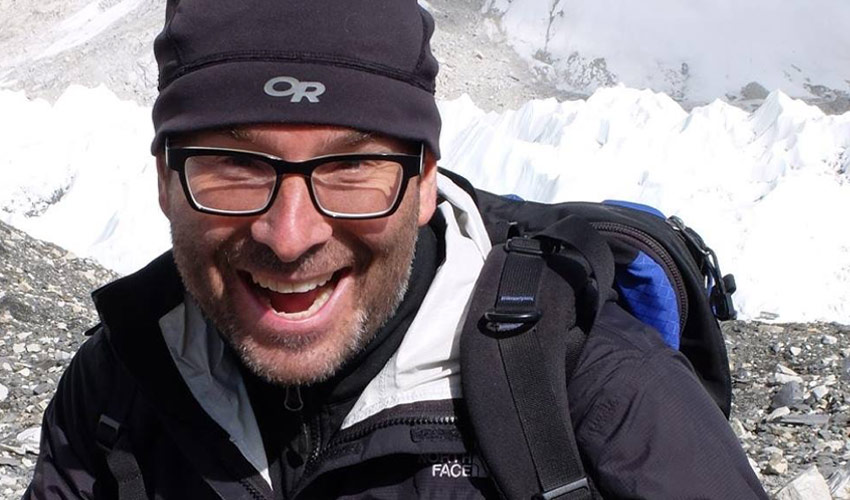 Trevor Day, PhD, has previously organized and carried out four high-altitude field work research expeditions from 2016 to 2019, where over 30 MRU student research assistants played a key role in helping with data collection in answering novel research questions.
---
Three physicians working with Day will take each participant's blood before and after mask-wearing while sitting and treadmill walking. In addition to brain blood flow and face temperature, Day will measure other physiological variables: heart rate, blood pressure, oxygen saturation and carbon dioxide levels at the end of an exhalation from the nose. They use ultrasound to measure brain blood flow and specialized equipment to measure blood gases and acid-base status — a portable blood gas analyzer that was designed for use for fieldwork studies, such as high altitudes.
"This isn't a clinical study per se. It's more of a health and safety perspective," he explains.
"This study will add to our knowledge of what does happen with mask-wearing, but also the magnitude and time course of the effects. So, if it's a small effect, and if it immediately washes out when you take the mask off, I think that should put our minds at ease. There are some physiological responses that, if we find them, might explain some of the subjective symptoms that people talk about. However, if they're mild and quickly wash out, we shouldn't worry about it.
"Ultimately," he adds, "we need to do a risk-benefit analysis regarding wearing a mask, because masks are an effective way to reduce transmission of COVID-19 and other respiratory viruses."
Day hopes his study also might lead to better protocols around when health-care workers should take a short break from wearing an N95, "or may even drive innovation in mask design. Our data and other published reports might help lead to better technological advances."
Day is recruiting adults aged 18 to 55 with no underlying health conditions to participate in the study as lay persons with surgical masks. He expects to have results by early spring.
Advancing trust in science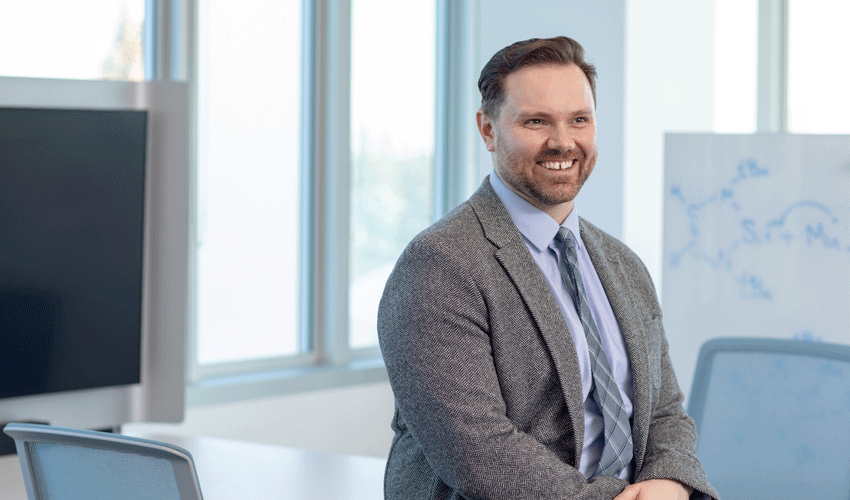 Professor Brett McCollum, PhD, is one of only 10 post-secondary teachers from across the country to receive the Council of 3M National Teaching Fellows in 2019.
---
Despite some public controversy around wearing masks, faith in science in general has seen a boost since the COVID-19 pandemic reached Canada, according to a global survey. Chemistry professor Brett McCollum, PhD, has been working with 3M Canada as a 3M National Teaching Fellow to help advance the cause of science and science education in Canada.
Annually, 3M collects global data on how people understand science and how it affects their lives. McCollum notes that in the previous few years, Canadians' trust in science and scientists was falling.
"The pandemic has reversed that trend. Skepticism in science has declined significantly, and the willingness to stand up for science in a discussion with others has gone up," he explains, referring to the 3M survey.
"Those are great markers to show that Canadians understand that in the midst of a pandemic, science is going to play an incredibly important role in helping to solve our global crisis and to support our communities in being able to move toward a hopefully more normal life that we once experienced not that long ago."
Pre-pandemic attitudes among Canadians were measured in autumn 2019. The positive turnaround was identified when attitudes were measured again in July and August 2020. Findings are shared in the 2020 3M State of Science Index.
McCollum says in general some people are skeptical about changes in public health policy — or have missed hearing about it.
"Not everyone is reading the newspaper in the morning, not everyone is listening to the radio, particularly when they're not driving to work in the morning," he points out.
"People are gathering their information from different sites and if the information that is informing public policy is evolving throughout the pandemic, sometimes people in their family and social units are still following public policy based on evidence that we had back in March."
That has contributed to difficulties in getting people to understand the evidence behind mask-wearing and other public policy guidelines.
"The challenge is, you have that combination of science, public policy and politics. It's not that the facts about COVID have changed — we have collected more facts," McCollum notes. "And so learning more about the disease and its spread, its vectors for transmission, informs that public policy — but how do you communicate that public policy out to people, particularly in an environment where traditional media has changed? It really is dependent on trust in the scientists and the method of informing public policy from our understanding of the disease."
Explore the Faculty of Science and Technology, including chemistry and biology. Learn more about Mount Royal University and how to apply.
Dec. 10, 2020 — Melissa Rolfe
Media request contact information.
Have a story idea? Please fill out this form.