'Significant' sports memorabilia collection gifted to Mount Royal
Calgary man's generosity supports student learning and faculty research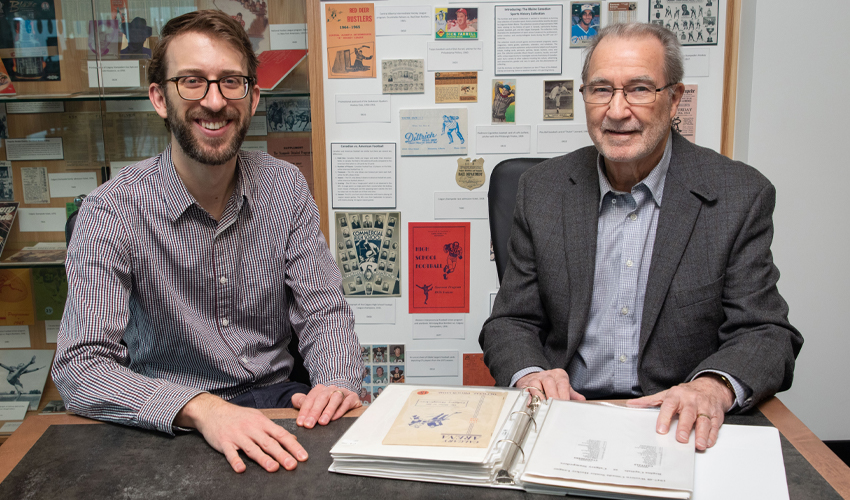 Mount Royal University Archivist and Special Collections Librarian Peter Houston, left, and Robert Blaine who donated the sports memorabilia history collection.
---
A Calgary collector has donated a huge Canadian sports memorabilia history collection to Mount Royal University and the artifacts are already supporting the teaching and learning needs of the institution.
"This gift came out of the blue," says Mount Royal University Archivist and Special Collections Librarian Peter Houston.
The items were collected by Robert Blaine over the course of 40 years and document an amazing cross-section of the history of professional, amateur and collegiate sport in Canada.
"In recent years my wife and I have been contemplating what we might do with the sports collection," Blaine says. "We were inspired to consider universities as possible guardians of the collection when we learned that collectors had made significant donations to universities in the past."
Blaine reached out to Houston looking for a "good home" for his collectables while in the process of downsizing his possessions. At first, Houston was not sure if the collection would complement the Archives and Special Collections acquisition strategy.
"I'm not a sports history guy, but I immediately knew who I should talk to," Houston says.
Enter faculty support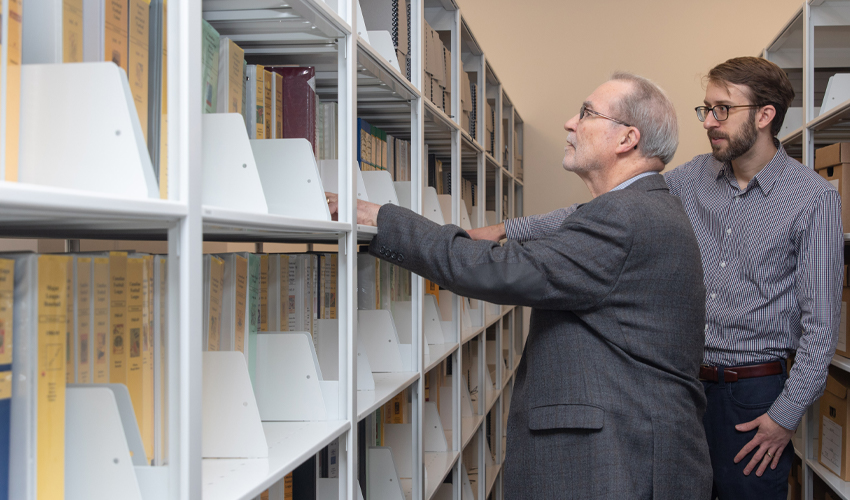 The donation is currently housed in Mount Royal's Archives and Special Collections and will be used for research and put on display.
---
Houston connected with Assistant Professor Marty Clark, PhD, who teaches in the Department of Health and Physical Education (HPED) and is a sports historian by training. The duo visited Blaine's home to tour the collection.
Clark was amazed at not only the size and scope of the collection, but how Blaine had organized his memorabilia according to year and leagues, and how he systematically mapped out the history of Canadian amateur and professional teams and leagues. "Blaine conducted the primary historical research needed to contextualize this history," Clark says.
"Robert didn't just collect sports memorabilia, he sought out and found evidence of the existence of teams and entire leagues."
Houston posed the question to Clark: "Do you think this collection would help support the work that you and your colleagues are doing at Mount Royal?"
Clark replied: "For sure."
After a successful negotiation and plenty of paperwork, the artifacts were carefully moved to MRU and placed in climate-controlled storage in the University Archives and Special Collections.
A summary of the collection is available online, and Houston says more detailed descriptions are being created of the collection's five categories: hockey, football, baseball, golf and the Calgary Stampede.
"Someone can digitally browse the category contents and then come in to actually look at the originals," Houston says.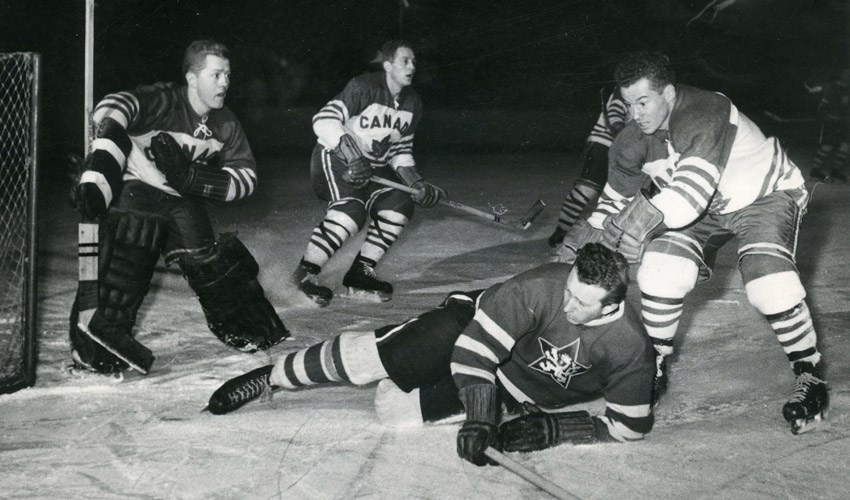 In this photo from 1955, Canada and Czechoslovakia compete in the World Ice Hockey Championships.
---
Clark is pleased that the story of "barnstorming teams" and now defunct leagues that could have been lost to history have a new home on the fourth floor of the Riddell Library and Learning Centre, where they will be a valuable resource for budding historians for years to come. He got first dibs on accessing the new Blaine Canadian Sports History Collection and brought his HPED 1010 ― Historical and Philosophical Foundations of Sport and Culture class in to conduct research on representations of Indigenous Peoples in 1950s and 1960s Calgary Stampede programs.
"In the future, I will bring classes into the archive to explore other representations of Indigenous Peoples in sports programs and team logos to understand how colonialism worked in Canadian sport history."
And in time, the collection will benefit Clark's own research.
"I am imagining a project that maps out the use of Indigenous iconography in the team names and logos of amateur and professional teams/leagues in Western Canada in postwar times."
Houston will continue to strategically expand the Archives and Special Collections. He says that "an important part of our acquisition strategy will be consulting with current and future stakeholders to determine what kind of archival resources will be most useful."
The University archives are open Monday to Friday from 9:30 a.m. to 4:30 p.m. during the fall and winter semesters and 10 a.m. to 3 p.m. during the spring and summer semesters.
Feb. 28, 2020 — Rob Petrollini
Media request contact information.
Have a story idea? Please fill out this form.