Small Business Growth Roundtable looks for ways to boost economy
Business communities should be integrated into business schools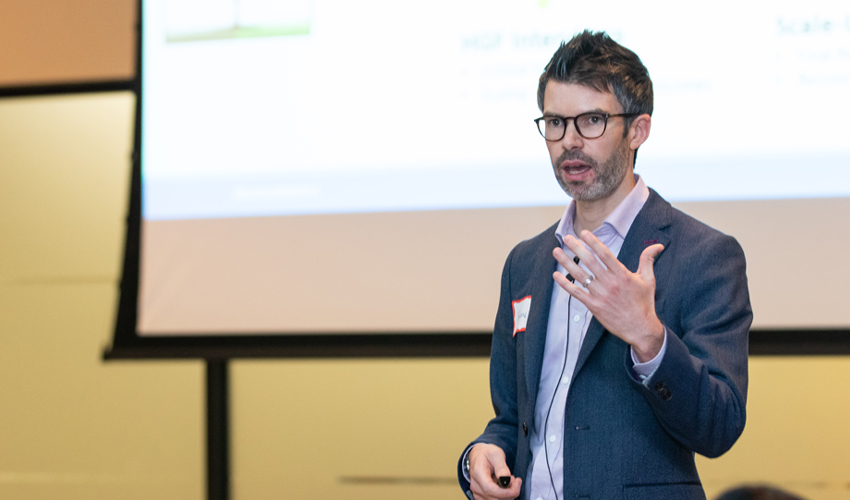 Small and medium enterprise (SME) is beautiful for Mount Royal University's Simon Raby, assistant professor in the Bissett School of Business specializing in SME growth and development.
---
As Alberta fights to emerge from a prolonged downturn, an event at Mount Royal University held on Nov. 21 looked at how small businesses can grow and fire up the province's economy.
Alberta has a "scale-up gap." While half of Alberta startups survive for more than five years, only 0.1 per cent of small firms become mid-sized, and only two per cent of mid-sized firms become large. Examining this "scale-up gap" was the focus of Mount Royal University's Institute for Innovation and Entrepreneurship 2019 Small Business Growth Roundtable.
High-Growth Firms (HGFs) contribute disproportionately to job creation and are rare. Between 2009 and 2012, HGFs accounted for 1.24 per cent of all Canadian firms and delivered 63 per cent of the total net job growth. The troubling fact is stagnant or declining firms actually destroy more jobs than they create.
To achieve growth, firms can capture new markets or export, raise capital for investment, hire new or develop existing talent, develop and launch new products or services and engage in operational excellence to improve productivity. The most essential route to growth, however, is often overlooked: leadership. Across all studies, the most important predictor of growth is the ambition and willingness of the leader to grow their firm, and their capacity to lead strategic and innovative change.
To confront the scale-up challenge, the Roundtable organized by the Institute for Innovation and Entrepreneurship through its Growth Compass initiative brought together successful small business leaders, policy makers, researchers and students to consider the nature of leadership talent required to grow more Alberta small businesses.
Experts say cultivate a network and build a community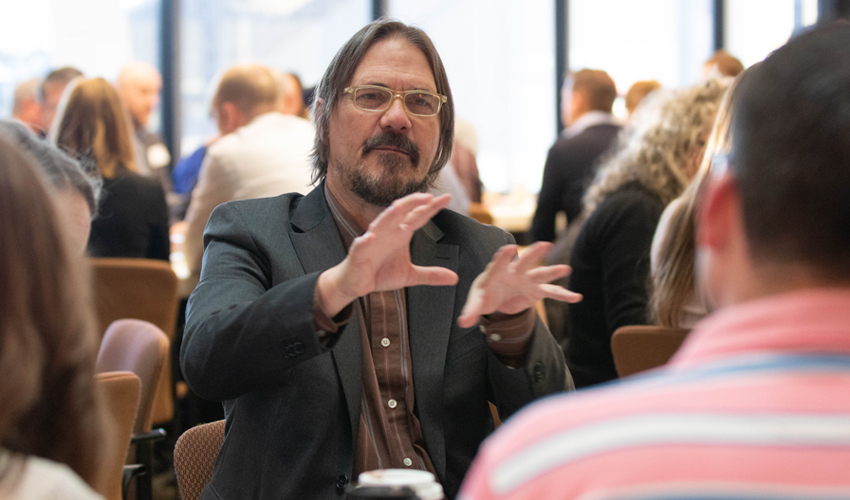 Entrepreneurship scholar and educator Norris Krueger was a keynote speaker at the 2019 Small Business Growth Roundtable.
---
"It all starts with ambition, an unwavering desire to grow your business. But beyond this, where do leaders focus to scale their small businesses? This is the sweet spot for the 2019 Small Business Growth Roundtable," said Simon Raby, PhD, assistant professor in entrepreneurship at MRU.
Keynote speakers included Mark Hart, director for the Goldman Sachs U.K. 10,000 Small Businesses program, and respected entrepreneurship scholar and educator Norris Krueger.
Hart, who is also a professor of small business and entrepreneurship at the Aston Business School in Birmingham, U.K., emphasized the value of a trusted network and building a community over time.
Before facilitating a session on growth enabling competencies, Krueger said business education training should be "deeply experiential" and that the business community must not just be welcomed, but made to feel at home at a business school.
"Few schools manage to pull that off," he said, before praising the Bissett School of Business for being ahead of the curve.
MRU researchers published a detailed report on the "Leaders Growth Mindset, and will release a new study in early 2020 on the "Scale-up Challenge" containing further evidence on the routes companies use to unlock scale and growth.
"To realize economic prosperity in Alberta, we must develop high-impact talent. We're thankful so many successful leaders have partnered with us to help other businesses replicate their success," said Ray DePaul, director of the Institute for Innovation and Entrepreneurship.
MRU's Institute for Innovation and Entrepreneurship's works to support the development of the high-impact talent that is essential to the continued economic prosperity of Alberta. This is accomplished by delivering transformative community-engaged learning experiences.
Growth Compass, meanwhile, is a community-engaged learning and scholarship initiative that delivers evidence-based insights and intelligence into how companies successfully scale up. Thanks to $360,000 in grants from the Ministry of Economic Development and Trade, the program has engaged over 200 members of the community and over 100 students in capstone experiences, applied research and internships with growth-oriented companies.
Bertrand Groulx, who just sold a successful analytics company he built, mentors other entrepreneurs and says framing the issues the Roundtable focused on and discussing them can benefit those starting and running small businesses.
"It would have been of great value to me starting out."
Nov. 26, 2019 — Peter Glenn
Media request contact information.
Have a story idea? Please fill out this form.