Spend a semester abroad and change your life
Follow your passion wherever you are
Words by Austin Coll
Information design student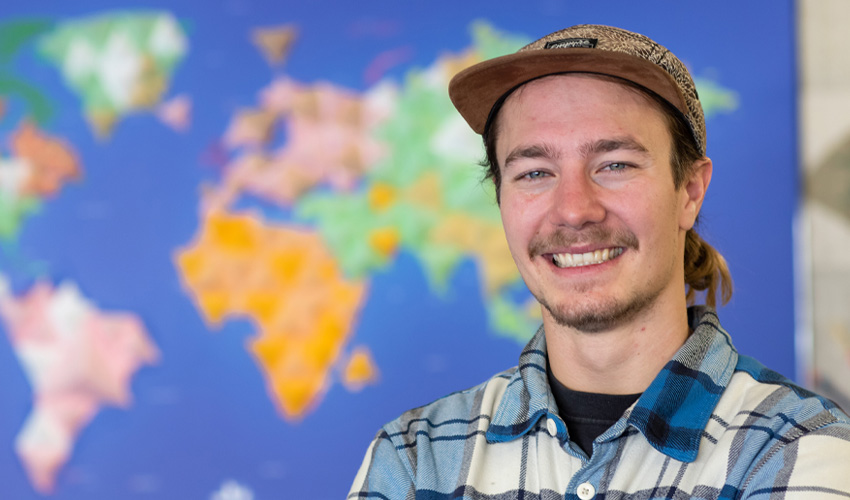 During my time at Mount Royal I found my life becoming increasingly routine. Between working multiple jobs, taking regular classes and a program change that would extend my time at Mount Royal by two years I felt like I was in a bit of a rut. I knew that it was time to shake things up.
It was through my involvement with the Information Design Society (IDS) that I met some friends who had been on an outbound exchange. They raved about their experiences, so it was at this point that I decided to look into the actual possibility of taking a semester abroad. I attended an information session and spoke with a fellow information design student about her time spent studying at FH Joanneum (FHJ) in Graz, Austria.
My experience at FH Joanneum
I loved everything about FH. As a designer, it was a really inspiring and amazing environment to work in. It was very laid back, but also very interesting. Unfortunately, not all the courses are taught in English, so if you are planning on going on an exchange here be prepared to have some times of total confusion. That being said, the local students were quite good at translating and making me feel comfortable and accepted.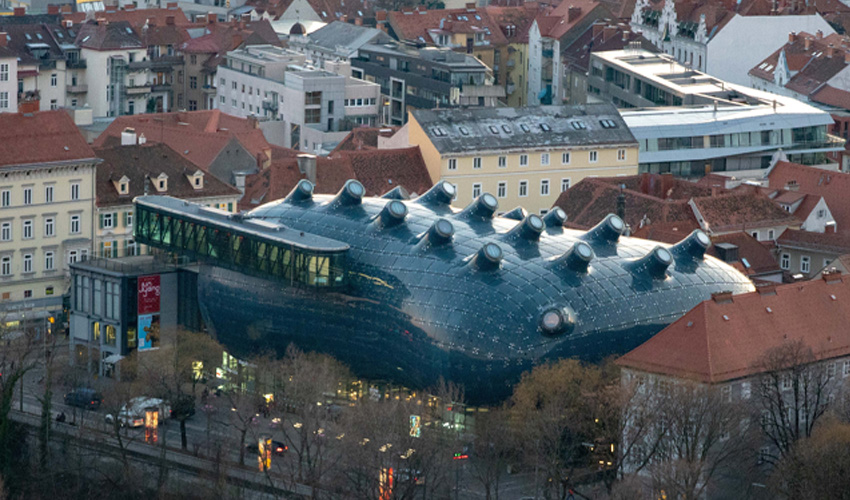 Nicknamed the "friendly alien," the Kunsthaus Graz is an architectural landmark.
---
I found the culture at the school to be quite flexible. They allow for a lot of freedom in your project work, so by all means take advantage of that reality. It provides an opportunity to learn new skills, push yourself out of your comfort zone, and take on some projects that might not have been possible back home. In addition to personal growth, I think the exchange helped me immensely on an educational and professional level. The information design program at FHJ is very hands-on and allows for an incredible amount of creativity for projects. The course schedule, though confusing and seemingly arbitrary, leaves a lot of spare time for personal projects, leisure and travel.
In addition to the school, just being in Europe is incredibly inspiring for a designer as they are light-years ahead of Canada in many ways. Exhibitions, art and good design is ubiquitous in Austria. I felt truly immersed in the world of being a designer, which has allowed me to create some portfolio pieces that I am truly proud of.
Exploring
There are plenty of touristy things to do in and around Graz, which is awesome for the first little while to orient and familiarize yourself with the city. The most obvious thing to do is hang out on the Schloßberg, which is a mountain in the city centre with a 360-degree view and plenty of green space, bars and restaurants. Another awesome spot is in the Stadtpark, which is a great place to meet up with friends, toss a frisbee or just do whatever the locals are up to.
Austria is a hot spot for all kinds of outdoor activities. After my first couple weeks exploring Graz, I found a bunch of mountain bike trails and a thriving mountain bike community, so I decided to get a friend in Canada to pack up my bike and send it with my parents who were coming to visit midway into my trip. Though it ended up being a bit expensive, I can honestly say this was the best decision that I made during my time in Graz. Having my bike led to some of the best experiences that I had during my exchange. I needed some tools to finish setting up my bike and visited a local shop where I met a great group of locals whom I quickly befriended and ended up doing a bunch of mind-blowing trips with, including watching a mountain bike world cup in the nearby town of Maribor, Slovenia. A few days later my friend Luca and I went back in his car to ride the same course that the pros had been on just a few days earlier. It was a truly unforgettable experience.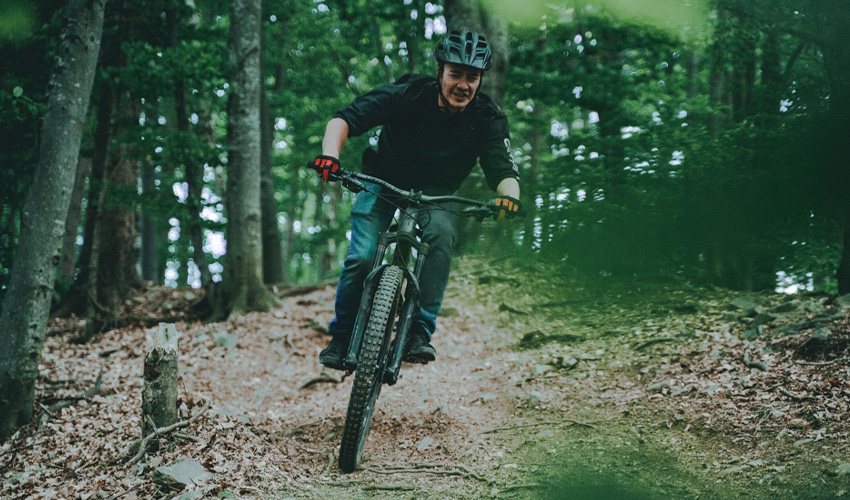 Coll took part in numerous mountain bike adventures in and around Graz.
---
Once I had made a solid connection with Luca, we went on numerous mountain bike adventures in and around Graz and made a trip to his hometown of Bad Gleichenberg, staying at the house he grew up in, visiting a Buschenschank (a farmer's restaurant with the most authentic Austrian cuisine), and partying like crazy at a festival in the town square.
Another way I was able to establish some solid connections with the locals was through a bouldering gym in Graz called Bloc House. It was the perfect place to meet like-minded people, and I made some lifelong friends there climbing, conversing, laughing and having the time of our lives.
For anyone going on an exchange in the future, in Graz or wherever you might decide to go, I cannot stress enough how important it is to continue to do the things that you are passionate about no matter where you are. For me it was mountain biking, climbing and information design that introduced me to a whole new world of friends that I will be able to keep for the rest of my life. I think one of the biggest takeaways for me is that no matter what language we speak, or what country we come from, if you share a passion for something with someone you can overcome these barriers and make amazing friendships and connections.
How I was inspired
I'm not going to sugarcoat things, being on exchange is a dream at times, incredible yes, but it's still life, and life isn't always easy. From the countless hours spent planning the trip, to feeling like an alien while sitting through a course taught entirely in German, to being completely lost in a train station somewhere in the Italian countryside, there are plenty of lows. But at the end of the day, such is life, there will be some incredible times and there will certainly be some pretty crappy ones.
Despite the not-so-great days, I can say with certainty that this barrage of experiences both good and bad, has allowed me to reflect on who I am like never before. It's the intangible encounters with curious cultures, valuable knowledge gained and new friendships made that turned my outbound exchange into a truly life-changing experience.
Outbound exchange tips from someone who has been there
The first step to exploring the possibility of an exchange is to attend a study abroad information session

The next step is researching schools, budgeting, planning and figuring out transfer credits, which will be submitted to the exchange office in a proposal

Organize and find housing for your stay before you leave

Gather the appropriate travel documents and visas, and make sure you have copies

Speak with the people at International Education regarding funding opportunities

Upon arrival, register as a resident and complete the appropriate paperwork as required by your host country and institution

Get a SIM card in advance or find one upon arrival! It will make your life much easier!
Did you know?
Mount Royal sends around 200 students abroad each year to over 26 different countries. There are outbound exchange opportunities for all credit disciplines and guaranteed funding of up to $1,500 available for each student who is accepted to go on exchange.
Nov. 12, 2019
Media request contact information.
Have a story idea? Please fill out this form