Students-as-partners addresses the question of power in education
The answer has the potential to change the world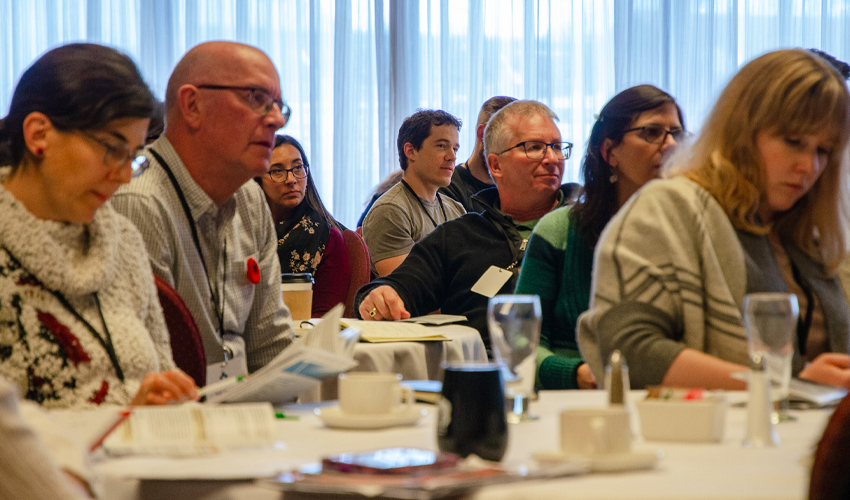 Attendees at the Symposium on Scholarship of Teaching and Learning, held at the Banff Park Lodge. Photo courtesy Sarah Hewitt.
---
The study of the Scholarship of Teaching and Learning (SoTL) can be rudimentarily defined as helping teachers become better educators by supporting their continued learning, and helping students become better learners by supporting their ability to teach. With the theme of Engaging Students, Engaging Faculty, Mount Royal's Institute for the Scholarship of Teaching and Learning (ISoTL) addressed this concept head-on at their annual Symposium on Scholarship of Teaching and Learning, held in November.
The symposium's attendees ran the gamut, with representatives from nearly every academic discipline imaginable, with students and professors alike discussing how to improve the teacher/learner relationship for the sake of quality education. It is agreed that the study of SoTL is improving academia, and has the potential to change the world.
To illustrate this point, one of the more recent developments in SoTL is the students-as-partners (SaPs) movement. SaPs were the subject of the symposium's keynote presentation by Assistant Professor Elizabeth Marquis, PhD, of McMaster University, who is also the senior editor of the Canadian Journal for the Scholarship of Teaching and Learning and co-editor of the International Journal for Students as Partners. Her talk spoke to student-faculty partnerships, and how such partnerships have the potential to create a more equitable future for everyone.
Michelle Yeo, PhD, academic director of ISoTL, says that MRU is already harnessing the power of student input by including them in research in a number of exceptional ways. At most other institutions, only graduate students are given access to engage in the high levels of inquiry they do at Mount Royal. Once MRU started bringing its students into research, the University learned quite quickly that undergrads are fully capable of that kind of work, Yeo says, and it's happening all the time across campus.
But there's a lot of thought that still needs to go into SaPs to ensure they truly accomplish what they are meant to do, and much of that is also happening at Mount Royal.
The heavy work behind students-as-partners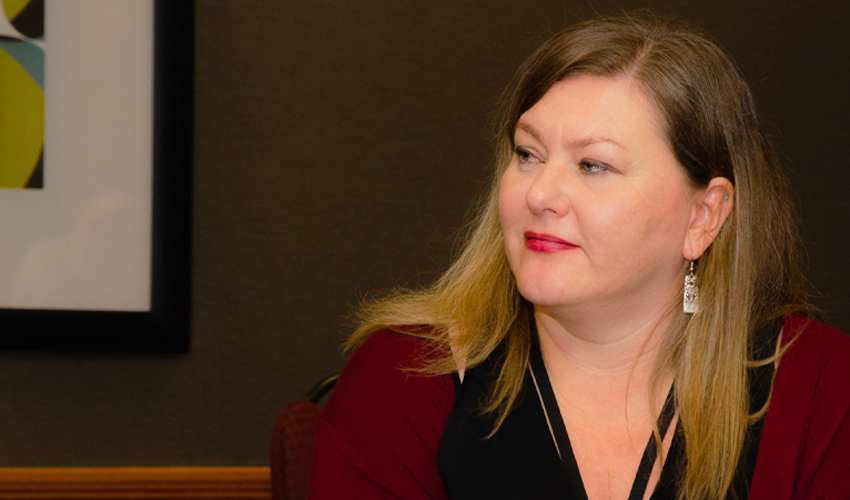 Michelle Yeo, PhD, academic director of ISoTL. Photo courtesy Sarah Hewitt.
---
Both Marquis and Yeo point out that a true "partnership" is based on equality, so the study of SaPs must always be mindful of the fact that universities have not traditionally been places where egalitarianism is reinforced.
"Universities are hierarchical places, and education is kind of 'done' to students," Yeo says. "So the idea behind students as partners is to find ways of really fully engaging students in the process of their education. And that's a different level."
Associate Professor Yasmin Dean, PhD, chair of the Department of Child Studies and Social Work has been tackling how to achieve truly full and fair engagement with students along with Associate Professor Sally Haney of the Department of Journalism with their current research project. They are looking into the long-term impact of international field schools (specifically India: Dimensions of Social, Cultural and Personal Development) for students several years after having returned, going back to 2012. The hope is to be able to identify some best practices around international field schools that can then be shared with other faculty.
As a subset of that research, Dean and Haney have engaged two students-as-partners, Michaela Chronik and Amanda Creig, both of whom are Bachelor of Child Studies ― Early Learning and Child Care students. The group is using the guidelines provided by the 2019 manuscript, "Stages of Engaging Students as Partners: A Guiding Framework for Successful SoTL Activities," which was co-authored by Brett McCollum, a Mount Royal chemistry professor who was named to the Council of 3M National Teaching Fellows early this year. Dean says while they are carrying out their field study research, they are also looking deeply into how they are partnering with their students, and the students are also peering closely at how they are unconsciously (or consciously) reacting to being asked to provide unfettered opinions to faculty members who are in an inherent position of power.
A fundamental difficulty with SaPs is that faculty have a certain position, a knowledge of privilege. They are the "knower," and the students are the "learner."
"The student is always going to know that I have more power whether I use it or don't. It's always on the table," Dean says. "Let's say one of the students doesn't like something I've written. Will they feel comfortable to say that? They might, but maybe only up to a point. And then maybe they'd just be silenced or they would silence themselves."
There are additional uncomfortable questions arising through SaPs, such as the fact that certain students have more access to research opportunities than others. There may be some who are too busy working to pay their tuition to be able to spend any extra time on campus, others who don't feel like research is "for them" for whatever reason, and others who don't even realize it is an option. Answering "why?" has the ability to address long-standing systemic inequalities in the post-secondary system, and even across society.
The student experience
Chronik has enjoyed her SaP experience, saying that she feels "fortunate" to be able to partner with Dean and Haney, who are working hard to diminish the power dynamic. "As we venture on our research project together, I get to know each of them better as individuals. At first, partnering with a team of higher-educated faculty seemed daunting, although I now realize we are all just people."
Creig echoes this sentiment, saying that she has gained a new level of respect for faculty members and what they do that has resulted in building a higher level of comfort with the university model as a whole. "I have a greater sense of belonging within Mount Royal and am inspired to make a difference within the research we are undertaking," Creig says.
Both Chronik and Creig believe that their perspective is crucial for a positive outcome for the project, with Chronik saying, "I think Amanda and I will be successful in our interviews, as students who want to participate may feel more comfortable approaching us compared to our faculty partners. In the overall process of research projects, I believe students bring unique perspectives and skills that impact the success of projects and partnerships."
@kllever1 #SSoTL19 challenges all of us - students and faculty - to collaborate in ways that help 1st year students engage meaningfully in research and publication. Best advice for making this happen: follow joy.

— Yasmin Dean (@YdeanBean) November 9, 2019
A trusting relationship is fundamental, Dean says, but even if everything seems to be going fine it's important to always remember the power issue. The implications of some SaPs literature are that eventually they can reach a state of complete equality, but Dean is unsure if that is possible at this moment. The truth is, there is no real equality in the world, so the possibility of it being achieved through these sort of projects is minimal. At least for the time being. With further work on SaPs this structure can be changed.
Creig touches on this when she says, "I find when working with professors or faculty members, students feel like they need to passively go along with the proposed idea or plan of the professor. However, in this process Michaela and I were encouraged and supported when we voiced our ideas and thoughts about our experiences as students. Sometimes professors might develop and complete research that influences and impacts students without actually involving them in the process. I was able to confidently give a student's perspective to our partnership."
The questions about power, equality, even personality, are all worth asking, as complicated as they may be, says Dean. Because the outcomes can only be positive with sincere, critical analysis. In addition to including students in research, SaPs can also be extended to including students in the development of curriculum and, essentially, every aspect of post-secondary institutions. All of this can lead to a more productive experience for everyone involved.
The collective impact
The dissemination of the ideas collected at symposiums such as ISoTL's and SoTL research being carried out is key to the teaching and learning concept building and thriving in the post-secondary world. Dean, Haney, Chronik and Creig all attended the ISoTL symposium this year and presented on what they have learned so far. ISoTL will be starting a publication this year, for which Yeo says those who presented at the symposium will be invited to submit a paper.
Yeo, who is also the president-elect of the International Society for the Scholarship of Teaching and Learning (ISSoTL), and says that like SaPs, there are questions of privilege and access arising in SoTL itself, as those involved are realizing that there are very few international partners. She says a current goal of the ISSoTL is to work on becoming at "truly" international organization.
A bit of a newbie to the world of teaching and learning, Nathan Lawley, the Students' Association of Mount Royal University's vice-president, academic, attended the symposium as well. He says he was impressed with the diversity of academic disciplines from which the presenters were from, as well as their dedication to their craft. "The Scholarship of Teaching and Learning benefits MRU students by engaging faculty in conversations about how they structure their pedagogy. Constant learning on the part of faculty benefits students by ensuring a high regard for teaching at our institution.
A diversity of opportunities for students to engage in experiential learning are vital in their undergraduate experience and part of Mount Royal's mission: a focus on teaching and learning, informed by scholarship.
Dec. 3, 2019 — Michelle Bodnar
Media request contact information.
Have a story idea? Please fill out this form.