Students head to Map the System national final
Event will be held virtually from Montreal
Update: Mount Royal team advances to Map the System finals
Mount Royal's winning team from the Institute for Community Prosperity's 2020 regional Map the System competition performed well enough at the Canadian finals May 8 to be advanced to the global finals. The finals will be hosted by the Skoll Centre for Social Entrepreneurship at the University of Oxford from June 5 to 7.

The team includes the individuals below, who are investigating the question "Is Canadian charity designed to fail?":

Jillian Mah
Bachelor of Arts ― Information Design

Ashley Dion
Bachelor of Business Administration ― General Management, Minor in Social Innovation

Matthew Taburada
Bachelor of Arts ― Behavioural Sciences (Ambrose University)

The team's five-minute submission video provides an overview of their topic and research.
Register to watch our Canadian Final Competition on May 8th here: https://t.co/64rthUleoQ #mts2020 #mapthesystemcad pic.twitter.com/lpJ8fi60VE

— Map The System Canada (@mapthesystemCAD) April 23, 2020
---
Four teams of students from different disciplines participated last week in Mount Royal's fourth annual Map the System competition. The winning team will compete online in the national final early next month.
Map the System challenges students to tackle a social, economic or environmental problem by thinking about the wider context and contributing factors. Students are expected to apply different skill sets as they think of problem-solving through a process that documents the full complexity of an issue.
The event originated at the University of Oxford four years ago. Mount Royal students have earned a reputation for excellence at the national and international levels, making it to the global final in Oxford every year so far and winning the top prize in 2018.
Ashleigh Metcs, a previous participant, is a recent graduate of the Information Design program, and managed the campus competition this year, which was held in a virtual format because of the pandemic-related campus closure.
"Map the System teams are always encouraged to choose a topic they're passionate about, rather than randomly choosing a topic," she says.
"Teams with lived experience and passion for their issue tend to do better in this competition. This year's participants all have a genuine interest in the topics they explored. Some teams even have a personal investment in their issue."
James Stauch, director of the Institute for Community Prosperity, says passion for the topics was evident with each of the teams.
Students from the different teams explain what led them to choose the topic they explored.
Winning team — Map the System 2020
Is Canadian Charity Designed to Fail?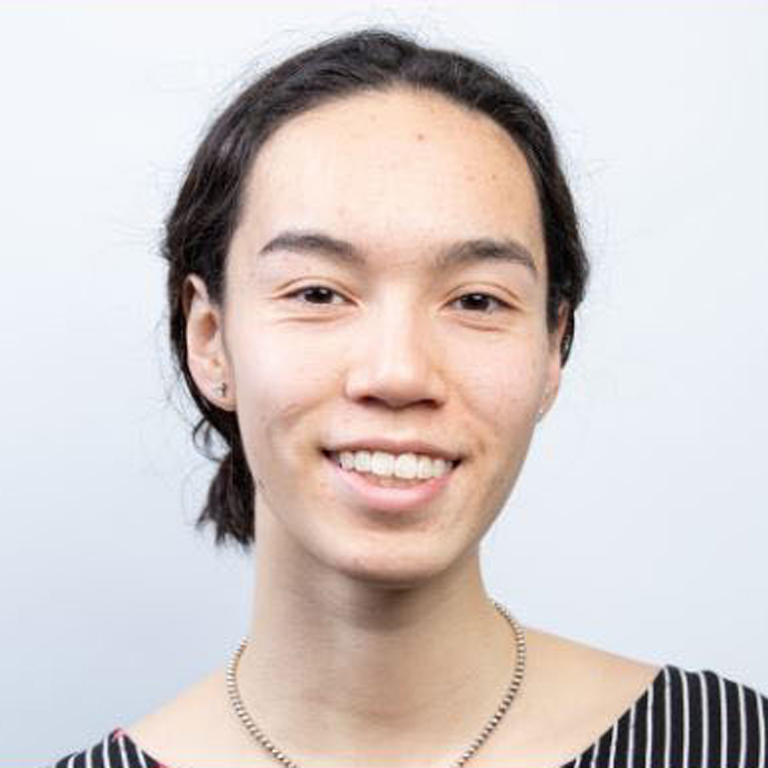 Jillian Mah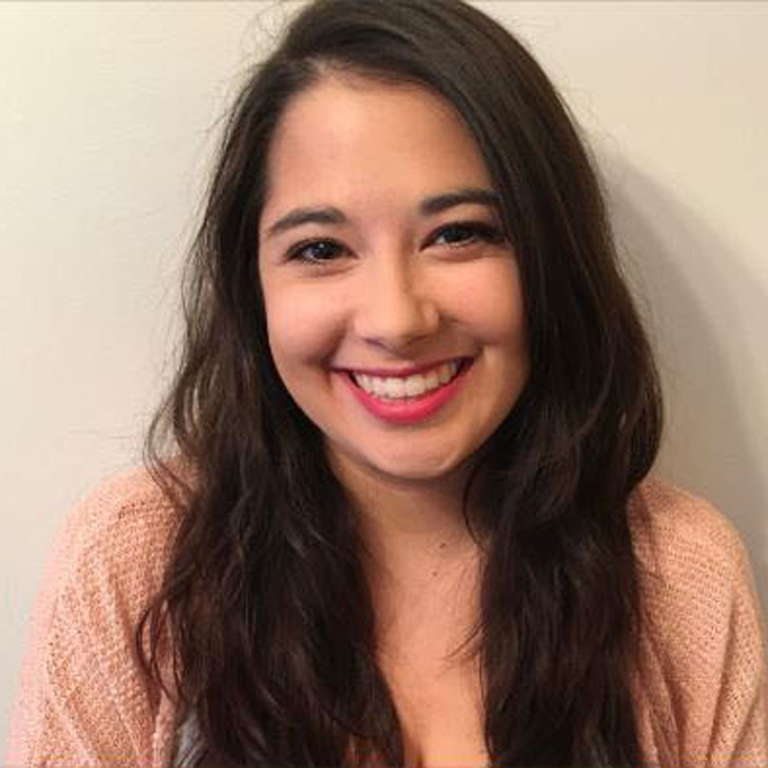 Ashley Dion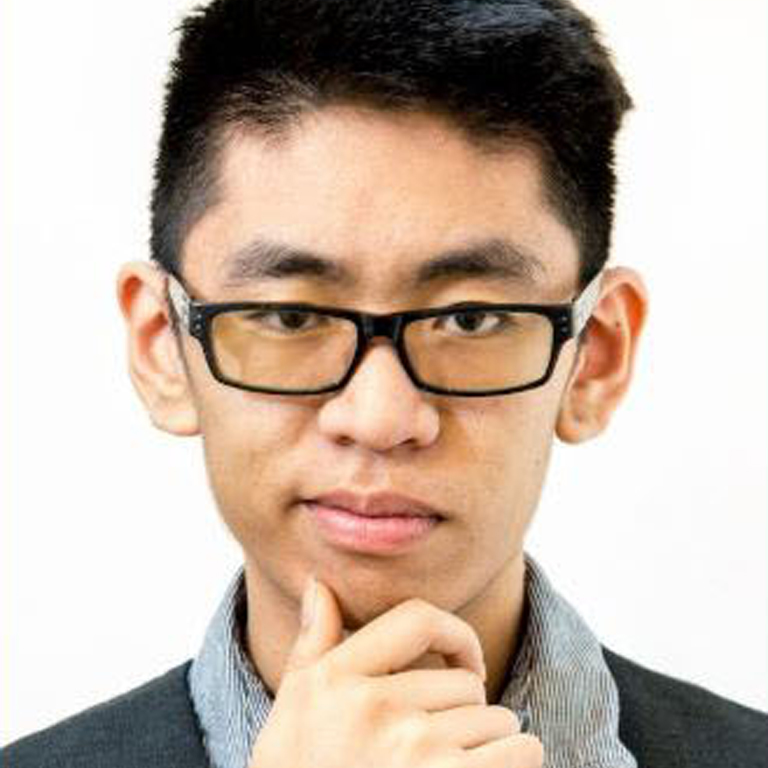 Matthew Taburada
---
Jillian Mah — Information Design; Ashley Dion ― Business with a minor in social innovation; Matthew Taburada ― Ambrose University student in behavioural sciences
This group discussed the trends, mental models and systems that contribute to Canada's charity unsustainability. Mah, Dion and Taburada come from a unique and diverse variety of backgrounds.
"All of us have issues that we are passionate about solving, and a commonality is that most social issues are addressed by charity at some point. The charity system exists to fill the gaps of what governments do not offer to Canadians. Government services, along with 86,000 charities, exist in Canada, and we still see these issues continue to persist.
"Our interest in this topic came from both an urgent need to question why these social issues persist, despite the number of organizations working on them, and a curiosity about the mental models and structures that have created the systems we live with today," explains team member Jillian Mah.
---
The Alarming Inflation of Panic Disorder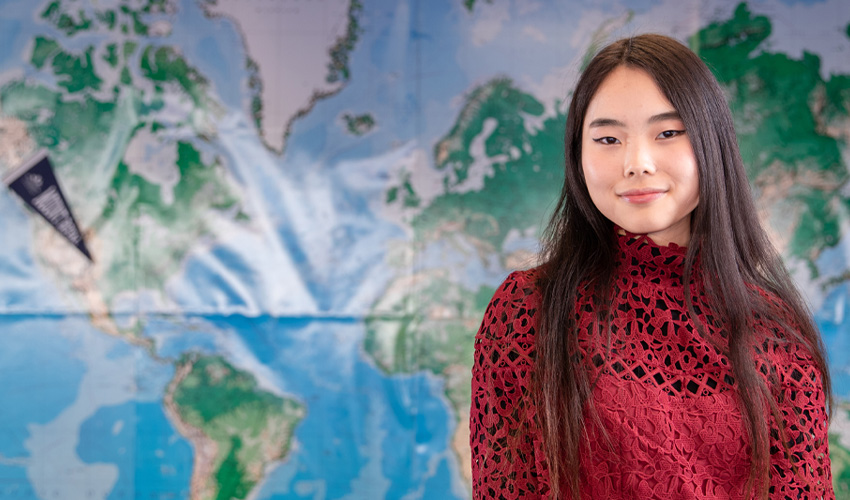 Mizuki Oshita
---
Mizuki Oshita — Social Work Diploma, international student
Oshita shared her personal experience with panic disorder; answering "what is panic disorder?" and explaining how it is affecting younger populations.
"I was initially interested in environmental issues and homelessness in Calgary, as I had personal and practicum experiences with both. On the way home from the Map the System information session, however, I pondered, "What issue do I feel the most passionate about?" The last idea that came up in mind was panic disorder ― the very challenge I suffer from.
"The topic area made most sense to me at that point as I was particularly lost even before struggling to cope with it. I thought it would be a chance for me to deepen the understanding of my own struggle and confront my fear. Most importantly, though, my hope went to my home country (Japan), where acceptance towards mental health issues is not as developed as in Canada. I wanted to embark on a journey to make society more comfortable for anyone with mental health challenges. I believe that sharing my lived experience with panic disorder will enable others to feel that they are not alone."
---
Offender Employment and Reintegration in Canada
Regine Siamen — Criminal Justice with a double minor in international business and economics and minor in innovation and entrepreneurship
Siamen explored the complex issues offenders face when reintegrating back into society, including factors such as the type of offence, education level, employability, economic changes and challenges maintaining employment.
"(This project) was more or less three years in the making. It was a slow realization that I was passionate about employment of people with criminal records or who are offenders. In the beginning, it was just a 'small' topic that I thought no one was talking about in my degree and it was for a research paper in my qualitative research methods class.
"I had the thought that I wanted to provide jobs to people who just got out of prison or who had criminal records from the past, because it is an unspoken truth and reality in criminal justice that a lot of them do not have opportunities for rehab or restorative justice. As the years went by, the vision materialized even more. I was beginning to become interested in economics and I thought to myself, 'How can I make the 'business' world meaningful for me? For the world around me? For the people involved in the criminal justice system?' I thought what better way to give back to the community by combining two things that are seemingly unconnected.
"I took my first business class in South Korea as an exchange program student and when we had to present a pitch, I thought about the best way to present what would also interest me. I said, 'Well, I miss poutine so much and I am a criminal justice student, so why not combine the two?' From there, the idea of employing "ex-offenders" was born. I didn't really take it seriously until almost a year and a half later when I thought 'Why not? Why not actually pursue this?' So, I did.
"Three years later, I have spoken to organizations in the U.S., the U.K., and have made myself known in the ever-growing startup community in Calgary. I am no longer that 'odd kid' in business classes. My only desire in life is to connect these gaps. and if I could reduce recidivism in my own way, I can say that I lived a full life."
---
Neighbourhood Gentrification in North America
Katerina Bravo — General Management with a minor in social innovation
Bravo answered the research question: How might we continue to innovate within cities and revitalize communities without gentrifying them?
"For the Map the System challenge, I wanted to choose a topic that related to my career aspirations.
"I've become very interested in civic innovation and how cities become centres for sustainability and connection. I believe that all citizens should be able to have access to important amenities and feel like they have a sense of belonging in the communities they call home. Unfortunately, when a lot of neighbourhoods are revitalized, it is done to appeal to high-income populations and excludes the needs of those who are economically marginalized. This then leads to the displacement of many people who can no longer afford to live in their newly redeveloped neighbourhoods. By researching gentrification, I wanted to understand how we can continue to make improvements to cities and communities without disrupting the lives of the people who live in these neighbourhoods. My research determined that including the voices of all the current community members in the planning process is key to building inclusive, vibrant and engaged communities."
---
There were four judges of the competition: two Mount Royal faculty members and two external professionals representing the private and public sectors, all with expertise in systems thinking.
Stauch says Mount Royal has played a major role in the evolution of the competition. Alumni have moved on from participating in the campus competition, to managing it on campus, managing the national compensation and, beginning this year, managing the global competition at Oxford.
"Canadian schools tend to perform well in the competition in general. Simon Fraser University (SFU) is particularly notable, having won the global competition in two of the past three years," he says. "Like SFU, we are fortunate to have a rich educational ecosystem at MRU that promotes and supports systems thinking. MRU's Info Design program is entirely focused on that. There's also the Social Innovation Minor and Concentration, and the Trico Changemaker Studio's systems-focused workshops and learning opportunities for the broader community."
Winning team — Is Canadian charity designed to fail?
Mount Royal's winning team — which also includes a student from Ambrose University — will be one of 17 teams participating in the national competition next month. Mah says the judges' feedback has been invaluable to the team as it prepares for its next submissions.
"We are passionate about the problem and this is just another great opportunity to explore deeper into the issue of the charity sector," she says. "We are incredibly grateful to have a great network of support for us here at MRU, and we have been working hard to improve our research and tell a compelling story. If anything, the pressure would come from MRU's past success in the competition. We have big shoes to fill this year."
The national event is being managed by alumnus and employee Latasha Calf Robe. The global competition will also be a virtual event, run out of Oxford in June, and managed by alumnus Anna Johnson.
Learn more about Map the System. Explore the Bachelor of Communication - Information Design program and the minor in social innovation.
April 28, 2020 — Melissa Rolfe
Media request contact information.
Have a story idea? Please fill out this form.