Supporting adaptable and resilient social workers
Preparing grads for the frontlines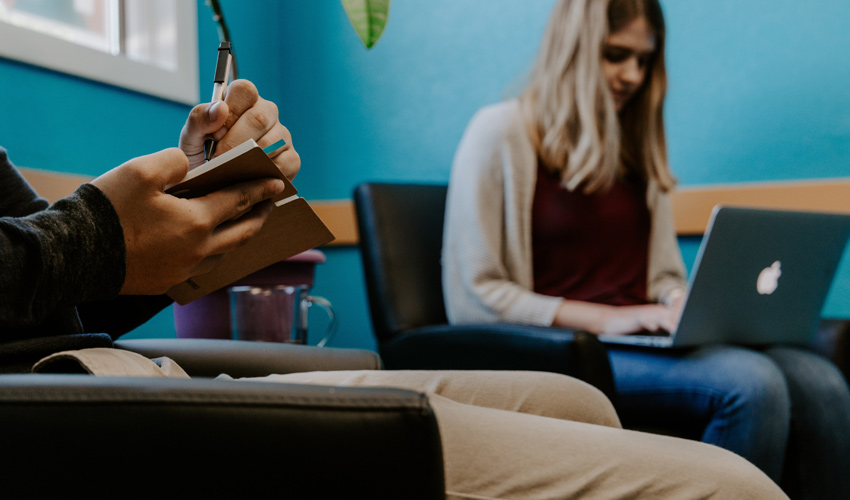 Mount Royal University prides itself on preparing its social work students for the extraordinary demands placed upon them when they enter the workforce.
---
Alberta's social workers are vital for supporting and representing the most vulnerable in our communities and are invaluable during difficult times. People are reaching out more than ever for help, and Mount Royal University Social Work Diploma students are ready for the task at hand.
Mount Royal prides itself on preparing its social work students for the extraordinary demands placed upon them when they enter the workforce. Faculty recognize that social workers must be good custodians of their own physical and mental health so they can adequately support the individuals and families they serve, and this is an important part of the curriculum. Students are taught to look out for common work-related issues, such as compassion fatigue and burnout. It is emphasized that those in the occupation need to be diligent about self care.
"We recognize that the environment has changed, and with that change we have had to respond," says Marva Ferguson, assistant professor.
"One of the things we do is ensure that students know that it is okay to ask for help."
A cooperative community
The agencies that Mount Royal's social workers represent also work to focus on the health and well-being for their employees or anyone who is providing assistance in the community.
"A lot of agencies have moved towards providing specialized support for individuals who experience trauma or stress or any of those known issues that you go through in the work environment," Ferguson says.
Juliet Burgess is an alumna of the social work diploma program and has been working as a support worker at YWCA of Calgary since 2015. She says that there can be high turnover in the field because of stress and work-life balance challenges. However, she credits Mount Royal for preparing her to be in the job for the long haul.
"MRU's social work program prepared me for the long term," Burgess says. "Anyone can provide basic emotional support, but not everyone is trained in theory, self-awareness and critical social reflection, which is what Mount Royal imparts onto us."
Social work is extremely rewarding, Burgess says, and the positive changes clients experience are what keep workers moving forward. "For me, the most rewarding parts are witnessing changes in folks' lives for the better as a result of their interaction with you," which could be anything from a successful referral, a change of perspective or just picking up new habit, routine or skill.
The complete picture
Stephan Hochhausen is a second-year social work student at MRU who also says the University does a good job preparing its students to work with people facing a range of challenges.
"There is an emphasis on addressing the multiple areas of the individual's life that are being impacted, have been impacted and have the potential to be impacted," Hochhausen says.
Students learn to look at their clients as a whole rather than in parts. This prepares them to address varying levels of trauma responses, counselling and referral approaches.
"The education I have received from MRU has aided in my employment role as a relief worker in a group home for at-risk youth."
Hochhausen says he is better equipped to address escalated situations, listen without judgement, refrain from giving advice, assist in resource management and implement approaches to problem solving.
For Ferguson, she says social work allows you to witness tangible results of your work. "You see that people have taken what you have said to heart, and they have made the applicable changes in their lives. And they begin to recognize that there is hope."
Graduates from MRU's two-year social work diploma program find employment in a variety of sectors, such as government, non-profit and private agencies. Graduates are also eligible to apply to become registered social workers in Alberta.
March 31, 2020 — Rob Petrollini
Media request contact information.
Have a story idea? Please fill out this form.