Taking it to the next level
Continuing Education student Janelle Mackenzie pushes herself, whether in becoming a Stampede Princess or in her professional development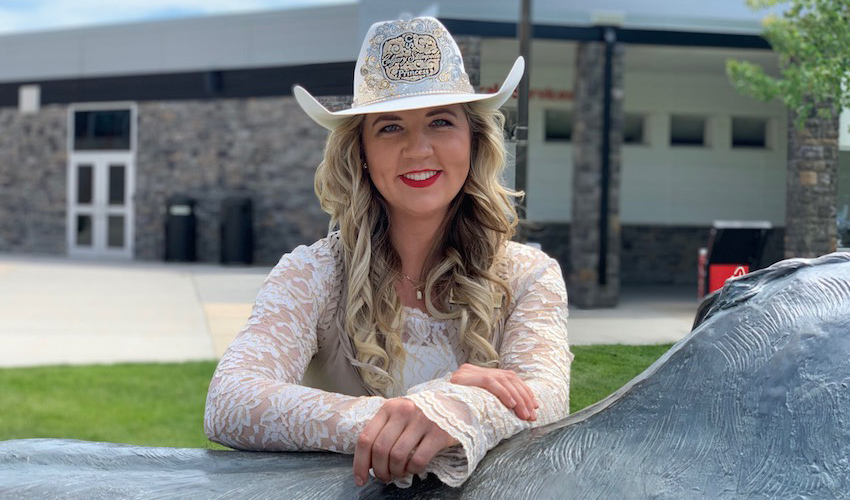 Calgary Stampede Princess Janelle Mackenzie is a student in the Pillars of Management and Professional Management Seminar Series at Mount Royal's Faculty of Continuing Education.
---
Being a member of the Calgary Stampede Royalty team is a demanding role at the best of times. With 2020 being what it is, it's a good thing Janelle Mackenzie is used to facing challenges.
The 25-year-old is a journeyman heavy-duty equipment mechanic, competitive rider, certified volunteer firefighter and Continuing Education student at Mount Royal University. Although the self-described tomboy is naturally shy, she challenged herself to apply to the Stampede royalty program.
"Ladies go through for different reasons and they're all perfect in a different way. I wanted the development side of the program: public speaking, media training, the riding aspect with clinicians, " Mackenzie says. "Something people don't know is that it's really a development program. It's not a pageant. They really put you through the paces. They want you to feel comfortable representing the Stampede. There is so much going on in the background to help us advance."
She was announced as a Stampede Princess in September 2019, along with Kelcey Moore (Queen), Madeline Kerkovius (Princess) and Falon Manywounds (First Nations Princess). She is the fourth generation of her family to immerse herself in all things Stampede. The family farm outside of Millarville boasts cattle, sheep and horses (they had 27 at one time). Along with her two sisters, Mackenzie serves on the Horse Safety subcommittee for the Stampede Parade committee. They are all following in the footsteps of their mother, who has served on the subcommittee for 35 years, and grandparents, lifetime volunteers with the Stampede.
Normally, Stampede royalty would take part in more than 400 events over the course of their reign, with the 10 days of the Stampede a non-stop blur of rodeos, sponsor events, breakfasts, special needs events and more. While the Greatest Outdoor Show on Earth may have been cancelled this year, the community spirit at the heart of the Stampede remained strong, she says.
"My favourite event was one where the Stampede partnered with the United Way. We picked up donations that went to families in need," she says. "And we also spent a lot of times in neighbourhoods where we'd just stop if we saw people doing COVID-safe gatherings."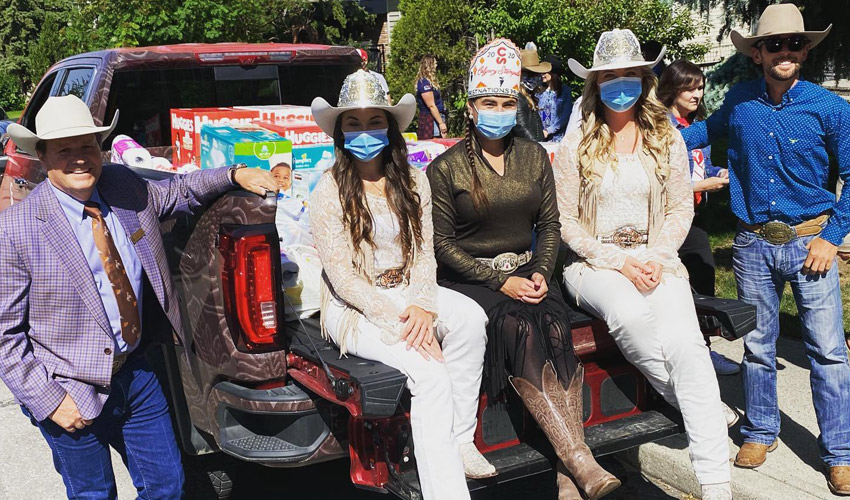 Taking part in the #UnitedApart Basic Needs Round-Up was one of the ways Mackenzie (fourth from left) and her fellow Stampede royalty connected with the community, despite the pandemic.
---
'I want to advance quicker than other people'
Mackenzie is not one to sit back and take it easy. She's goal-oriented and driven, and doesn't mind forging her own path.
"I have always wanted to take it to the next level. That's what drew me to the Blue Seal program at Mount Royal. I don't want to be a tech forever. Moving up to supervisor or manager, you need the other side of the coin to advance. You need to look at yourself and learn new skills, including communicating effectively."
Also known as the Achievement in Business Competencies Certificate, the Blue Seal program is a way for tradespeople to demonstrate that they have gained business knowledge and skills to complement their technical skills. Mackenzie — whose two sisters attended the credit-side of Mount Royal and whose father has taken courses through Continuing Education at Mount Royal — has taken courses in the Pillars of Management and Professional Management Seminar Series program areas.
"I am a bit impatient. I want to do everything now," she says with a laugh when asked about motivation for professional development so early in her career. "I want to be at a certain point at a certain age. I want to advance quicker than other people."
Mackenzie says returning to school to further her goals is rewarding and engaging.
"It's a new great experience to go to school again. It's your own choice, your own interests. You learn differently when you approach it that way," she says. "I've learned that I am more competent than I thought, and more well-spoken as well."
When instructor Judy McMillan-Evans learned that Mackenzie was applying to be Stampede royalty, the pair explored strategies to strengthen her application and brainstormed ideas, as McMillan-Evans has some background on the selection process.
"When I learned she achieved her goal I was so proud of her. Janelle demonstrated excellent leadership skills and traits, which I know are being further strengthened in her role as Stampede Princess," McMillan-Evans says. "Her commitment to professional development is sure to continue to reap rewards in the future."
July 21, 2020 — Ruth Myles
Media request contact information.
Have a story idea? Please fill out this form.