Taking the great outdoors … indoors
Old toys and imagination help students finish off an experiential backcountry course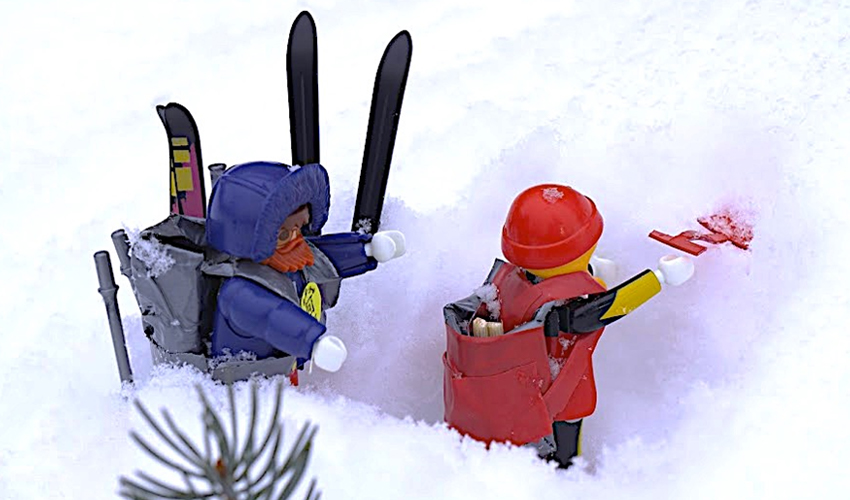 Playmobil characters are set up to re-create a virtual backcountry ski trip.
---
Like the rest of his colleagues, in March Associate Professor Ian Sherrington was tasked with somehow finishing the winter semester online. Sherrington, assisted in the creation of a lot of the ecotourism and outdoor leadership (ETOL) program quickly found himself in a bit of a blizzard.
With 22 years of teaching experience under his belt, Sherrington was able to get all 15 of his students to finish his HPED 3884 ― Winter Backcountry Travel course online. As its name denotes, the course includes an outdoor unit where students embark on an Avalanche Skills Training (AST) course, an entry-level certification through Avalanche Canada.
Navigating Sherrington's type of course material is a challenge even under normal circumstances, and not for the faint of heart. HPED 3884 is an "activity" course requiring a high degree of theory, which is then put into practice on a three day, off-campus trip. The excursion is typically a key element to cementing the "in-class" aspect of the course. This year, the stoppage of face-to-face learning as well as travel restrictions imposed on both provincial and national parks made it impossible for Sherrington to facilitate the trip. That left him with a huge question mark as to how to continue with the second half and provide students with a fulsome experience.
"I decided to see this as an opportunity to find creative ways to engage students who are used to active, experiential learning," Sherrington says. "The theory aspects were an easy switch: using Google Meets in the same manner as most professors at MRU, I was able to complete these aspects of the curriculum. This was not without anxiety; my first attempt was fraught with technical glitches and false starts. The students were extremely gracious and patient with these challenges and I felt that they were on board."
Experiential learning online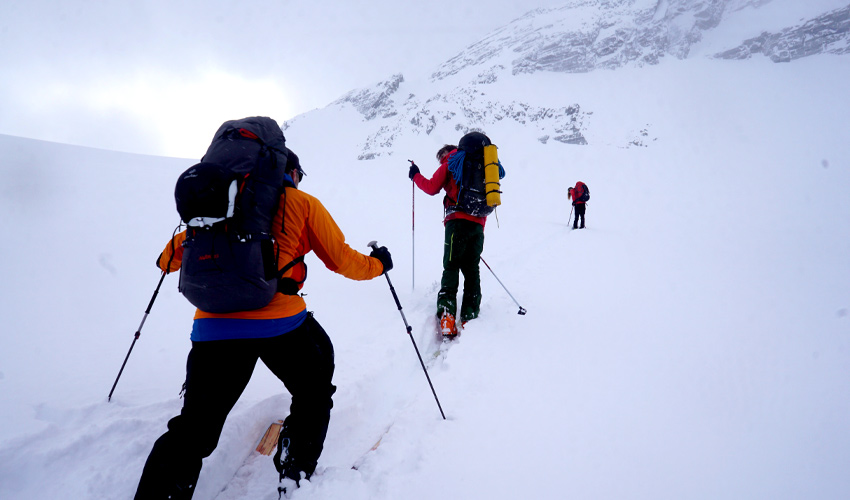 ETOL students trekking through backcountry terrain discussing and practicing decision making and risk mitigation.  
---
For Sherrington and his students, the three-day "out trip" typically involves trekking through backcountry terrain as a group discussing and practicing constant decision making and risk mitigation, while observing and recording the intricacies of the factors that affect avalanche risk including weather, snow stability and terrain.
"The other major learning outcome from this experience is to gain understanding of the use of safety equipment involved in avalanche rescue," Sherrington says.
So, how to take this potent experience and find a way to move it into the virtual world? Improbable but not impossible.
Using Ski Playmobil characters left over from his children, Sherrington was able to re-create a virtual backcountry ski trip in his backyard. Employing his wife as his teaching assistant, the pair built scenes of the two characters grappling with the decisions of route finding, information gathering, effective group management and avalanche rescue.
"After we were set up, I then took photographs and wove them into a virtual scenario that walked the students through every step of the leadership, decision making and actions involved in creating a safe and enjoyable backcountry experience."
For the avalanche rescue aspects of the course, Sherrington was able to get an avalanche transceiver and an avalanche probe to about 80 per cent of the students (some had moved back to their hometowns when the University went to alternative delivery). This tool became practical when, surprise! Calgary got snow in April.
"Once I had given them the theory of avalanche searches, the students were then able to go to their local parks and practice. We were blessed with snow in town until well into April, which made this work extremely well."
For assessments, there had to be some major overhauls to assignments while trying to maintain the integrity of the outcomes. With the Avalanche Rescue skills test, Sherrington had each student submit a video of them conducting an avalanche rescue in a field. To complete the assignment he asked them to verbalize each step and decision that they were carrying out so Sherrington could assess understanding. For students who could not access the gear, he asked for them to submit a paper outlining the process of avalanche rescue.
The field book assignment is typically a chronological log of the three-day out-trip, so, again, creativity had to be employed. Sherrignton delved into the world of creating a virtual experience for the students to chronicle.The trick was not to give all the information away but be clear enough to give them something to record. Two days before the national parks closed their doors, Sherrington snuck in a day of backcountry skiing at Yoho National Park and videoed segments of the day.
"Importantly, I stopped at intervals and filmed my surroundings including the current weather (temperature, wind, precipitation, and so on), signs of instability, the terrain and others. This was then put together along with maps and Google Earth imagery to create a virtual day," Sherrington says. "The students then had to participate as a leader of the 'group' and record the day by hand on paper, as if through their own eyes."
Sherrington has offered the students a make-up field day early next winter or the opportunity to join next year's class out-trip if there is room. Many of his students have expressed an interest in taking him up on this offer. Without the eight-hour field day, he was unable to offer the AST Certification to the students. Ideally, those students who can attend a make-up session next winter will achieve this certification.
Tales from the other side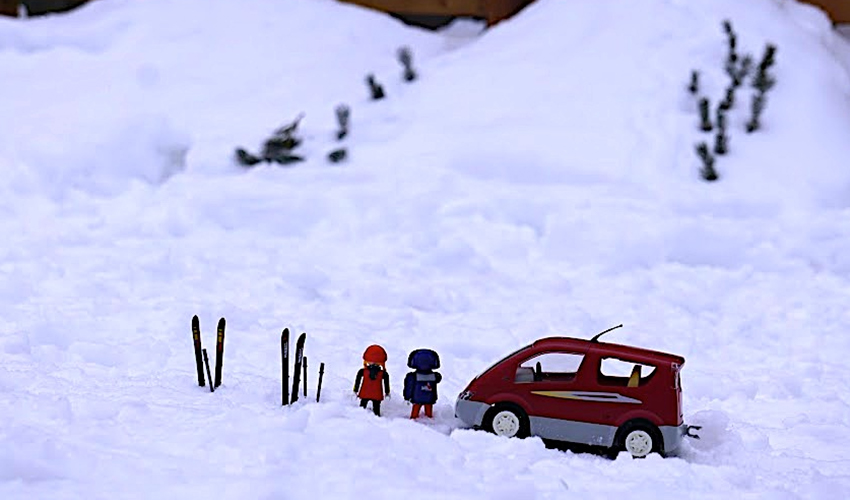 Students loved the addition of Playmobil characters, Horace and Crystal.
---
Stephen Fanstone, a fourth-year ecotourism and outdoor leadership student who is minoring in business of sport and recreation recently graduated this academic year and was part of Sherrington's class.
"My virtual experience for this course was a pleasant one," Fanstone says. "I attribute this to my professor, who went above and beyond what anyone in our class expected in changing our full practical backcountry ski course to one that was entirely online. Then followed by adapting the online lectures he gave us with additional sources of information and applying the concepts we learned to real-life events. Thus, overall making for an enjoyable class and online learning experience."
The biggest takeaway for Fanstone has been the concept of adaptability. As he points out, everyone has had to make adjustments. "Moving forward in my professional career, I need to keep an open mind in facing challenging situations and adapting to what best suits the obstacle ahead."
Second-year ETOL student Claire Mieszkalski had a similar experience. As she recalls, after hearing that the practical backcountry skiing course was 'going virtual,' Mieszkalski assumed that this was the end of any practical learning in Sherrington's course.
As it turns out, it wasn't!
"In spite of everything, I still had similar take-aways when it came to avalanche science, general decision-making skills, and leadership knowledge. My professor's creativity played a huge role in this," Mieszkalski says. "He turned his backyard into a winter backcountry ski trip using Playmobil characters on skis to set up decision-making scenarios to test our understanding of avalanche terrain. We also had the ability to pick-up avalanche gear from our prof in a safe manner and film ourselves using it properly in our communities or backyards, and then submit it for grading."
While she was disappointed to miss out on a highly anticipated trip, Mieszkalski was really grateful that her professor still got the information across in a way that didn't make her feel like she was missing something.
"I think my biggest takeaway was learning to roll with the punches. Trips and learning opportunities can get cancelled without a global pandemic happening. Either way, it's up to me to decide my attitude and approach when plans change and to work with it. Combine a good attitude with good teaching adaptations? That's unstoppable."
With an experience like this, early on all involved are off balance but understanding of the unprecedented situation. Sherrington reflects that his students were extremely gracious, and that really spurred him to play off their positivity and create an experience for them that he is proud of.
"Everyone seemed to love the addition of the Playmobil characters, Horace and Crystal,'' chuckles Sherrington. "It shows the importance of light-hearted play in every situation, especially difficult ones."
Overall for Sherrington the biggest challenges were faced early on. For him, getting past the stage of worrying about what he and his students had lost and getting on to creating something in its place was his motivation.
"I learned that there are effective, alternative ways of delivering outdoor leadership activity courses. However, it has also highlighted for me how important the experiential aspects of these courses are in the learning process for students. The methods I employed during this truncated semester worked well and could certainly be transferred to other situations like offering Field Leader courses through the Outdoor Council of Canada to remote locations where face-to-face instruction is difficult to provide."
The Bachelor of Physical Education ― Ecotourism and Outdoor Leadership program pushes limits both physically and academically.
May 11, 2020 ― Jonathan Anderson
Media request contact information.
Have a story idea? Please fill out this form.