Teaming up to preserve our parks
New research network will better safeguard Canada's protected areas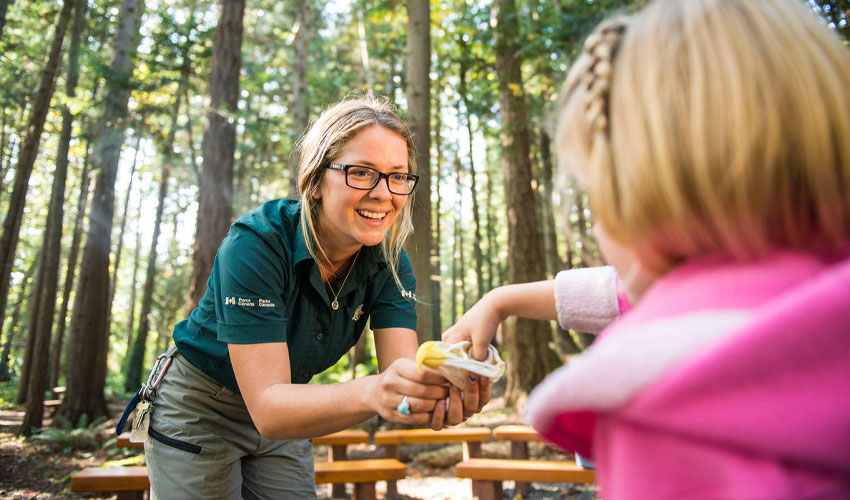 The Pan-Canadian Parks and Protected Areas Research Network is a network of scientists, researchers, Indigenous knowledge holders, students, parks and protected areas specialists and managers. Photo courtesy Parks Canada Facebook.
---
As part of the Canadian Parks Collective for Innovation and Leadership, the trio of Mount Royal's Institute for Environmental Sustainability (IES), the Government of Canada and the Canadian Parks Council have recognized the need to foster research to better conserve and manage parks and protected areas across Canada.
Representing MRU for the new Pan-Canadian Parks and Protected Areas Research Network is Connie Van der Byl, PhD, associate professor from the Bissett School of Business. Known for her work as a sustainability researcher and advisor to energy organizations on their strategic responses to environmental issues, Van der Byl took on managing the project through her role as academic director of the IES.
"What I am most excited about is growing my research and scholarship program beyond energy to include parks," she says. "I think my corporate strategy and sustainability lenses will bring an interesting perspective to the issues facing our parks.
The Pan-Canadian Parks and Protected Areas Research Network is a new network of scientists, researchers, Indigenous knowledge holders, students, parks and protected areas specialists and managers that builds upon the IES' previous success creating a network for park leaders across Canada to collaborate and connect ― the Canadian Parks Collective for Innovation and Leadership (CPCIL). The Pan-Canadian Parks and Protected Areas Research Network will help build an understanding of issues and potential solutions to safeguard Canada's natural protected areas. Network members will share knowledge and best practices and identify opportunities to collaborate on joint projects.
The network provides an opportunity for Mount Royal faculty and students to be part of important research and scholarship in the context of Canada's parks and protected areas, which are themselves interdisciplinary, engaged with community and committed to the pursuit of sustainability.
"Through this research and scholarship the IES will be engaging Mount Royal students, which is always very gratifying for me," Van der Byl says.
If 2020 has revealed anything, it's that the need to be outdoors is greater than ever.
"I think society's response to COVID has really highlighted the value of nature and our outdoor spaces. There is such benefit to our physical, mental and spiritual health," Van der Byl says.
"Parks are important. All of us connected to this network believe in the work and see the value of collaboration. I think much will be accomplished and important relationships in research and scholarship developed."
Van der Byl invites the many Mount Royal faculty from across disciplines who spend time in our parks and enjoy the outdoors to direct that passion to the work of the network and help create new research and scholarship programs. The research network will leverage government, academic and non-profit members to accelerate the development and diffusion of critical research. The IES became involved through their participation in the Canadian Parks Council park leadership program and their role as a founding university of the CPCIL, alongside co-founding institutes Royal Roads University and York University.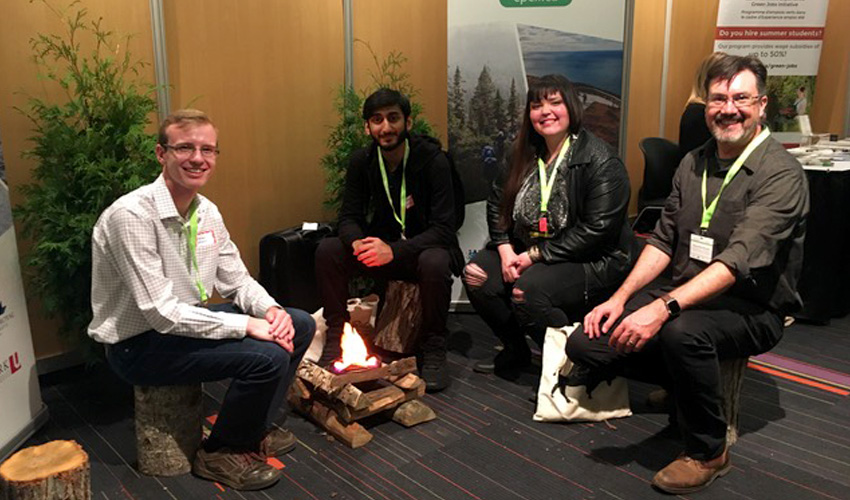 From left to right are Murdoch McKinnon, Noordeep Kalsi, Sarah Buffalo and Don Carruthers Den Hoed attending the 2019 Canadian Parks Conference in Quebec.
---
Also with IES, Don Carruthers Den Hoed, PhD, is a senior fellow and manager with the CPCIL. He worked in Alberta's provincial parks system in Kananaskis Country for 26 years before joining MRU as a postdoctoral fellow to begin an academic career focused on effective park leadership and sustainable conservation. Carruthers Den Hoed hosted a workshop in 2019 that designed the research network and is now leading its implementation.
"The IES has served as an incredible incubator for the CPCIL project and the research network by its commitment to improve environmental, social and economic sustainability through community engagement, student learning and scholarship," he says.
"Parks and protected areas are dynamic, complex and important sites to study and practise approaches to sustainability. With this project, MRU and the IES can bridge faculty and student opportunities regardless of discipline. It's hard to imagine any aspect of Mount Royal that cannot link to parks and protected areas."
Murdoch McKinnon, who graduated this year with a Bachelor of Science ― Environmental Science and is currently pursuing his Master of Science ― Geography from the University of Waterloo, took part in the network's development.
"As a natural scientist, I was surprised by the tremendous role traditional knowledge and the social sciences play in the management of protected areas," McKinnon says.
"Looking back, I'm not sure how I could have missed the critical role of these ways of knowing in understanding the connection between people and their parks and the traditional and contemporary uses of these places. Attending the conference and being involved in the facilitation of the workshop truly broadened my horizons, and I now have a great appreciation for the complementary roles of Indigenous ways of knowing, natural sciences and social sciences in meaningful parks management."
McKinnon is studying the use of a novel reclamation technique in the Alberta oil sands region, which aims to return oil and gas well pads to naturally functioning peatland ecosystems. He is specifically focussed on the assessment of hydrological and nutrient cycling dynamics contributing to the successful establishment of peatland mosses on a former well pad.
Following completion of his master's, McKinnon is considering further graduate studies or entering the reclamation field back home in Alberta, perhaps adding his work to the CPCIL.
Over the next three years, the Pan-Canadian Parks and Protected Areas Research Network will engage diverse communities through an online platform integrated with the CPCIL project. It will develop and offer a variety of learning opportunities such as webinars, virtual summits and online courses. These actions will help advance science, research and evidence-informed decision making to safeguard Canada's natural areas.
"We also want to expand the understanding and appreciation of how many disciplines of study can relate to parks and protected areas — they touch on obvious domains of conservation and recreation, and they can also play a role in health and education, community development and the arts, business and entrepreneurship, and more," Van der Byl says.
"The model for this network is strongly aligned to what we do at Mount Royal University. There is a focus on applied research and teaching and learning — all things Mount Royal excels at."
Discover more about the Institute for Environmental Sustainability at Mount Royal University.
Dec. 3, 2020 — Jonathan Anderson
Media request contact information.
Have a story idea? Please fill out this form.