"Thank you for your inspiration, graduates"
The next generation of MRU alumni is set to make a difference
Mount Royal University's drive-in convocation ceremonies were emotional, uplifting, and just plain fun. Guests parked their vehicles to watch live proceedings on the stage, with additional big screens providing everyone with a great view. During these remarkable proceedings, attendees honked their applause, rather than clapped. Audio was listened to on car radios tuned in to 88.5 FM. Smiles were given behind masks, with handshakes and hugs having to be saved for another time, however the sense of community remained strong.
What resonated with everyone was the opportunity to gather ― albeit in a parking lot ― to recognize something very important. A new generation of Mount Royal alumni are now set to make a difference in the world.
The celebration started off with video greetings from faculty, alumni, luminaries and former honorary degree recipients Bret Hart, Cassie Campbell Pascall and Kelly Hrudy sending their very best to grads.
The message from all was a sincere and hearty congratulations on the completion of graduates' goals during a year no one could have imagined.
As Professor Scott Murray, PhD, of the history department said, "Some day, looking back, you'll realize what a huge achievement this is and you should all be very proud. Take what you've learned and use it to change the world.
"Thank you for inspiring all of us, and congratulations."

History professor Scott Murray, PhD
New alumni were introduced to a community of more than 105,000 others around the world. From a pool of more than 2,000 graduating students, upwards of 200 vehicles were able to attend each of the three ceremonies. As is usual, pipers led the procession and faculty were decked out in their alma mater's regalia. The University's Elder Miiksika'am (Clarence Wolfleg) provided a blessing for the graduates, a chancellor was installed, and Honorary Doctors of Laws were bestowed.
We asked 2020 grads on Instagram Stories what song reminded them of their time at MRU and then used the responses to create a playlist on Spotify.
President and vice-chancellor of Mount Royal University Tim Rahilly, PhD, said that Mount Royal could simply not let a year go by without celebrating graduates, and that the drive-in format was a way to do so in a safe manner. They were convocation ceremonies unlike any other in Mount Royal's 110-year history.
"(This) is a testament to all of you that as a university community we find innovative ways to celebrate our achievements and continue to gather with both enthusiasm and optimism for the future," Rahilly said.
Symbolic in its intent, the ceremonies were a sign of Mount Royal's dedication to its students, former and current, as they will be creating a new foundation for society and its values.
"We are glad you are with us today because standing still is not an option. We must continue to live lives full of meaning," Rahilly said.
Installation of Mount Royal's first chancellor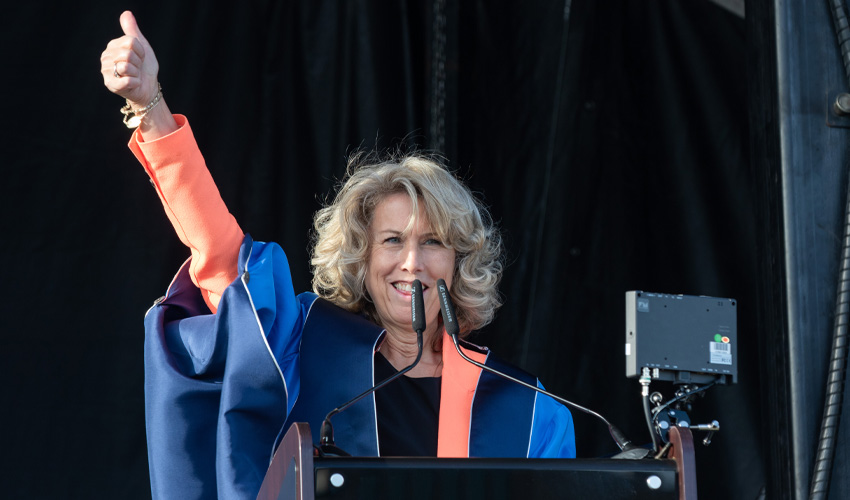 Accomplished business and community leader Dawn Farrell gives thumbs up to the graduates.
---
On Nov. 4, convocation included an installation of Chancellor Dawn Farrell, who was formally endowed with the power and responsibilities of the office by Alex Pourbaix, chair of Mount Royal University's Board of Governors. Pourbaix led the Oath of Office and then the Donning of the Robes, which now allows Farrell to officially confer degrees.
As the ceremonial head of the University, Chancellor Dawn Farrell presides over formal occasions and works to further connect Mount Royal with the community in order to serve a vibrant economy, environment and society. A champion, ambassador and adviser for the University to help advance the interests of the post-secondary sector, Farrell is an accomplished business and community leader. She has been the president and chief executive officer of TransAlta Corporation since 2012, overseeing the century-old company through the transitioning energy economy.
In 2019, Farrell was bestowed with an Honorary Doctor of Laws by MRU.
In her address to students, Farrell said that becoming the University's first chancellor is a great honour because of Mount Royal's exceptional track record, its attention to teaching and learning, and its strong focus on getting students ready to participate in their lives.
Farrell sees commitment on both sides, she said. Students work hard, do their very best, and are dedicated to going out and making a difference. The University strives to graduate a very high calibre of citizen, she said, and described MRU's approach to education as "innovative" and "sophisticated," and graduates as "smart" and "accomplished."
"Graduating class, you have benefitted from an education that has made you critical thinkers, problem solvers and collaborators," she said. "I can tell you that I love working with MRU graduates and the world needs more people like you."
Congratulations to the Mount Royal University Class of 2020! We hope you enjoyed #MRU's first-ever drive-in style outdoor convocation on campus as a creative way to honour your achievement #MRUgrad https://t.co/jslpXKPyTp pic.twitter.com/7HTs85p8T7

— Mount Royal U (@mountroyal4u) November 6, 2020
With plans to make Mount Royal even more sought-after, Farrell said, "There is work to do to aggressively link business, government and the University to the wonderful opportunities that are available as the future of work brings forward more opportunities to collaborate and build talent."
She spoke about the importance of publicly-funded education "so that we can build strong societies that can thrive, and sometimes even just survive, when the environment gets tough."
The future will be different than the past, she said, and she advised to look beyond what's happening today. Remain positive, steadfast and keep moving forward, was her message.
"By doing the work and earning your degrees, you've all got the foundation for what you need to become successful ― no matter what the environment hands you," she said. "Graduating class of 2020, because you are educated and ready to do your part, there is infinite opportunity ahead of you."
Honorary Doctor of Laws recipients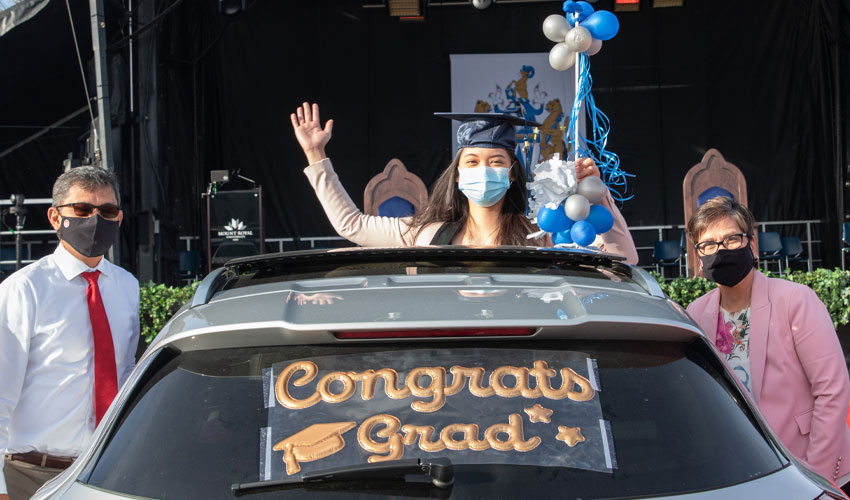 A Mount Royal University graduate cheers in celebration at MRU's drive-in Convocation.
---
Honorary degrees date back to the middle ages and are the highest symbol of recognition that Mount Royal can give to an individual. Each recipient addressed graduates and guests during separate ceremonies.
David O'Brien, business leader, philanthropist and former president of CP Rail, received an Honorary Doctor of Laws on Nov. 4. O'Brien holds multiple honorary degrees, including an honorary Bachelor of Applied Business and Entrepreneurship (International) from Mount Royal College, bestowed in 2000. He was inducted into the Canadian Business Hall of Fame in 2004 and became an Officer of the Order of Canada in 2008.
Eva Friesen, an icon in the not-for-profit sector and president and CEO of The Calgary Foundation, received an Honorary Doctor of Laws on Nov. 5. Friesen has provided effective leadership in the not-for-profit sector for nearly 40 years.  Since 2005, Friesen has been the president and chief executive officer of The Calgary Foundation, a community foundation established in 1955 to facilitate philanthropy and support the community.
Beckie Scott, Olympic gold medalist in cross-country skiing and advocate for athletes, received an Honorary Doctor of Laws on Nov. 5. After retiring as Canada's most decorated cross-country skier, Scott was elected to the International Olympic Committee's Athlete Commission for an eight-year term. A widely respected leader in anti-doping, she has served as chair of the World Anti-Doping Agency's Athlete Committee since 2013.
George Brookman, who has had a distinguished career as a businessman, while giving back as a passionate volunteer and city booster, received an Honorary Doctor of Laws on Nov. 6. A true Calgary builder and promoter, Brookman is the past president and chairman of the Board of the Calgary Stampede; past chairman of Tourism Calgary, past director of Travel Alberta and past president of the Downtown Rotary Club of Calgary.
Governor General's Academic Medal and Centennial Gold Medal recipients
Every convocation, academic excellence is recognized through Mount Royal's Centennial Gold Medal and the Governor General's Academic Medals.
Andrew Nguyen, former president of the Students' Association of Mount Royal University, graduated with a Bachelor of Nursing and was selected as the 2020 Centennial Gold Medal Recipient for the Faculty of Health, Community and Education.
Jamieson Zunti left Mount Royal with a Bachelor of Arts ― Anthropology and was selected as the 2020 Centennial Gold Medal Recipient for the Faculty of Arts.

Justin Nicholson is a new alumnus of the Bachelor of Science ― Health Science and was selected as the 2020 Centennial Gold Medal Recipient for the Faculty of Science and Technology.

Jan Ronel Santiago graduated with a Bachelor of Business Administration ― Accounting and was selected as the 2020 Centennial Gold Medal recipient for the Faculty of Business and Communication.
With a 4.0 GPA, Jordan Pandarinath graduated with an Aviation Diploma and received a Governor General's Bronze Medal for achieving the highest academic standing of all graduates in a diploma program.
Sarah Green received the Governor General's Silver Medal for earning the highest academic standing of all graduates in a degree program with a GPA of 4.0. She is a new alumna of the Bachelor of Communication — Journalism program.
Read more about the recipients.
Employment Preparation Certificate celebration
Mount Royal also held a drive-in celebration of Employment Preparation Certificate graduates, their family and friends Nov. 4.The Employment Preparation Certificate program supports adults with developmental disabilities as they build skills to help them find and maintain employment.
The program is part of the Transitional Vocational Program, which since 1980 has been providing a variety of post-secondary programs to adults with developmental disabilities
Watch the video of the celebration.
You always belong here, alumni. Please stay in touch through Mount Royal's alumni department.
Nov. 6, 2020 — Michelle Bodnar
Media request contact information.
Have a story idea? Please fill out this form.