Students' final research project identifies keys to success in gig economy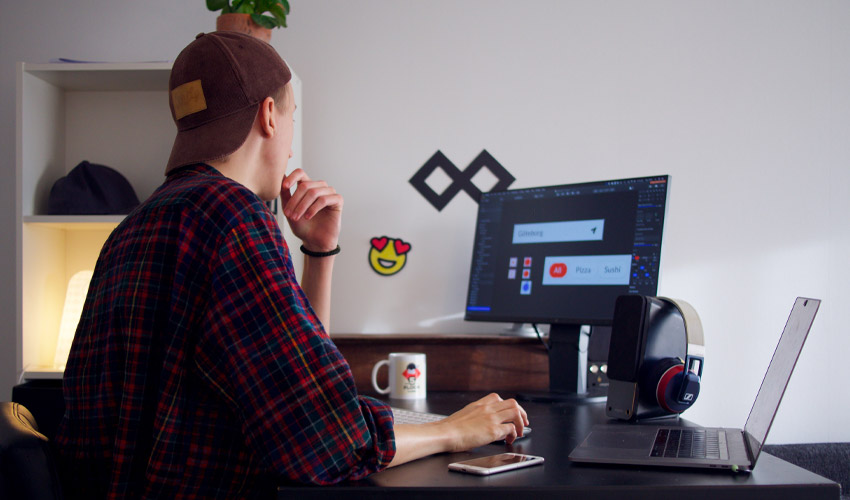 Compared with people who remained solo practitioners, those who formed their own companies tended to have a higher tolerance for risk.
---
In a research study of local marketing and communications professionals, two recent marketing grads found that gig workers succeed when they have mentors and access to new technologies, but there remains a tendency to move between independent and full-time work.
Before the COVID-19 pandemic, Mathew Pust and Annie Hudson interviewed 17 people about their career paths in marketing and communications. Pust graduated with a double major in marketing and general management last year. Hudson earned a degree in marketing.
The people they interviewed had between four and 30 years of work experience in different career settings, with some working in agencies, some freelancing and some doing both, Hudson explains.
"We talked about why they chose the professional path that they did, and what led them to go more into the agency side or the freelance side, and how their career has evolved over the past decade."
Among the freelancers, some common themes emerged when they described what helped them succeed, with mentorship the most commonly cited factor, according to Pust.
"One of the biggest things a lot of the freelancers were saying was that if they had a mentor, it cut down on mistakes," he explains. "Where they might have learned from experience, the mentor was able to almost skip that step where you'd have to learn that hard lesson, and say 'no, this isn't going to work.'
"You're going to have an easier time if you have someone guiding you."
This research is the result of a directed reading project carried out with marketing professor David Finch, PhD, who published Designing YOU: Life beyond your grades in 2016 with Ray DePaul, director of Mount Royal's Institute for Innovation and Entrepreneurship. The book challenges students to optimize their time at Mount Royal by ascribing to the concept of the "whole product" when looking at themselves and what they have to offer.
"The 'whole product' is everything a customer needs and expects to get when they buy a product, plus the promise of everything it could become," explained Finch at the time.
With regards to mentorship, Designing YOU contains a chapter titled "Building your design team,"  which Finch says is a "redefinition of mentoring but adopting a team approach." It is step three in the "designing you" process, and highlights the importance of developing personal and professional relationships for success.
The book says, "We all spend 15 to 20 years in a classroom focused on developing our knowledge and spend relatively little time explicitly developing personal and professional relationships. A rule — yes, a rule — of Designing YOU is that you won't succeed in achieving your goals alone."
Human resources are important, but so are the technical ones
In addition to mentorship, new, accessible and affordable technologies were also found to be important to success for those who were freelancing or building up a business. Technology that used to be expensive and specialized is now readily available. "That really disrupted the agency model," Pust says. Gig workers could easily direct and shoot videos, for example. "Accessibility of technology is changing the market."
The students found that interviewees had different reasons for choosing agency or freelance work. Some were drawn to the freedom of freelance work and a sense of control over their lives and careers. Others preferred steady, full-time positions, particularly if their spouse or partner was doing gig work.
And among those who were freelancing, some plunged right in or were forced into it because they couldn't find a full-time job. Others tested the waters and waded in gradually, explains Hudson.
"Some people made a very slow transition into the gig economy. They kept their job full time and then part time as they started taking on contracts here and there. And then eventually they were able to lift off and support themselves."
Compared with people who remained solo practitioners, those who formed their own companies tended to have a higher tolerance for risk. "It's being comfortable with the uncomfortable," as Pust puts it.
Whereas some people anchored their careers in agencies, no one they talked to was a lifelong gig worker, he says. "We had some people who'd been gigging for a long time and it's high stress, they said. It's constant hustle and you always have to be on to the next project, and that can kind of get to you."
Cycling between gigs and full-time stints
Stress is one reason many professionals moved between full-time agency work and working solo, including some who've "been through it all," Hudson says.
"It was like this big cycle, this circle of work and lifestyle, where maybe after being a solopreneur they'd go into a partnership and then after a while decide if they want to add more employees, and have an agency."
At some point, she adds, "People in those agencies are going to get sick of working in agencies and want more control over their decisions, so they're going to exit the agency and go back to being a solopreneur in the gig economy. It's a big circle of where a person wants to be placed and what suits them in their lifestyle."
Among the gig workers, ongoing access to new information and training was another factor cited for success, the students said. It's what helped the people they talked to find work and stay employed.
"We found that 57 per cent of gig economy workers believe they need to develop additional skills, especially in the ages between 18 and 29," Pust says.
Maintaining a side hustle even with a full-time position was common. "We heard that everyone has a side hustle these days, especially our generation," Pust recounts. "A lot of the younger freelancers, or even the agency workers, all have this side hustle — whether it's photography or they're running a consulting business on the side, like helping friends in the music business — that was really common."
Pust and Hudson said they learned a lot from the people they interviewed and wonder what may have changed for them since the beginning of the pandemic.
"This was pre-COVID," notes Pust. "I'm sure [the pandemic] would have changed some of our results. If we have an opportunity to keep going on this I'd love to redo those interviews now to see where everyone's at, especially the people who were freelancing. I think it'd be really interesting to see."
As for Pust and Hudson, both are looking for full-time work at a difficult time in the economy and, like many people they interviewed, both say they'll also have a side hustle, which may take them in a new direction.
What will make them attractive to the workforce, Finch says, is the ability to demonstrate that they can "translate their education into applied value."
"The biggest challenge students face today is misjudging formal education as providing some unique value in the marketplace," Finch says. "This is why research shows that while formal education is important, it is of declining value. The five 'building block' model we refer to in the Designing YOU Career Guides really provides perspective to this."
What Finch is suggesting as that students put the effort into 'designing' the person they want to present to the world, rather than allowing their education to do that for them.
Both Hudson and Pust know that they will have to show others what makes them special in order to create a career path specific to each of them. "Maybe you don't have to do the 9-to-5 your whole life," says Hudson. "You have the opportunity to start something on your own."
All Designing YOU resources are available online for free.
Aug. 17, 2020 — Melissa Rolfe
Media request contact information.
Have a story idea? Please fill out this form.