Transitioning to studying and working from home
Five experts share their stories about staying on target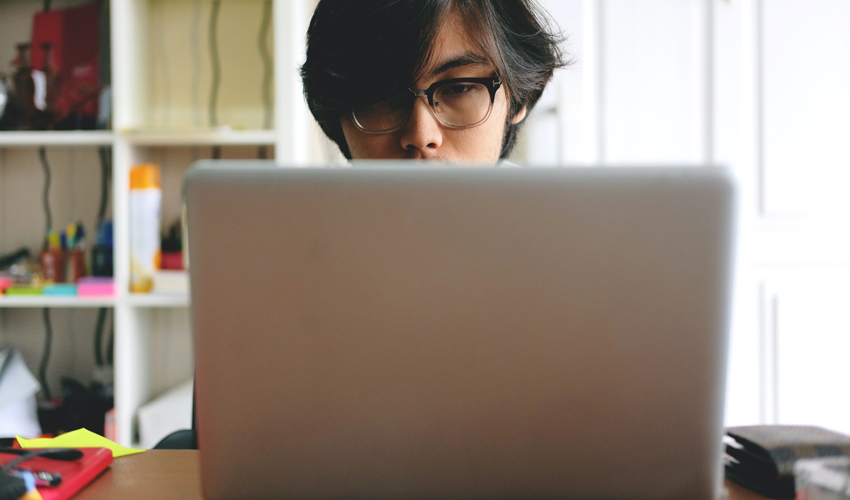 Many people are adjusting to a new routine of working and learning from home.
---
There has been a lot to adapt to over the past few weeks for students, faculty and employees alike. This is how five MRU community members are creating a sense of normalcy while transitioning to teaching and working from home.
How do you concentrate when there's so much going on?
Professor Tim Haney, PhD
Faculty of Arts
If you're struggling with the current situation, you're not alone. Like all MRU faculty members, sociology professor Tim Haney, PhD, has had to move his courses online. Add in the fact that his partner is a K-12 teacher and department head with the heavy task of helping to move an entire school online. At the same time, their two kids (six and almost two) are home full time.
"It's a lot of craziness, and not a lot of concentration," Haney says. "It's a real struggle for everyone. I guess in that sense, I am concentrating on being a good spouse, father, son, and neighbour."
Adding normalcy
Known for his research on disasters and crises, Haney says there are two things helping him feel comfortable and more at ease: familiar landmarks and familiar routines.
"These things give us what researchers call our 'ontological security' … our feelings of safety in a stable and predictable world and environment. Unlike a flood or earthquake, our landmarks (stores, parks, etc) haven't been disrupted much by this crisis. But our routines have been disrupted significantly. So, that causes many people stress (myself included)."
According to Haney, the best thing during or following a disaster or crisis is to find a sense of normalcy. Something as simple as making coffee at home with beans from the same coffee shop he used to visit, at the same time each morning, is one way he can feel "normal."
"The more aspects of 'normal' that we incorporate into our 'new normals,' the quicker and better we'll be able to adjust," he says.
Haney says a good walk along a favourite path or through his neighbourhood to enjoy familiar sights and sounds is also helpful to him.
Stay active
Professor David Legg, PhD
Faculty of Health, Community and Education
Working and studying on a campus like MRU involves a lot more walking than most of us probably realize. Becoming sedentary is the last thing health and physical education professor David Legg, PhD, wants.
"It's important to maintain regular patterns of movement so that my back won't ache, my mind will stay sharp and my waistline will remain the same even with all the extra snacking," Legg says. He has been going for walks, dropping down for a few push-ups or sit-ups during the day, stretching and doing yoga.
Stay connected
Assistant Professor Erika Smith, PhD
Academic Development Centre
Assistant professor Erika Smith, PhD, has seen first-hand how connections on a human level are incredibly important in a digital environment and during such an uncertain time. She says she starts from a place of empathy and considers the human element when making choices about technology and remote delivery in order to translate the value of personal connections online.
The importance of building a digital community
Research in educational technology shows that students and employees can support one another through online interactions and peer-to-peer learning opportunities, Smith says. She is busy fostering places online where people can share information and support one another, and making sure to dedicate time to asking how people are doing and what their needs are right now.
When the kids are home, too
Assistant Professor Carolyn Bjartveit, PhD
Faculty of Health, Community and Education
Early learning and child care coordinator and field director, Carolyn Bjarveit, PhD, says that encouraging kids to play can be helpful in keeping them distracted and in their overall development.
Encourage children to occupy themselves
In the early learning field there is a move towards slowing the pace in programs ― even going so far as removing clocks from playrooms in childcare centres ― and allowing children long stretches of time to play to develop their dispositions and explore their interests, Bjartveit says.
"Outdoor play allows children to release energy, enjoy nature and sparks creativity. It's been wonderful to see families building amazing snow sculptures in my neighbourhood this past week."
Children used to a fast-paced schedule and planned activities may find that this is a good time for them to find ways to occupy themselves and not have each hour of the day planned out, she says. If there's an opportunity to step back from the hectic pace and play, imagine, create fantastical story scripts and enjoy being together, families should take advantage of it.
The human resources perspective
Associate Professor Melanie Peacock, PhD
Bissett School of Business
As an associate professor of human resources, Melanie Peacock is placing importance on adhering to a set routine and schedule. For example, she says that a consistent wake-up time, breaks throughout the day, and as much as possible a regular end time, assists in increasing her productivity. As well, she is doing her best to treat every day like a regular working day.
The right work space
Peacock's designated work space is helping her to "leave it behind" at the end of the study or work day. "In addition to a designated workspace, an efficient environment is critical," she says. "This helps minimize anxiety and problems." Peacock has considered her posture and a proper office chair, appropriate lighting, a good WiFi connection, reliable computing equipment, spare ink for printers and an adequate supply of pen and paper in her home working environment. She also lets her household know when she is working and set times for when they may ask for her attention. Thanking those she is living with for their help and understanding is also something she takes care to do.
Setting goals and expectations
Setting goals help Peacock remain focused and on track, but she is also kind and gentle with herself when all objectives aren't meant. "These are extenuating circumstances and turbulent times and while we extend kindness and compassion to others, we should do the same for ourselves."
April 2, 2020 ― Jonathan Anderson
Media request contact information.
Have a story idea? Please fill out this form.