Mount Royal pair manages unusual bilingual book launch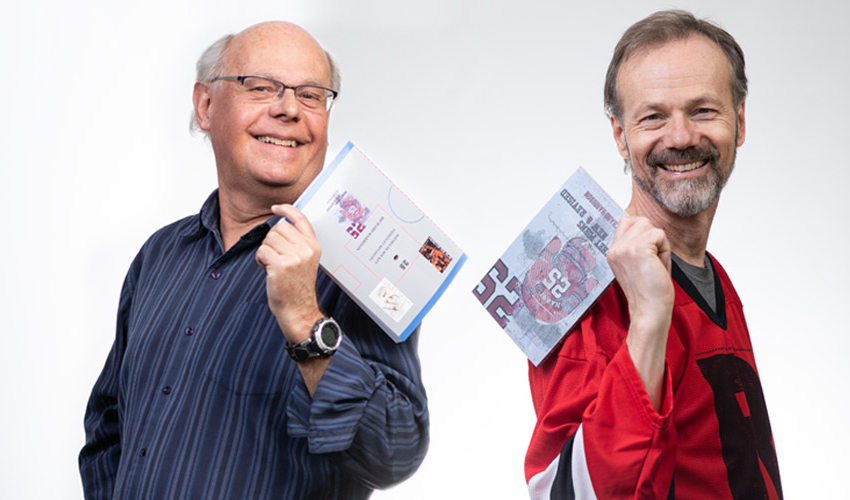 Retired Mount Royal French Professor Gilles Mossière, left, and Professor Richard Harrison.
---
First published in 1994, Professor Richard Harrison's Hero of the Play (Wolsak and Wynn) has been in print continuously for 25 years – quite the achievement for a book of poems. It's more than likely that the subject matter of hockey has contributed to the longevity of the collection, which works to attract dual audiences.
Harrison added new works to Hero on its 10th anniversary, and in preparation for the book's silver anniversary, the Governor General's Award–winning poet began working on additional introspections into how hockey has woven its way into his life – and become such a huge part of the Canadian identity. 25: Hockey Poems, New and Revised was in the works when a Mount Royal teammate then stepped on the ice to join Harrison's line.
Now-retired Mount Royal French professor Gilles Mossière had something special to add. A long-time friend and colleague of Harrison's, Mossière had been translating Harrison's poems into French for individual publication for a many years, but when it came to the book the two were on parallel streams, unbeknownst to each other.
It came up in conversation. When Harrison mentioned the 25th anniversary edition was coming out in 2018, he was about two-thirds done. Coincidentally, Mossière revealed he had close to two-thirds of the 2004 edition of Hero of the Play finished. As there are new poems in 25, it was time to converge their efforts.
Now with a looming deadline of late 2019, Mossière settled in to translate what he was missing and what Harrison was still working on.
25: Poèmes de hockey, Inédits et revisités and 25: Hockey Poems, New and Revised were presented in a very unusual bilingual book launch in November. These near-simultaneous publications are a rare happenstance in the writing world, and both writers are proud to have been able to make it happen.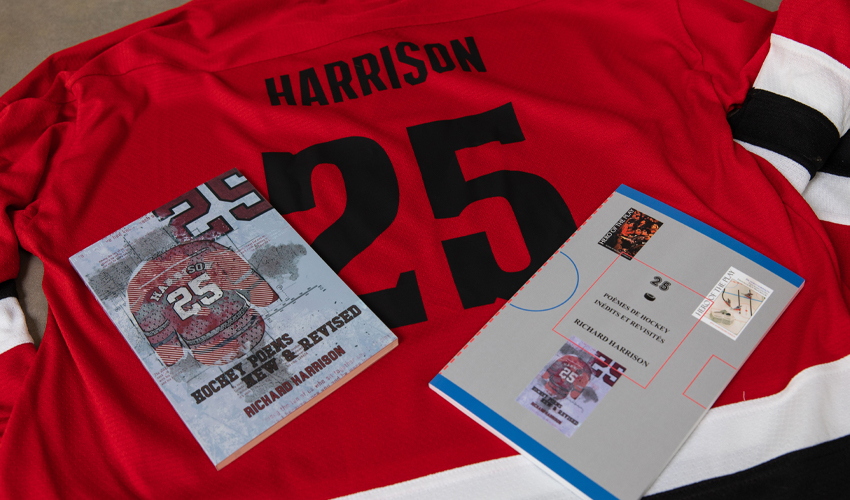 Harrison's wife gifted this special jersey to him in celebration of 25.
---
Translating English poetry into French is no easy feat, Mossière says, especially when it's Harrison's work.
"Richard packs a lot of information into not very many lines," Mossière says, who worked to not only transfer the meaning of the poem over, but also to replicate its structure.
Simply due to the differences between French and English, two poems will never perfectly match, but extensive conversation between the pair about each one helped overcome the ambiguities ― preserving both its oral and visual properties.
"This is the sort of process that makes me think about poetry in a very different way," Harrison says. Some of his poems, including a few in 25, have also been translated into Italian, forming a "triangle" of versions of the same work.
The result makes Harrison consider in a new way what a poem ― as an aesthetic object ― says about the language in which it is written and the culture out of which it arises.
Both Hero of the Play and 25 have the not-so-secret agenda of tying two disparate entities together: hockey and poetry. It's not extraordinary to assume that those who like hockey probably don't see what poetry has to offer them in terms of their love of the game … and vice versa. Harrison says that the goal was to have readers look at them both just a bit differently. To make it a little bit easier, he modelled his poems in the form of a newspaper column, disguising sestinas and sonnets in a familiar structure.
Through translating the work, Mossière says he learned a lot about hockey, about poetry, about common English literary references, and about Harrison himself. He says, "When you are translating, you have to crawl into the words, become the mind that invented them but in a language where they did not originate."
A certified translator, Mossière is highly respected in this field. Born in Lyon, France, Mossière has a strong personal interest in literature and mountains/mountaineering, researching French and Canadian mountain fiction. As a member of the Alberta Translators and Interpreters Association and the Literary Translators Association of Canada, Mossière has translated several Alberta authors such as Jerry Auld, Pamela Banting, Bill Bunn, Ben Gadd, Sid Marty, Thomas Wharton and Jon Whyte.
Feb. 27, 2020 — Michelle Bodnar
Media request contact information.
Have a story idea? Please fill out this form.