Turning problems into opportunities
City booster George Brookman awarded an Honorary Doctor of Laws Nov. 6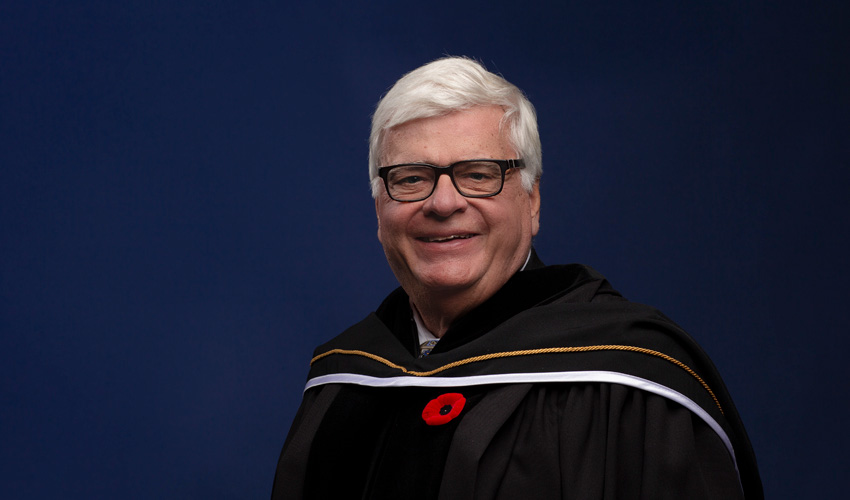 George Brookman's early career was spent in real estate development focused on high-rise commercial and residential buildings. In 1984, he acquired West Canadian Industries Group.
---
George Brookman is a native Calgarian with a long and distinguished career in business. But he is mostly known for being a passionate volunteer and dedicated city booster.
The past president and chairman of the board for the Calgary Stampede, past chairman of Tourism Calgary, past director of Travel Alberta and past president of the Downtown Rotary Club of Calgary received an Honorary Doctor of Laws in recognition of his business career and his numerous contributions to Calgary and its people at the Nov. 6 Mount Royal convocation ceremony.
"This is an unbelievable honour for me," Brookman said. "When I got the call I can tell you without hesitation that it brought tears to my eyes. It's just a special, special day.
"I am truly honored by this event and can tell you that it means a lot to me personally to have this happen."
Brookman's early career was spent in real estate development focused on high-rise commercial and residential buildings. In 1984, he acquired West Canadian Industries Group. Over the years, the company grew from a traditional microfilm and reprographic service provider to a modern document management company. West Canadian Digital Imaging, for which Brookman now acts as chairman and ambassador for Western Canada, operates in six different cities under the direct leadership of his daughter Karen Brookman.
Saying that education is instrumental for the health and growth of communities, Brookman once attended Mount Royal College at its former downtown campus, remembering a hot summer taking French and math in a temporary classroom.
"I have watched this school grow, serve thousands of students and help launch thousands of careers," Brookman said, and continued to offer motivating words of encouragement.
"This province and this country has everything that the world wants. What we need to do is harness the energy of you people graduating today to lead us forward into the world out there."
A stalwart supporter and promoter of his hometown, in 2014 Brookman conceived of and chaired the fundraising event Breakfast on the Bridge on behalf of the Military Family Resource Centre. He was also a founder of Transformation Calgary, a group of business leaders determined to enhance the quality of life in the city through the development of sports, arts and cultural facilities.
Brookman is a recipient of the Queen's Jubilee Medal, the Province of Alberta Centennial Medal and the Senate of Canada 150 Medal. He has also been bestowed with the Pinnacle Award for Business, the Distinguished Business Leader Award from the Haskayne School of Business and the Distinguished Alumni Award from the Calgary Board of Education.
A regular columnist with the Calgary Herald, Brookman has commented on the growing gap between the haves and the have-nots in the world. He believes that Canada is one of the few nations with the ability to change this, but it requires a concerted effort on the part of all citizens. Mount Royal's graduates will take the helm in building a stronger, more equitable and just society.
"Today's graduates are actually walking out into a world that has never needed them more," Brookman said. The globe is in the midst of a pandemic and a large-scale economic downturn, and Brookman has observed a breakdown in governance and dialogue among nations.
He does not see the current situation as an obstacle, however.
"I want all the graduates today to understand something. This is an unbelievable moment of opportunity. When there is trouble, when there is difficulty, when there is challenge, that's when the opportunities arise," he said.
"Research, politics, industry and social agendas have never needed well-educated and well-rounded young people as much as they do right now. Rather than look at the world as an impossible challenge, I believe that young people need to look at the world right now as one of endless possibilities."
Brookman said he hopes to provide some confidence to graduates that they have what it takes to make a difference if they concentrate on the positive and keep looking forward, not back.
"Do not condemn the mistakes that you perceive have been made, but rather look at the opportunities that are being offered to you," he said. 
Finishing off his address with a message he said he hoped the new alumni would carry with them for the rest of their lives, Brookman gave himself ten words of two letters each.
"If it is to be, it is up to me."
Nov. 2, 2020
Media request contact information.
Have a story idea? Please fill out this form.