Two new books from David Taras highlight digital disruption
Fate of CBC and political leaders in the age of social media are examined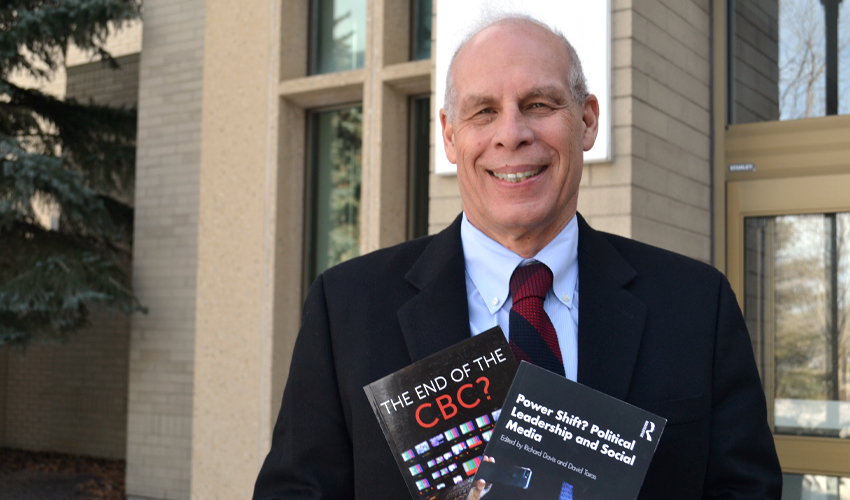 Author and professor David Taras, PhD, holds two newly released books. One he co-authored and the other co-edited.
---
A pair of new books, one co-authored and one co-edited by MRU professor and Ralph Klein Chair in Media Studies David Taras, PhD, shine a light on the digital revolution and how it has deeply impacted Canada's public broadcaster and political leadership in the country.
The End of the CBC?, published by University of Toronto Press, was co-written with Christopher Waddell. It tackles three separate crises: the crisis that has enveloped Canada's public broadcaster, the crisis of news, and the crisis of democracy. These overlap, argue the authors, and stem from enormous changes in the media world over the last 15 years. The emergence of Google, Facebook, Twitter and Netflix, the hyper-targeting of individual users through data analytics, the development of narrow online identity communities, and the rise of an attention economy that makes it more and more difficult for any but the most powerful media organizations to be noticed are just a few. Taras and Waddell write that the effects on the CBC, and on other Canadian media organizations, have been "shattering."
"Our hypothesis is that in the attention economy, when people have so many options in sports, in news, in drama, it's almost impossible for the CBC to compete," Taras says.
Waddell is a professor in the School of Journalism and Communication at Carleton University. He and Taras were Ontario legislative interns together and would meet later in their lives to discuss politics and media when Waddell was parliamentary bureau chief for CBC TV News. The pair also edited How Canadians Communicate: Sports together.
Taras and Waddell propose a way forward for the CBC ― one in which the corporation concentrates its resources on news and current affairs, eliminates advertising and re-establishes a reputation for depth and quality.
The one to turn to
The authors argue that, "the government is living by the old rules," by expecting the CBC to be all things to all people. The Broadcasting Act essentially mandates the CBC to create and schedule programming for everywhere.
"The CBC is no longer capable of that. We have to look at the Broadcasting Act and we have to redefine the role of the CBC. The CBC will either change or it will die, and it will die quickly."
What the CBC can contribute, the authors argue, is help addressing a dearth of hard-hitting accountability journalism in areas such as business, science, health and government. If as a citizen you want to know about the coronavirus, for example, the CBC should be where you turn for reliable news on the science behind the outbreak and how to prevent its spread.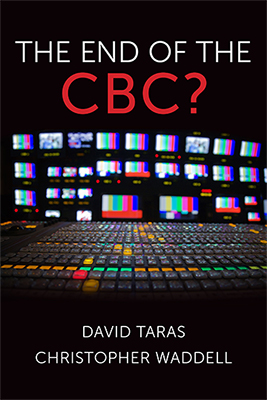 The end of the CBC? 
"The other stuff is great for whoever wants to do it, but for the CBC we're saying focus on the nuts and bolts we need in order to be citizens of the world. If the CBC does that well, it will have a role. If it can't do that well, then let's move on. But as a country, let's give the CBC this chance."
Elizabeth Evans, dean of the Faculty of Business and Communication Studies at Mount Royal, said the books point to the important work Taras does interpreting media and its intersection with politics and governance. She also praised his work on campus with students, including the CMRU-produced interview program, David Taras Talks To…
"David Taras is a leading expert in how media and media policy relates to democracy and Canada's identity," Evans says. "His insights and scholarship are vital as we negotiate an evolving media, social media and political landscape in the digital age. His work to share this knowledge with MRU communications students is a valuable part of our program."
Politics in the age of social media
Already on shelves, Power Shift? Political Leadership and Social Media (Routledge), was edited by David Taras and Richard David. It examines how political leaders have met the challenges of social media, including Facebook, Instagram, Twitter and memes.
The book features a roster of international experts using case studies to explore topics ranging from Emmanuel Macron and Donald Trump's use of Twitter, to Justin Trudeau's use of selfies and Instagram, to how feminist leaders mobilize against stereotypes and injustices using online platforms.
Leaders of protest movements have used social media to organize and galvanize grassroots support and to popularize new narratives that challenge and sometimes overturn conventional thinking. Brad Clark, chair of the journalism program at MRU, for example, pens a chapter on Indigenous leaders' use of Twitter to reframe mainstream news as it reported Canada 150 celebrations.
Clark concludes, in part: "A pattern of tweets bearing Indigenous themes, shared by a like-minded group of "soft leaders" and redistributed through their extensive networks of followers, shifted the narrative on Canada 150 and shook the origin story of Canadian nationhood."
When it comes to campaigning, each social media platform provides different affordances and different attributes, which means they must be used differently. A chapter titled "Delete Your Account? Hilary Rodham Clinton across social media in the 2016 U.S. Presidential Election," by Shannon C. McGregor and Regina C. Lawrence illustrates this point.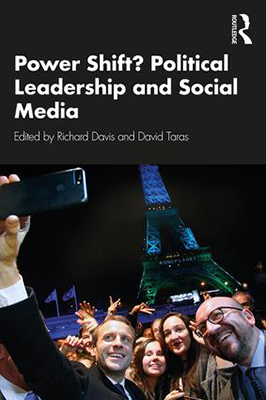 Power Shift? Political Leadership and Social Media
"It's not just Twitter, it's not just Facebook, it's not just Reddit. It's not just Instagram. You have to run four or five campaigns at the same time and all of those platforms have different audiences," Taras says, adding that democratic presidential hopeful Bernie Sanders is a model for this new style of campaign.
"The back end of politics: fundraising, data collection and getting out the vote, all depends on how good you are online. We tend not to see that part, but unless you're strong online, in terms of the basics: identifying your followers, communicating with them, getting money from them, building organization online and ultimately getting them active and getting them to vote, if you don't have that then forget it. It's over."
Something as innocuous as the selfie, for example, has been mastered to great effect by leaders ranging from Prime Minister Justin Trudeau to French President Emmanuel Macron. For Trudeau, Instagram became his way of communicating his identity online through photos with supporters and contributed to his election victory in 2015.
According to Taras, "The selfie contains your message. You're surrounded by new immigrants, you're surrounded by young Canadians, you're active, you're at a gay pride parade. The selfie contains your ideologies and is a way of portraying your identity online. Some people do it well and some people don't."
The authors demonstrate that populism does very well online where fiery ideas and calls for wholesale change gain traction over more mundane policies and platforms. All of this, Taras says, raises important issues for democracy as endless explosions of outrage and ferment online have the capacity to overwhelm old institutions.
March 16, 2020 — Peter Glenn
Media request contact information.
Have a story idea? Please fill out this form.