Historic outcome for talented squad
Cougars women's volleyball team finishes best-ever season since entering Canada West conference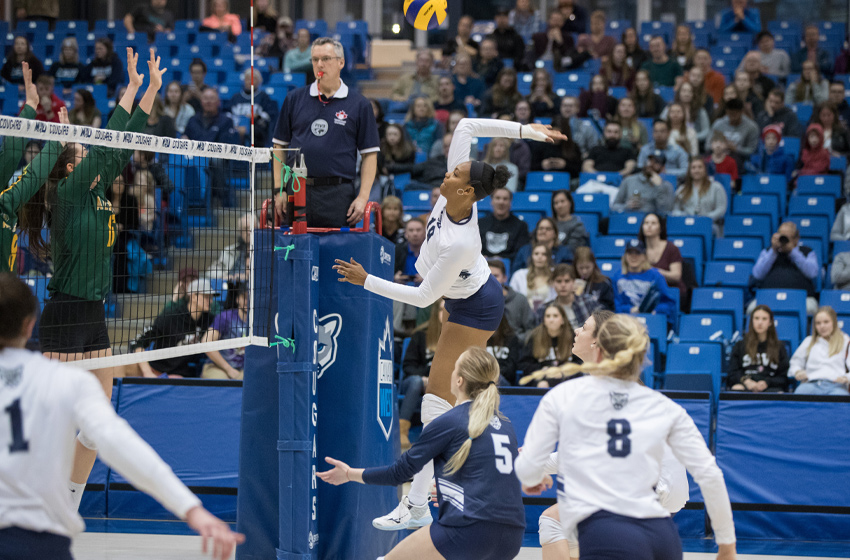 MRU Cougars Tasha Holness gets ready to spike the ball during a game against the University of Alberta Pandas.
---
The entire Cougars women's volleyball team stepped to the net to post a decisive win of 3-0 against Thompson Rivers University on Friday to score a spot in the 2020 U Sports Women's Volleyball Championships. It was a must-win situation, with the losing team ending up in fourth place to see the end of their season.
This is the first time the women's volleyball team has made it to nationals since entering the ultra-competitive Canada West Conference in 2011. They made a huge impact this year, finishing in second place with a 21-3 record ― the most wins for any MRU varsity team since receiving U Sports status. Three Cougars players were named conference all-stars, more than all 13 teams in Canada West. As selected by the conference's head coaches, Nyadholi Thokbuom was appointed to the First Team All-Stars, while Chantel Park and Quinn Pelland made it to the Second Team All-Stars.
But perhaps the most talked-about player has been Tasha Holness, who first stepped onto Kenyon Court as a walk-on for the Cougars basketball tryouts in 2002. It was during her first open gym session when Sandra Lamb, who remains MRU's women's volleyball coach today, saw Holness jump and touch the basketball rim effortlessly. The first-year hopeful and her athletic ability blew Lamb away. Right then and there, Lamb knew Holness had what it takes to become a premier volleyball player.
Lamb was right. Holness ended up being a key cog for the Cougars women's volleyball team from 2003 to 2005, who were then competing in the Alberta Colleges Athletics Conference. During that time Lamb's squad nabbed a conference championship, but never captured the elusive national title.
Now 40 and fresh as ever, Holness has returned to campus after an eight-year career with Volleyball Canada, the country's national program.
"The campus is a lot bigger but I love that the class size hasn't changed much," Holness says. "I love that I am still able to have a teacher-student relationship." She also played as a professional throughout Europe, winning league championships on that continent, but never one on Canadian soil.
Getting Holness back to MRU took little convincing. "I would like to say it was a hard sell," Holness laughs, "but after playing One Volleyball for two seasons and finding my love for the sport again it was hard not to say 'yes' when I was approached by Sandra to return." One Volleyball is a Canadian professional league dedicated to growing the calibre of post-secondary players.
Holness returned to Mount Royal after an eight-year career with Volleyball Canada.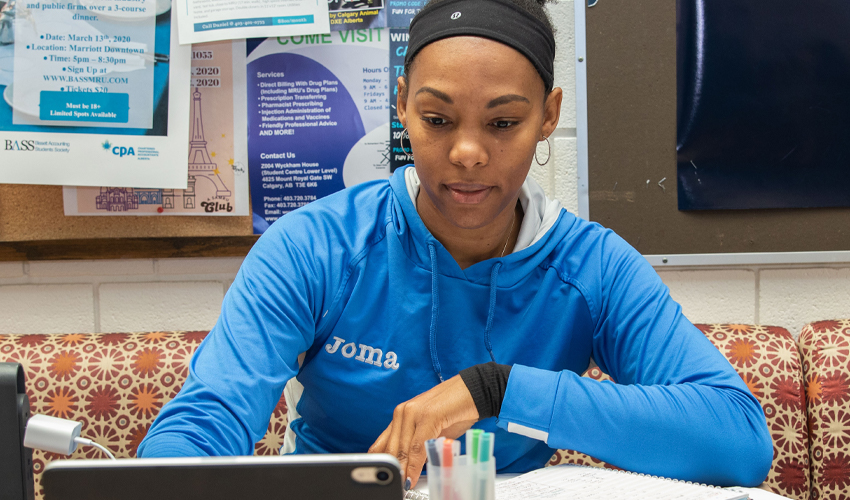 Holness returned to Mount Royal after an eight-year career with Volleyball Canada.
---
Lamb verifies the courting rendezvous. "Tasha is a young soul at heart. She has been playing One Volleyball over the last two springs and she still had the desire to compete."
Holness and her teammates are currently scratching and clawing for an invite to the U Sports National Championships to be held at the University of Calgary later this month. A Friday night win will secure their ticket to the dance.
Lamb will be relying on Holness for her experience and leadership. Holness, a 6'2 middle, is described as a strong blocker. She has great hands around the net and the ability to take over games both offensively and defensively. According to Lamb, Holness has been a great fit in the locker room.
"Tasha prefers to support and make those around her comfortable," Lamb says. "She doesn't put herself out there in a leadership role, but when she says something everyone listens.
"Tasha is the only person I know that could come into a young group of ladies and fit in perfectly. She is the glue for this team and is respected by all."
This stateswomen of the 2020 Cougars women's volleyball side believes her team has a real chance to take MRU to its first national U Sports title. They easily won their quarterfinal round against the University of British Columbia, only to fall to the University of Alberta in the semis. As the top three teams make it to the finals, it's a must-win scenario for the Cougars this weekend. The next stop in the hunt for a national championship takes place March 6 at 7 p.m., with MRU hosting the Canada West bronze medal series. The Cougars will face Thompson Rivers University, with the winner of the game securing a spot to nationals.
"We are a group of girls that work hard for each other. We are there for each other both on and off the court," Holness says.
"The love and support we have for each other, it makes it easy for you to be yourself. We are very supportive of each other and I believe we will be in each other's lives for a very long time after volleyball."
Meet your Cougars women's volleyball team.
March 4, 2020 ― Jonathan Anderson
Media request contact information.
Have a story idea? Please fill out this form.