Will Ferguson lead-off author for MRU Reads
Celebrated Alberta writer to helm inaugural book club meeting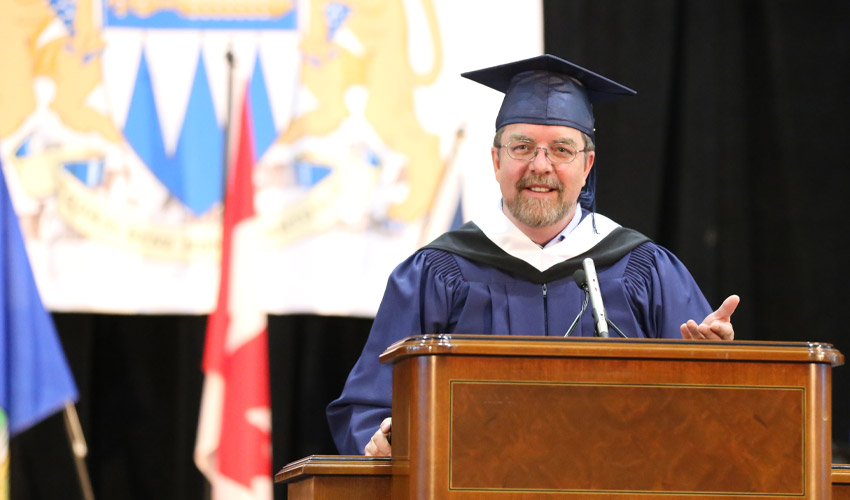 Will Ferguson was Mount Royal's writer-in-residence in 2012, and in 2016 was bestowed an Honorary Bachelor of Arts — English during convocation ceremonies.
---
Mount Royal's Office of Alumni Relations and the Library have partnered together to launch MRU Reads, a virtual book club based on a love of reading and appreciation for the written word. The inaugural author is Alberta's own Will Ferguson, whose works incorporate the immersive world of travel plus the idiosyncrasies of Canadian culture and history.
Known for his quirky (and often irreverent) sense of humour with books that cause many an audible guffaw, Ferguson is a three-time winner of the Stephen Leacock Memorial Medal for Humour for Generica (later renamed to Happiness), Beauty Tips from Moose Jaw and Beyond Belfast. In 2012, Ferguson received the Giller Prize for 419: A Novel, which also garnered the 2013 Libris Award from the Canadian Booksellers Association. Ferguson was Mount Royal's writer-in-residence in 2012, and in 2016 was bestowed an Honorary Bachelor of Arts — English during convocation ceremonies.
The topic of conversation for this very first book club collaboration is Ferguson's newest novel, The Finder. Characters embark on ambitious journeys in attempts to locate lost items that are very real, but haven't been seen in years, decades and even centuries. Examples include the missing Fabergé eggs of the Romanov dynasty, Muhammad Ali's Olympic gold medal, the last reel of Alfred Hitchcock's first film and Buddy Holly's unforgettable black-rimmed glasses.
Publishers Weekly had this to say about The Finder:
"Witty, exuberant … Part thriller and part travelogue, this highly original novel offers punchy storytelling and vividly portrayed locales. Ferguson is bound to win new fans with this one."
Erika Holter, alumni relations officer, says, "We're thrilled to have Will Ferguson on board for our first meeting. Will is a widely celebrated and well-known novelist, and we're pleased to be able to give book club members the opportunity to dive deep into his latest work and further explore its theme of precious objects lost and found."
The ability to get together (virtually) and communicate about shared interests is vital right now, says Courtney Montgomery, outreach lead for the University Library. Bibliophiles from all sectors of the Mount Royal community are encouraged to join MRU Reads.
"This virtual book club offers a unique opportunity to connect our community in a time where connection is so important," Montgomery says. "I am personally so honoured to be part of bringing people together through the joy of reading."
All Mount Royal alumni have lifetime access to the state-of-the-art Riddell Library and Learning Centre, which is home to MRU's library collections and archives. "We think a book club is the kind of experience people need right now," says Eleanor Finger, director of alumni relations. "Reading fiction builds your ability to empathize and understand others, and I think that's something that could go a long way in these times."
Both the Library and the Office of Alumni Relations are committed to community engagement and continued learning, and see MRU Reads as just one of many opportunities they can begin to offer together.
Katharine Barrette, associate dean of public services for the Library says, "Of course, connecting over the shared experience of reading fiction is dear to my heart. It has the potential to expose us to other experiences, other worlds, other perspectives.
"We often think of books as providing a bit of a temporary escape, and maybe they do in times like this, but I'd like to think that sharing the experience of stories with each other at book clubs like this helps us find ourselves in community at a time when community, sharing and exchange have been very much altered for all of us at MRU and beyond."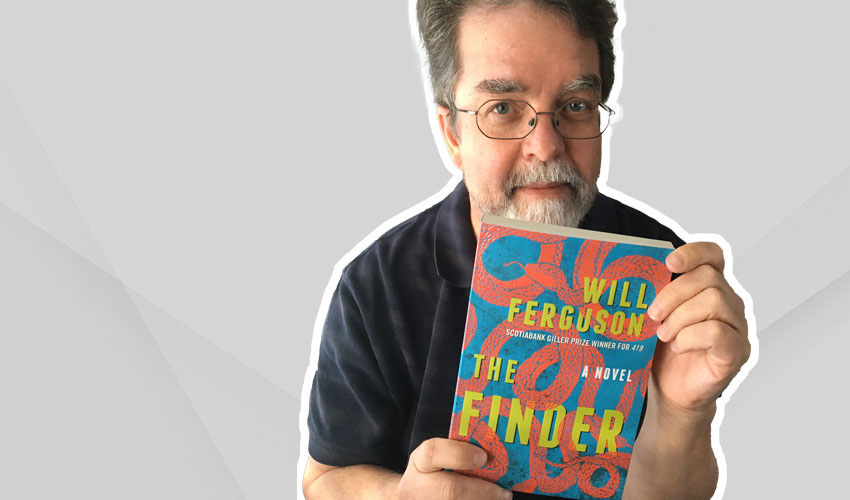 Ferguson's works incorporate the immersive world of travel plus the idiosyncrasies of Canadian culture and history.
---
In anticipation of Ferguson's virtual arrival to MRU, we asked him a few questions about The Finder, writing and life today.
Tell us about The Finder (which sounds fascinating!)…how did you come up with the concept and what did you learn while writing it?
I drew on several elements: twenty-five years in that strange field known as "travel writing"; a children's story I wrote for my niece Barbie when she was six, which featured "The King of Forgotten Things";' a trip to Okinawa many years ago when I visited tiny Hateruma Island, the southernmost point of Japan, and noticed that the entire island was patrolled by a single police officer; a long-standing desire to visit the Australian Outback (I set a scene there primarily as motivation to go); an article in Mental Floss Magazine titled "Ten Lost Treasures You Should be Looking For"; and my days in film school studying Hitchcock and the idea of the "McGuffin," an object that serves as a catalyst for the story. Bring those all together, shake well and serve, and you have The Finder.
Why and how do you write?
I enjoy writing. It can be a slog at times, but so can most jobs. (As Hugh MacLennan said: "it beats working in a pickle factory.") I write most days, usually in the morning after my coffee, before my mind fogs up. I start around nine, end around three, with a break somewhere in there. Not an onerous schedule. Lots of time to daydream and read and go for long walks.
Why do book clubs matter?
They bring people together, make reading a social and supportive act rather than a solitary pursuit. Book club discussions always add more to a book; you see elements that other people spotted that you may have missed. Plus, there's wine.
What do we have that's good in the world (in these uncertain times)?
There is so much that is good in this world. Books, walks, wine (see above). We aren't living through WW II or the Dust Bowl or the darkest days of the Cold War when Armageddon was a heartbeat away. More people have escaped poverty than anytime in human history. True, social media can be toxic and polarizing (rendering everyone as either "allies" or "evil villains who must be destroyed"; not a lot of nuance on social media), but the online world can also bring people together, lessen the isolation. I can't imagine going through this pandemic twenty years ago, before the internet, before Skype calls with friends, before Facebook family photos.
What are you reading right now?
This is going to sound hopelessly pretentious, but I've been using these quiet time and extra hours to (finally!) tackle Russian literature. I finished Crime and Punishment (spoiler alert: it's really good!) and am well into Tolstoy's short stories as a (possible) warmup for Anna Karenina. Still not sold on Tolstoy. Thought his Confession was insufferable. But Bulgakov's Master and Margarita was brilliant. This is a Golden Age of Reading. No excuses! Get off twitter and into a book!
Author Will Ferguson will chat about writing and The Finder on Thursday, Nov. 26 at 7 p.m.
Hosts Courtney Montgomery, outreach lead with the University Library, and alumna Michaela Ritchie (Bachelor of Communication ― Journalism, 2018), will begin engaging MRU Reads members in discussion and debate starting Nov. 12 in an online forum.
MRU Reads meetings will be held quarterly (in February, May, August and November) via Zoom.
To participate in the book club, sign up here. For future book club meetings, members will be given the opportunity to vote on their book of choice.
Oct. 26, 2020 — Michelle Bodnar
Media request contact information.
Have a story idea? Please fill out this form.