Witness Blanket remembers atrocities of Indian Residential School System
Exhibition at MRU until end of April symbolizes ongoing reconciliation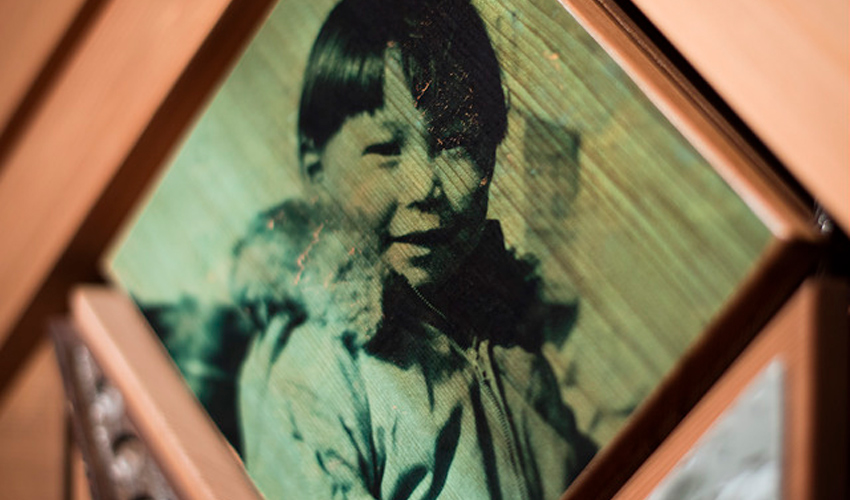 The Witness Blanket is a powerful art installation created by Carey Newman.
---
Due to restricted access to the the fourth floor of the Riddell Library and Learning Centre, the Witness Blanket exhibition will be closed for the time-being. Please access the Witness Blanket website or Witness Blanket app to learn more about this important installation. 
View the Witness Blanket documentary here. 
In many Indigenous cultures, the blanket represents protection beyond warmth and comfort. That symbolism combines with notes of the pain and suffering caused by the Indian residential school system in a touring exhibition that will be at the Riddell Library and Learning Centre (RLLC) from March 9 to April 30.
Inspired by a woven blanket of the kind traditionally used by Indigenous peoples in ceremonies and as gifts, the Witness Blanket is a large-scale art installation created with hundreds of items reclaimed in 2013/2014 from residential schools, churches, government buildings, and traditional and cultural structures like friendship centres, band offices, treatment centres and universities across Canada. These include bricks, hinges from doors, photographs and shards of dishware.
The 12-metre-long piece by artist Carey Newman, who is Kwagiulth from the Kwakwaka'wakw Nation and Coast Salish from the Sto:lo Nation, stands as a national monument to recognize the atrocities of residential school era, honour the children affected and symbolize ongoing reconciliation.
With the original Witness Blanket showing signs of wear and tear and undergoing conservation at the Canadian Museum for Human Rights in Winnipeg, the current touring exhibition is a true-to-scale replica augmented with interpretive panels, an in-gallery film and digital interactive features. The exhibition, located on the fourth floor of the RLLC, comes to Mount Royal from North Battleford, Sask. In May, it moves on to Winnipeg.
The ignominious history of residential schools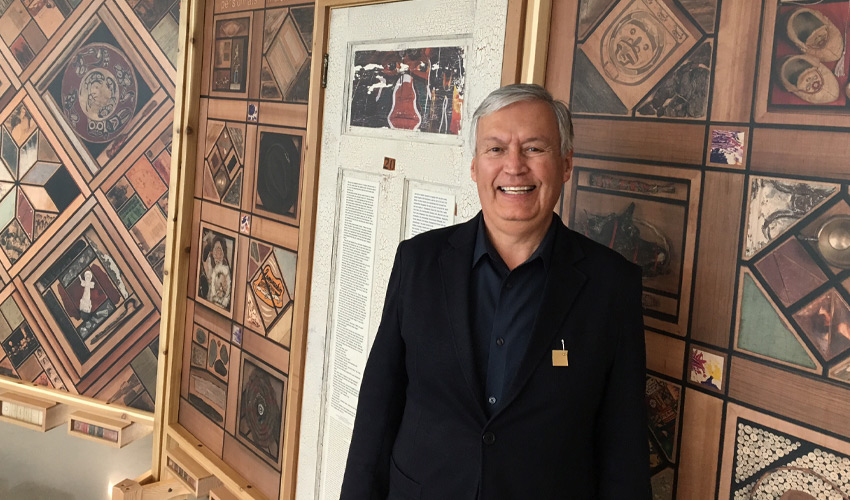 John Fischer is the director of the Iniskim Centre and executive advisor, Indigenization, at Mount Royal University.
---
As part of a larger plan of assimilation and colonization of Indigenous peoples and land, residential schools operated in Canada for more than 160 years, with as many as 150,000 children attending. Indigenous children were removed from their families and communities and put into the federally funded and church-run schools. Once there, they were forced to abandon their cultural practices and languages.
Intended to guide Canadians through the facts behind the residential school system, the Truth and Reconciliation Commission of Canada (TRC) was begun in 2008 as part of the Indian Residential Schools Settlement Agreement. The commission was meant to lay the foundation for lasting reconciliation across Canada.
"This is part of our institutional responsibility in terms of reconciliation," said John Fischer, director of the Iniskim Centre and executive advisor, Indigenization, at MRU. "All of the work of the TRC was encapsulated in the Calls to Action. However, the basic principles of the commission and the reason for its being was really around the impact of residential schools on the survivors, those who didn't survive and the families that followed. The legacy of residential schools is such a strong influencer on our realities as Indigenous people, and yet not so much with those who set up the residential schools, staffed the residential schools, profited from residential schools and anticipated a result that actually did not happen.
"We need to remember and recognize this part of Canadian history and our involvement in it and Carey Newman's work as an artist is a different way of doing that."
Fischer said people can remember residential school survivors by reading the transcripts of the Truth and Reconciliation Commission, or by visiting the Canadian Museum for Human Rights in Winnipeg to learn about the schools' impacts.
"Collecting pieces and elements of the residential schools and putting them together is a different way of learning about them and their effect."
Educating towards a different future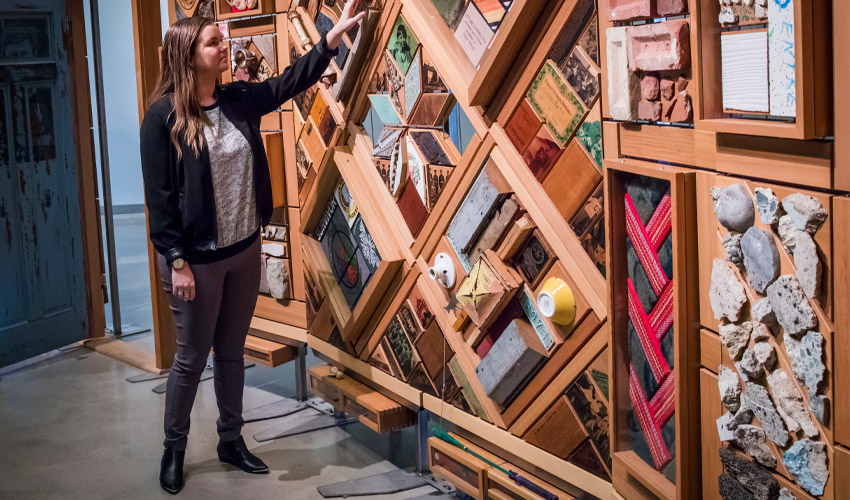 The original Witness Blanket is undergoing restoration at the Canadian Museum for Human Rights in Winnipeg.
---
Jennifer Pettit, dean of the Faculty of Arts at MRU and a scholar with a focus on Canadian history and residential schools, spoke at the opening of the original Witness Blanket when it visited Calgary and also shared her words at the MRU exhibition. Exhibitions and activities such as those surrounding the Witness Blanket, she said, are integral to any efforts at reconciliation.
"Individuals often focus on the reconciliation part, and overlook the significance of the 'truth' part of the Truth and Reconciliation Commission. In order for reconciliation to move forward, every person living in Canada needs to know about the history of residential schools in Canada, and how that process fit into a much larger system of cultural genocide," she said.
"It is important to remember that residential schools are not a thing that happened long ago; the legacy of the residential school system is still being felt not only by survivors, but by all Indigenous peoples today. Stories included in the Witness Blanket commemorate the past and are a powerful reminder of why Canada needs to work toward reconciliation."
Newman (or Hayalthkin'geme), is a multi-disciplinary artist and master carver. In his artistic practice, he says he strives to highlight Indigenous, social or environmental issues.
"I consider myself a contemporary artist with a traditional soul," Newman said. "I try to innovate, creating movement and suspended animation within my work. At the same time I work strictly within the rules of my traditions. Rooted in tradition while looking to the future, and trying to reflect the world that we live in today."
Access to the community was key to MRU securing the exhibit, something Fischer and Iniskim have been working on for a number of years.
"The exhibition will be open to everybody, and I so appreciate the Canadian Museum for Human Rights for making this a criteria for Mount Royal University to host this installation,"
Fischer said. "We are welcoming everyone and having it at the RLLC really sponsors that. It is accessible to families, it's accessible to University personnel and to the community." Fischer says he hopes school groups will also come to visit the exhibition.
Pettit stressed that while an exhibition can only do so much, it can be a catalyst for reflection and meaningful dialogue.
"By no means will the Witness Blanket bring closure, but it allows for a physical connection to the past, as well as opening up the possibility of meaningful contemplation and conversation which will help move us toward reconciliation."
In 2018, the RLLC hosted Walking With Our Sisters, an exhibition made up of 1,665 pairs of moccasin tops to honour and pay respects to Missing and Murdered Indigenous Women and Girls across North America.
Discover all the Riddell Library and Learning Centre has to offer.
March 12, 2020 ― Peter Glenn
Media request contact information.
Have a story idea? Please fill out this form.