A note of thanks to the University community
Tim Rahilly, PhD • Posted June 14, 2019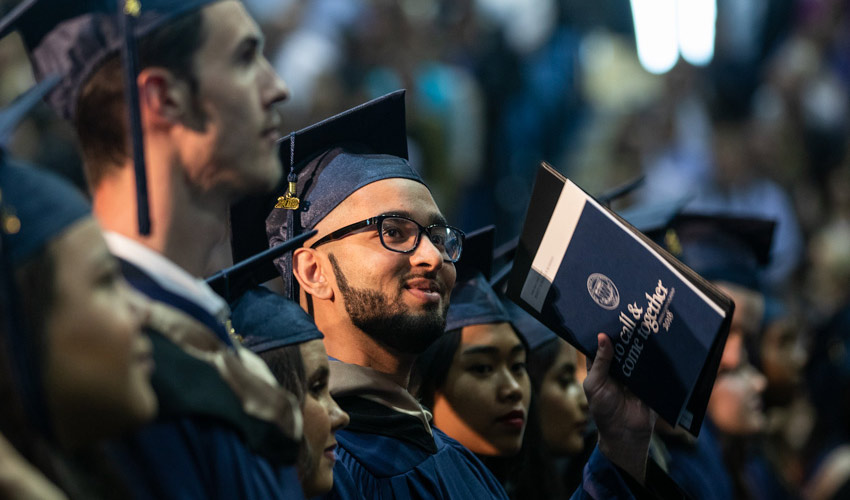 I think it's only fitting to use my very first blog post to pay tribute to the amazing Mount Royal University community. Last week was just incredible, with five Convocation ceremonies, and of course, my official Installation as president and vice-chancellor.
I was so moved by the hard work and dedication of the campus community. Everyone came together to celebrate our graduates and help to make my Installation an experience I'll never forget.
I want to thank the Convocation Committee, Enrolment Services, Marketing and Communications, Alumni Relations, Facilities Management, Business and Retail Services, the Iniskim Centre, the Office of Academic Indigenization, Recreation, the President's Office, Board of Governors and all of the volunteers who helped with gowning, looked after special guests and ensured the graduating students and their families made it to Convocation on time. Thank you as well to everyone who took in the festivities, from the platform, the stands, or watching live online.
I recognize the months of planning and days of set-up required for such a major undertaking, and I thank you all for pulling it off with style, pride and professionalism.
I was honoured to pledge my oath of office to Alberta's Lieutenant Governor, Her Honour, the Honourable Lois E. Mitchell. As part of my Installation, my presidential robes of office were bestowed upon me by a different campus colleague at every ceremony.
The ceremonies were made even more meaningful with an impressive slate of honorary degree recipients: business and community leader Dawn Farrell, advocate and philanthropist Ann McCaig, sport and recreation champion Marg Southern, political journalist and columnist Don Braid and former Governor General of Canada, David Johnston. I was proud to bestow our first honorary doctor of laws, and I look forward to staying connected with these remarkable individuals in the future.
Officially the President and Vice-Chancellor of Mount Royal University! Congratulations to all the graduates today, I was glad to celebrate today together. Thank you to Her Honour, the Honourable Lieutenant Governor of Alberta, Lois Mitchell and @lesleyabrown #MRUgrad pic.twitter.com/8R6IEAiZ1S

- Tim Rahilly (@TimRahilly) June 5, 2019
A real highlight for me was our very first Honorary Degree Reception on Friday night, hosted in the Riddell Library and Learning Centre. For the first time ever, we gathered all of this year's honorary doctorate recipients, and included degree recipients from past years, to celebrate all of our deserving honourees in one room. The event was a great way to strengthen our community connections.
Over the course of the five Convocation and Installation ceremonies, I really marvelled at the unique nuggets of advice that each honorary degree recipient delivered to the students. I'll admit that I listened deeply myself, and I heard their advice. So much of what they said applies to new presidents as much as it does to new graduates.
Collectively, the recipients spoke about the importance of honouring the past, looking to the future, giving back and helping to foster civic engagement. Every one of them spoke about their own passion to have an impact on their communities, be that local, provincial, national or international. This advice rang true for me, as I embark upon this presidency, and as I give careful consideration to our future direction.
I'll share one personal story with you, related to one of this year's honorary doctorate recipients. Before Convocation, as I was signing the Honorary Doctor of Laws degree for His Excellency, the Right Honourable David Johnston, I cast my eyes to the wall of my office, where my Master of Arts degree from McGill hangs. At the bottom is David Johnston's signature, as he was the principal and vice-chancellor of McGill while I was enrolled. I must admit, I had a moment. David Johnston had conferred my degree, and now I was conferring his.
As I close this first post, I want to thank everyone again for helping to make this year's Convocation and Installation ceremonies so special. If you want to relive the magic, take a look at this great video, or read the recap story on our website.