Tim Rahilly, PhD • Posted December 13, 2019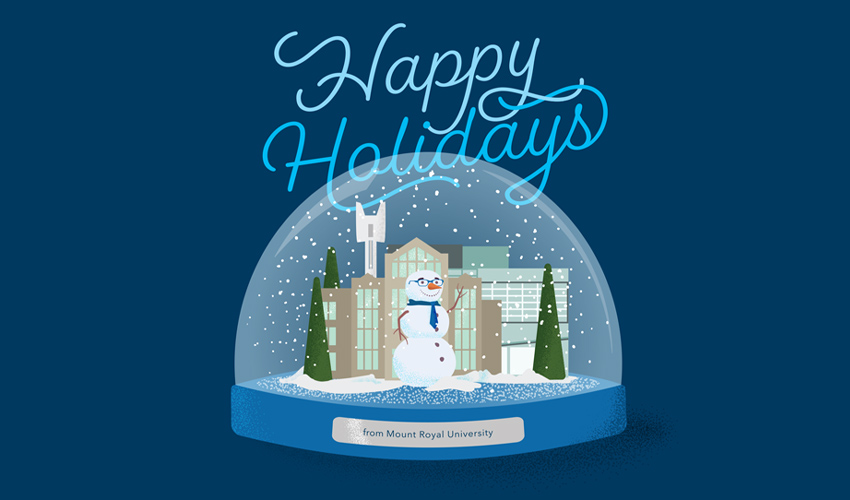 As the holiday season approaches, I'm reminded that the end of the calendar year marks the end of my first fall semester at Mount Royal. With just over half a year behind me, I continue to be grateful for the warm welcome I've received on campus and within the Calgary community.
I hope you were able to attend the Holiday Mix & Mingle on Wednesday in the Bella Concert Hall and the reception following in the Taylor Centre lobby. It was a great opportunity to catch up with colleagues before the break. You'll notice that the get-together took a different format from previous years, and I heard from many who thought it was a hit. The entertainment provided by Brad Mahon, Cyndi Cave, Jonathan Love and Kate Stevens was outstanding! Thank you to everyone who helped pull it together.
For those of you who were unable to attend the Holiday Mix & Mingle this week, my message was one of gratitude - for all of you and the work you do everyday in support of students. I'm thankful for employees, made up of faculty, staff, exempt staff and management who strive to provide the student-centred education and experience we all value, and for the support you've given me personally. I've enjoyed your stories, and I thank you for sharing your values and your views on what makes Mount Royal great.
I am grateful to those who generously serve on Mount Royal's governing bodies, including the Board of Governors and in particular, the Board Chair, and the members of the General Faculties Council. I've appreciated working with the Foundation Board of Directors and the Alumni Council this year, and I'm thankful for our partnership with the Mount Royal Faculty Association, the Mount Royal Staff Association and the Students' Association of Mount Royal University. There are many other groups of people, like the President's Executive Committee, the new Deans' Council and others who gather with a common focus of making Mount Royal the best undergraduate university in Canada. Thank you. Your diverse perspectives and willingness to collaborate make Mount Royal better.
There has been a lot of communication about the budget. Many have told me they appreciate the frequency and transparency, while others are feeling budget fatigue. Nevertheless, I want to briefly recognize we have worked through some difficult decisions, and that there are more challenges to come. None of this is easy, but there is also an opportunity to thoughtfully look at how we do our work, with a goal of preserving our unique approach to undergraduate education, but within our means. I will continue to advocate for MRU and send regular communications to campus. The Budget Q&A is regularly updated, based on questions that are sent in confidence through the budget@mtroyal.ca email address and what we are hearing in the community.
I hope the holiday break provides you with some well deserved rest, and the rejuvenation that comes from unrushed time with family and friends. I wish you a most enjoyable holiday season, and I look forward to joining you, restored, as we commence the rest of the academic year together in January.
Again, thanks for all your hard work and dedication to MRU and I look forward to seeing you in 2020!
Warm regards,
Tim