Welcome back to students, faculty and staff
Tim Rahilly, PhD • Posted September 6, 2019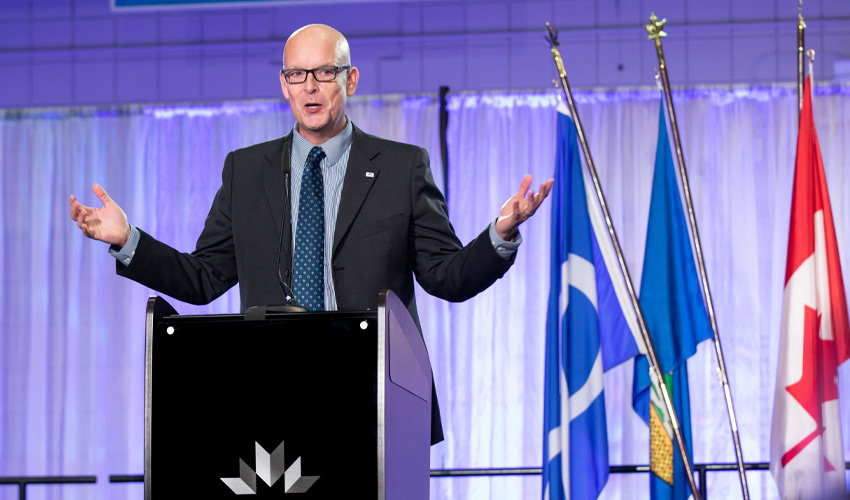 I enjoyed welcoming first year students to Mount Royal at New Student Orientation. Let's have a great year together!
---
It has been ingrained in me since my first day of kindergarten that the year actually starts the first day after Labour Day, and not in January. So, Happy New Year everyone. I know that there is always a lot of excitement associated with the beginning of the academic year along with some anxiety about how the year will unfold.
I had the pleasure of welcoming MRU's incoming class the other day and shared with them my views about the importance of believing in themselves, that they are indeed good enough and that education is transformative; they will learn and grow and the person who crosses the convocation stage will be different than the person they are today.
I shared a number of observations with the students, and I hope that, of everything I shared, the one they remember is my belief that learning to ask for help is one of the most important skills they can develop. I sincerely believe that to be the case for them, and for all of us at MRU. I fully accept that we are all smart and competent people. But we are also human, we are fallible, we have good days and bad, and we are all situated in an environment that has an impact on our personal wellbeing and our productivity.
I think there are a lot of reasons to be optimistic for the year ahead, but I also acknowledge that there may be a fair bit of anxiety that may well be exacerbated by the specter of the unknown regarding provincial finances. My dad, a proud pessimist, used to say, "optimists are likely much happier people, but pessimists are probably right." I don't characterize myself as an optimist nor a pessimist, but rather as a realist (if such a thing exists).
That being said, let me take a moment to be optimistic. I think we have a lot going for us! Since coming to MRU, I have found it to be a campus full of bright and welcoming people and is truly a student-centred university. For those of you who have been part of the MRU campus community for awhile, perhaps you don't realize how truly special this place is. I have been preaching student-centredness at large research-based schools, both inside and outside the classroom, for decades. While I always got nods of approval when discussing this in the abstract, this has not been my experience when I have suggested it as a factor in decision making. But MRU is different because here, student-centredness is real.

New Student Orientation is one of our favourite events. NSO welcomes first year students to the MRU family, introducing them to their professors, to support services and all kinds of opportunities on campus, and to their future best friends.
---
Mount Royal has a long and proud history of service to society and I have been learning that we have always been ambitious about our status. We started as a junior college, transitioned into a college, and then into a university. We have a unique mix of programs, and we play a key role in educating work-ready graduates and future community leaders. I think we should be proud of that and stay the course! I don't see the need for pessimism, but to be realistic, we are seeing very strong signals from the Provincial Government about its approaches to provincial finances.
On September 3, 2019 the Provincial Government released the Report and Recommendations of the Blue Ribbon Panel on Alberta's Finances (link below). This report outlines the spending challenges in all sectors including health, K-12 education, advanced education, public sector compensation and makes a number of recommendations regarding approaches to fiscal restraint. While we are all in the Advanced Education sector, we and our loved ones are all recipients of services in the other sectors.
For citizens of Alberta, this report presents a significant change in approach. While I take some solace in reading that the recommendations with respect to Advanced Education include consultation with the sector, I believe that our funding model will be altered and tuition policies changed. I wish I had a crystal ball and knew exactly what is coming, but I don't. I have been up to Edmonton to meet with the Ministry, I have been chatting with my fellow Alberta presidents and I have been looking for hints and body language that could provide more information. To date, what I have heard is all speculation. I think it's quite natural to react to this ambiguity with some anxiety or worry, but I also think it's important that we don't catastrophize in the absence of hard information.
So how do we address the anxiety? I believe we must continue to do our good work. I along with my senior academic and administrative colleagues will do our best to communicate about the future in a realistic fashion. While we can do some planning in the background, we will wait until we have some hard facts on which to frame the conversation before we engage on this more broadly. No doubt some in our community would like greater detail about this planning, and I understand that. More details will be shared with the campus community as soon as planning shifts from the hypothetical to the possible.
So while we consider the upcoming challenges, I think it is critical to keep our mission and values close to heart. I know that MRU changes the lives of our students and that we perform well on the metrics outlined in the Blue Ribbon Panel report. This is what I am telling all the government officials and community members I meet. Further, I tell them I am proud to be part of a sector that makes a huge contribution to our world and I am honoured and proud to be the President of this fine organization and to be in the company of dedicated faculty and staff who provide an exceptional undergraduate education to the thought leaders of tomorrow. Please know that I am committed to do my utmost to advocate for us so that MRU is still going strong in the years to come.
My sincere wishes for a good semester!
MacKinnon, J & Percy, M. (2019). Report and Recommendations: Blue Ribbon Panel on Alberta's Finances. Retrieved from Open Government Program Website.