Indigenization - honouring Aboriginal peoples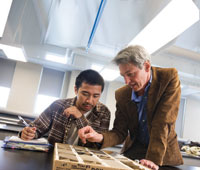 Recognizing that MRU is situated on traditional Blackfoot territory, Mount Royal University is committed to fulfilling the education promises of Treaty 7 and meeting the educational needs of indigenous peoples and their allies. To this end, Mount Royal commits to recognizing and valuing Indigenous ways of knowing; mentoring and supporting Indigenous students and scholars; involving Indigenous groups in educational decision-making; encouraging consciousness-raising to overcome barriers to indigeneity; promoting culturally responsive curriculum and pedagogy; and promoting partnerships with Indigenous learners, families and communities.

In collaboration with university faculty, the Iniskim Centre and the Aboriginal Steering Committee, the Vice-Provost oversees initiatives related to indigenization of curriculum and pedagogy for all MRU students, aboriginal and non-aboriginal. Learn more about Mount Royal's indigenization initiatives.