2015-2020 Student Affairs and Campus Life Strategic Plan
Introduction
The Student Affairs and Campus Life (SACL) Strategic Plan sets the vision for the SACL Division, identifies key strategies to achieve this vision, and establishes critical measures to monitor progress over the next five years (2015-2020) at Mount Royal University (MRU). This plan is student-centered, supports the whole student, and aligns with the Division's passion to meet the needs of an evolving and diverse student population.
A Message from the Vice President of Student Affairs and Campus Life

SACL Strategic Plan 2015-2020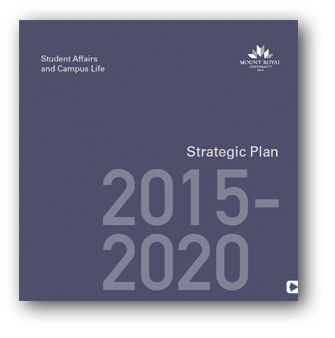 Download our Strategic Plan for 2015 - 2020 in PDF.
Progress
Growth is fundamental as we progress towards the goals of our 2015-2020 Strategic Plan. We invite you to have a look at some of our initiatives recently featured in these brief video vignettes.
Department: Wellness Services
Initiative: Healthy Campus Team
Supporting Goal: Wellness



Department: Campus Equity & Meaningful Inclusion
Initiative: Sexual Violence Response & Awareness Program
Supporting Goal: Community


Department: Student Learning Services
Initiative: M.A.P.S. Peer Mentorship Program
Supporting Goal: Academic Success


Note: Check back to watch our progress as we achieve our strategic goals. Thanks for watching.