Vice-President, University Advancement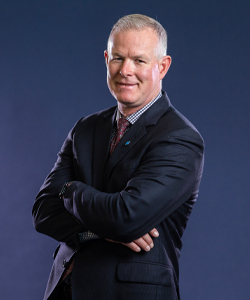 Paul Rossmann, vice-president, University Advancement leads Mount Royal University's alumni relations, fund development, government relations, marketing and communications teams.
He brings to this portfolio a wealth of executive experience, primarily with Credit Union Central Alberta where he held a series of positions with increasing responsibility. Most recently, Rossmann was vice-president, Strategy and Corporate Development. In this role, he was responsible for Credit Union Central Alberta's strategy, member and stakeholder relations, communications and a variety of corporate services.
In a consulting capacity, Rossmann has provided his strategic leadership, governance and management experience to a variety of government agencies, industry associations, financial institutions and non-profit organizations.
He has extensive board experience, including contributing to Mount Royal as a highly-engaged and committed public member of the Board of Governors over a five-year period. As a Board member, Rossmann generously shared his expertise with the University by chairing the Finance Committee and by serving on the Human Resources and Compensation Committee.
His education includes earning a Bachelor of Commerce from the University of Calgary in 1991 and a Master of Management Studies from Carleton University in 1993. Rossmann holds an ICD.D designation from the Institute of Corporate Directors.
He strongly believes in Mount Royal's student-focused culture and is committed to delivering on the University's vision to provide an exceptional undergraduate educational experience.