October is Campus Sustainability Month!
Held every October, Campus Sustainability Month (CSM) is an international celebration of sustainability in higher education. During this month, colleges and universities organize events on campus and elsewhere to engage and inspire incoming students and other campus stakeholders to become sustainability change agents. These events include teach ins, sustainability pledge-drives, zero energy concerts, waste audits, green sporting events, letter writing campaigns, service projects, and much more!

The goal of CSM is to raise the visibility of campus sustainability and provide campus sustainability advocates with a platform through which to deepen campus engagement around sustainability. It provides an excellent opportunity to recruit new leaders and set goals for the rest of the year. It serves as a complement to Earth Day, which is held every April 22nd and is often a time for celebration and recognition of the good work that took place over the course of the academic year.

- AASHE
The 2016 campus sustainability month theme is Waste Awareness, Reduction, and Diversion. All staff, students, and faculty are encouraged to attend our featured film, Jumbo Wild, as well as participate in the many sustainability activities planned for October 25 - 27 on Main Street.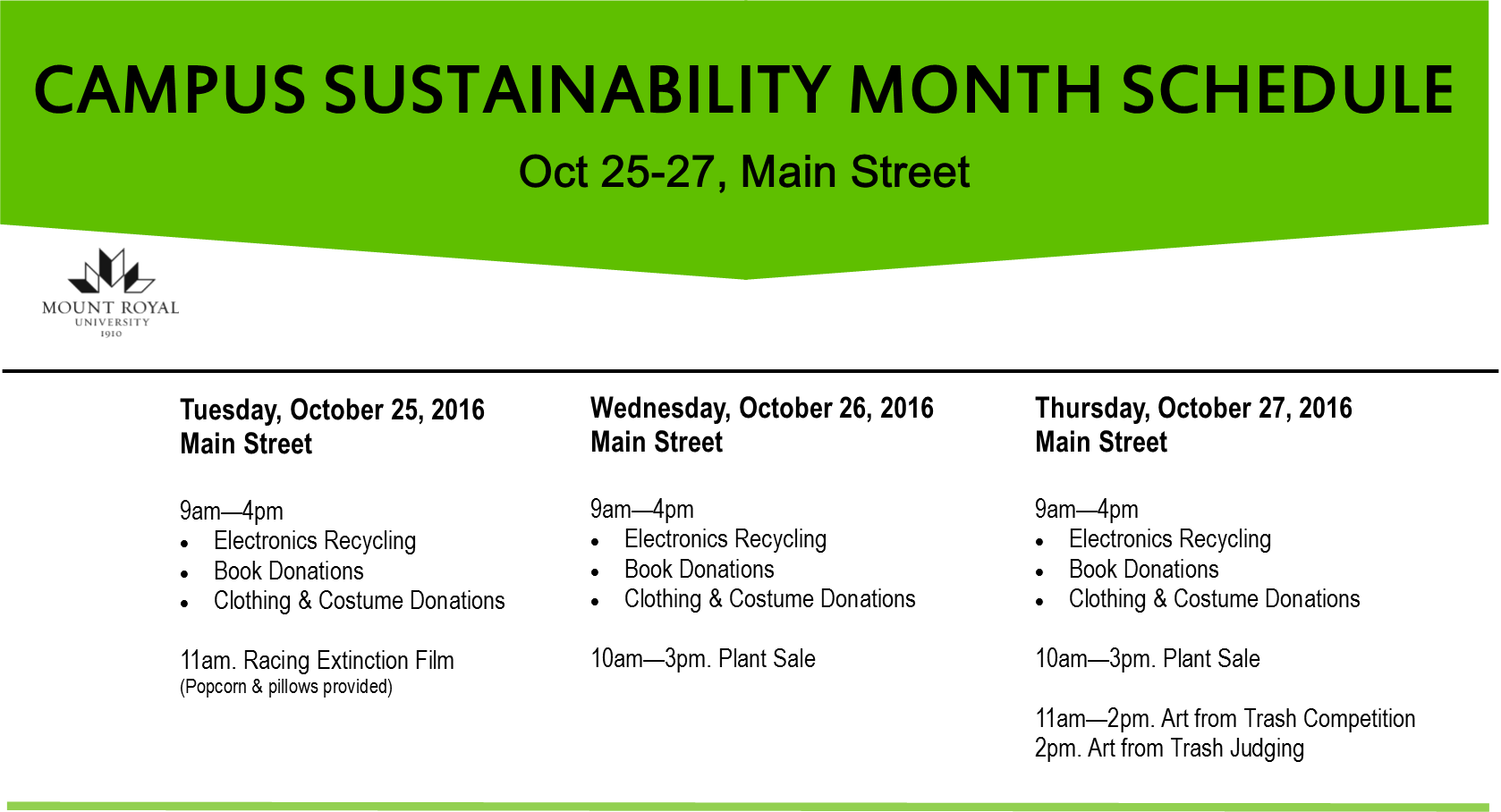 Detailed Schedule of Events
Feature Film: Jumbo Wild.
Brought to you by the Institute for Environmental Sustainability, Jumbo Wild is a gripping, hour-long documentary film by Sweetgrass Productions that tells the true story of the decades-long battle over the future of British Columbia's iconic Jumbo Valley and highlights the tension between the protection of wilderness and the backcountry experience and ever-increasing development interests in wild places. Set against a backdrop of incredible backcountry ski and snowboard footage, Jumbo Wild documents all sides of a divisive issue bringing the passionate local fight to protect the Jumbo Valley to life for the first time. View trailer here.

Wednesday, October 19 - Time 12:30pm - 1:50pm. Location: T107
---
Feature Film: Racing Extinction.
Utilizing state-of-the-art equipment, Oscar®-winner Louie Psihoyos (The Cove) assembles a team of artists and activists intent on showing the world never-before-seen images that expose issues of endangered species and mass extinction. View trailer
here
.
Tuesday, October 25 - Time 11am. Location: Main Street
---
Book drive for the United Way. Clean off your shelves and make room for your new fall and winter reads! There will be a table setup on Main Street for you to drop off your books. All books will be donated to the United Way where they will find a new home.
Tuesday, October 25 - Thursday, October 27, 9am - 4pm. Location: Main Street

---
Recycle your old electronics. Last year Mount Royal recycled 7502 kg of electronic waste! Keep your old electronics and cell phones out of the landfill and bring them in to be recycled. There will be a table setup on Main Street with electronic recycling resources at MRU, including where to recycle your batteries!
Tuesday, October 25 - Thursday, October 27, 9am - 4pm. Location: Main Street
---
Halloween clothing/costume swap rack. Just in time for Halloween! Bring in your used clothing or costumes to be repurposed! Bring a costume, take a costume! Are you creative? Please email Jessica at sustainablemru@mtroyal.ca if you would like to further participate by upcycling donated clothes into costumes.
Tuesday, October 25 - Thursday, October 27, 9am - 4pm. Location: Main Street
---
Bring your reusable coffee cup or water bottle. Tim Hortons and Starbucks coffee cups can now be recycled in our mixed recycling waste receptacle; Good Earth coffee cups can be composted in the Organic or Green Cup waste receptacles. However, the most sustainable option is to bring your own reusable coffee cup or water bottle. Start the habit! Be seen with your reusable cup on across campus October 26 and win prizes!
---
Art from trash. One human's trash is another human's treasure! Projects can be made on your own time or you can come down to Main Street Thursday, Oct. 27 between 11am-2pm and use trash and supplies that we have available. Projects will be judged on Thursday, Oct. 27 at 2pm.
Thursday, October 27, 11am - 2pm. Location: Main Street

---
Sort it out! Mount Royal has invested in new waste receptacles and we want to put your sorting knowledge to the test! Sort all items correctly into landfill, mixed recycling, paper, refundables, and organics and be an instant winner!
Tuesday, October 25 - Thursday, October 27. Location: Main Street
---
Plant Sale. Plants grown in the Mount Royal greenhouse will be available for purchase! Come down to Main Street Oct. 26 - 27 between 10am - 3pm and pick up a plant to liven up your office or home! All proceeds to return to the greenhouse.
Wednesday, October 26 - Thursday, October 27, 10am-3pm. Location: Main Street
---
Sustainability Survey. Have your say by completing our sustainability survey during the month of October! Let us know what you already know about sustainability and what you'd like to see on campus. We will be on Main Street throughout Oct. 25 - 27.
---
If you are interested in volunteering for any of these activities or would like to propose your own activity for Campus Sustainability Month, please email sustainablemru@mtroyal.ca.