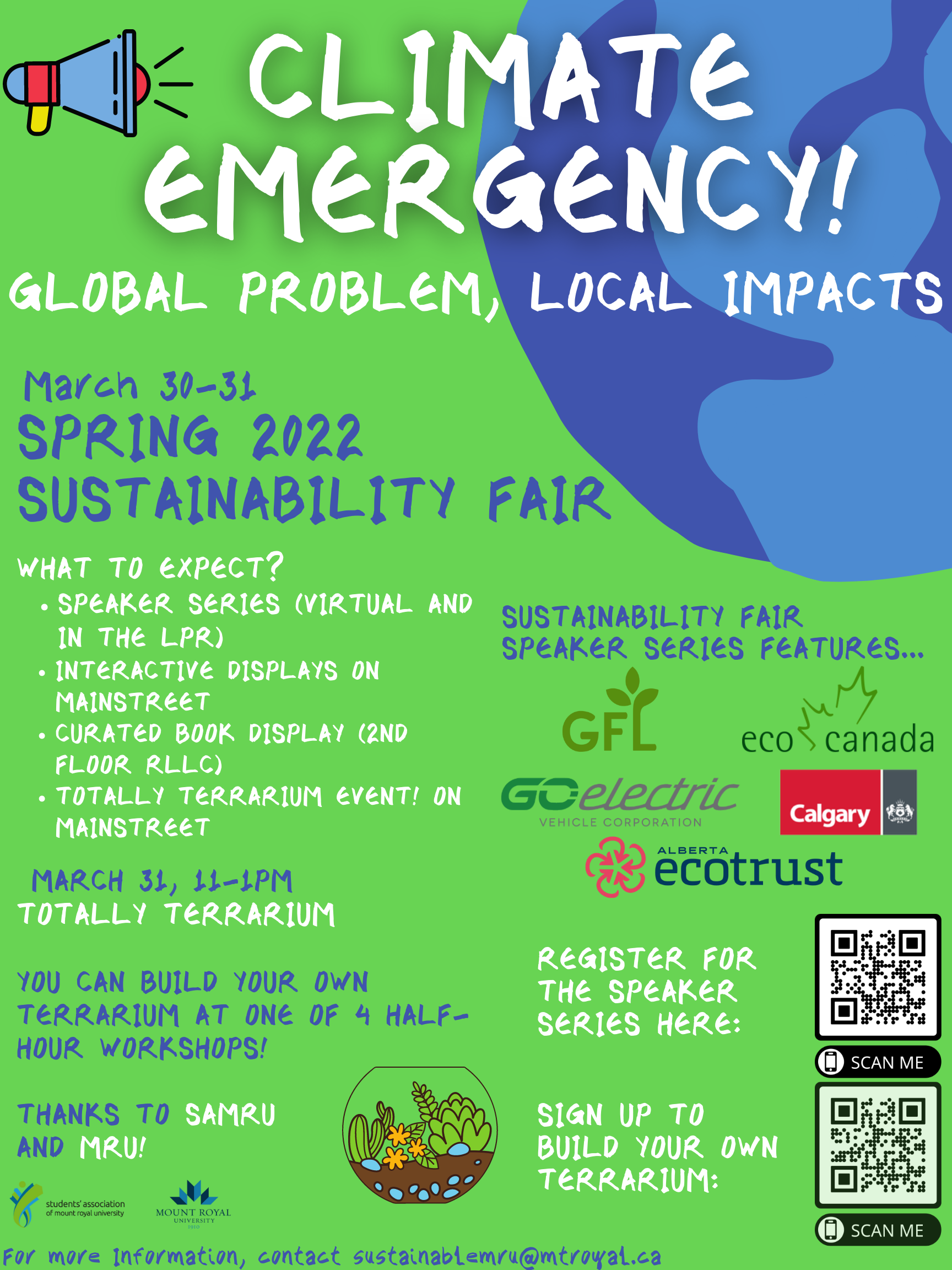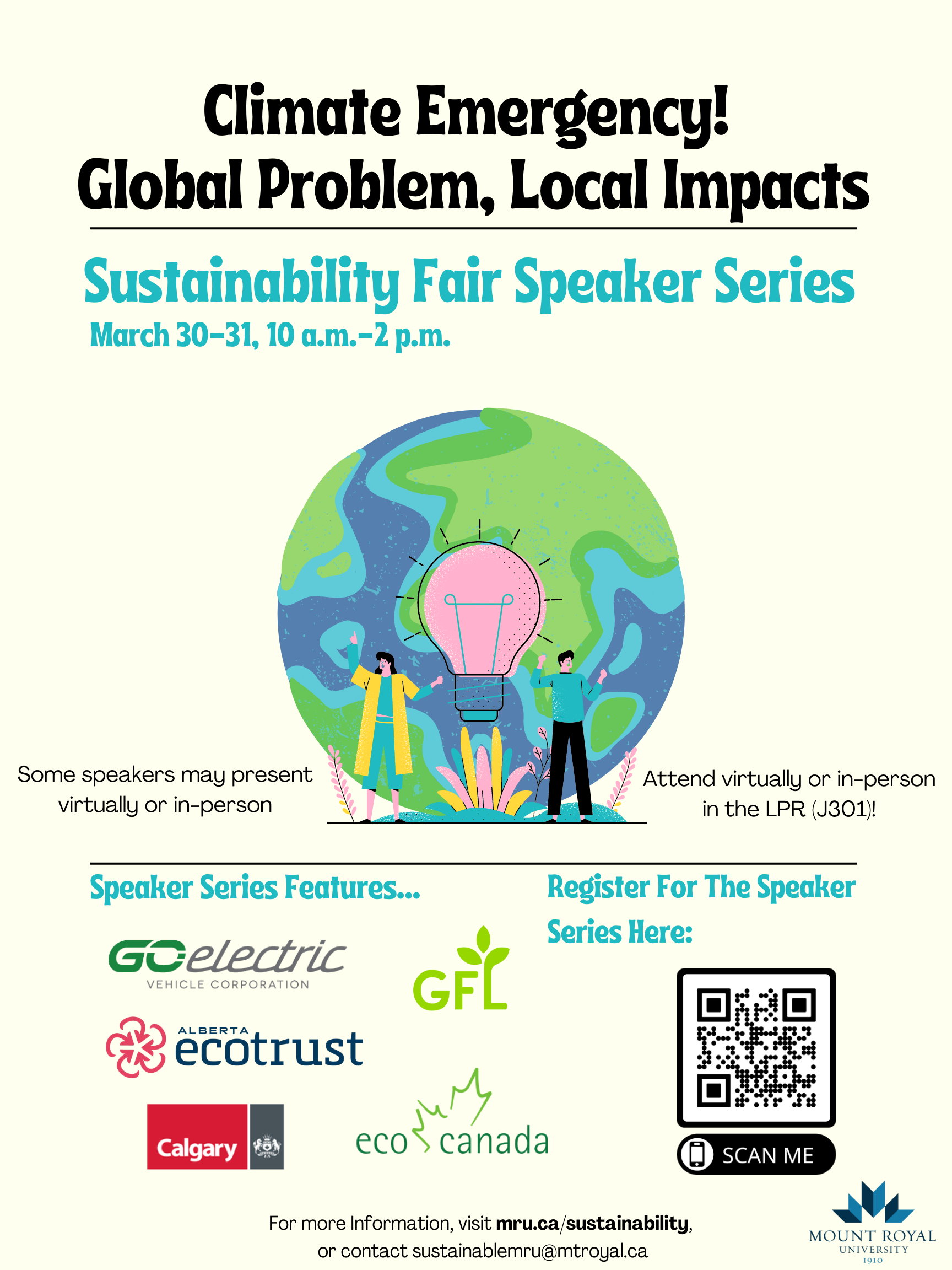 Speaker Series - Registration Required
Wednesday, March 30 & Thursday, March 31, 10AM - 2PM | J301, Lincoln Park Room or Virtual
Register today! A certificate of attendance will be available for attendees who register for two or more sessions and complete the Certificate of Attendance form following the sessions!
Join the upcoming speakers to learn more about the following sustainability topics.  
LOCAL CLIMATE PROJECTS AND IMPACTS | Pippa Cookson-Hills | Wed. March 30, 10:00AM
Pippa Cookson-Hills is a Climate Adaptation Specialist at the City of Calgary.  With over 6 years of work experience specializing in environmental instrumentation, business development, air quality, project management and climate risk and resilience, Pippa identifies relevant climate hazards from a technical perspective then translates this information for public use.     

REDUCING EMISSIONS WITH THE CLIMATE INNOVATION FUND | Jessica Lajoie | Wed. March 30, 10:30AM
Jessica Lajoie is a Program Specialist at Alberta Ecotrust.  Guided by a vision of healthy ecosystems for all Albertans, Alberta Ecotrust is a long-standing and critical source of funding, training, and skill building for Alberta's environmental community.  By forming partnerships between the corporate and environmental nonprofit sectors, they build trust and combine big-picture thinking with boots-on-the-ground effort. 

ENVIRONMENTAL CAREER INSIGHTS WITH ECO CANADA | Sofia Ahmed & Emily Peden | Wed. March 30, 11:00AM
ECO Canada is the steward for the Canadian environmental workforce across all industries. From job creation and wage funding, to training and labour market research – they champion the end-to-end career of an environmental professional. We will be joined by Sofia Ahmed, Academic Coordinator, and Emily Peden, Manager of Program Accreditation and Academic Relations, who work in the Professional Services and ESG Team at ECO Canada, specifically supporting the National Post-Secondary Environmental Accreditation Program.

ELECTRIC VEHICLE OWNERSHIP IN ALBERTA | Sean Klug | Wed. March 30, 1:00PM
Sean Klug is the Business Analyst & EV Strategist at GoElectric Vehicle Corporation, and previous MRU alumni.  GoElectric's mission is to build a cleaner and healthier community by providing affordable electric vehicle options.                                            

POWER TO THE PEOPLE: HOW THE WAY WE DELIVER ELECTRICITY IS CHANGING | Mike McCarthy | Wed. March 30, 1:30PM
Mike McCarthy is the Manager of Grid Innovation at ENMAX.  With a goal of connecting emerging trends and technology to ENMAX's strategic plan, Mike works with industry experts, internal stakeholders, and project teams to identify new opportunities for ENMAX to meet customers' electricity needs.

FOOD WASTE PROGRAM | Michelle Dias | Thurs. March 31, 10:00AM
Michelle Dias is the Waste Educator for the City of Calgary Customer and Community Initiatives Waste & Recycling Services.  The City of Calgary's vision is to lead the community towards zero waste through innovative recycling, composting and diversion programs.                                                  

ORGANIC RECYCLING 1-2-3 A CALGARY STORY | Mike Prevost | Thurs. March 31, 11:00AM 
Mike Prevost is the Southern Alberta Operations Manager for GFL Environmental. GFL is the only major diversified environmental services company in North America offering services in solid waste management, liquid waste management, and infrastructure development.

SEEING THE BIG PICTURE: SUSTAINABILITY AND CULTURE | Courtney Walcott | Thursday, March 31, 1:00PM
Before being elected Ward 8 City Councillor, Courtney was a teacher at Western Canada High School. He is an MRU alumni and was elected to Calgary's City Council in 2021. Courtney has continued to ask Calgarians, "What kind of city do you want to live in?" The answer is nearly universal; An equitable, accessible, vibrant city filled with opportunities. That city doesn't just happen though, it's up to us to build it.
Information Fair
March 30 - 31 10:00AM - 2:00PM | Main Street
Stop by Main Street Wednesday, March 30 or Thursday, March 31 between 10am - 2pm to learn about some of Mount Royal's sustainable operations.
Local and MRU internal representatives will be setting up informational displays on environmental sustainability on Main Street.
Climate Change Book Display - Curated by the MRU Library
March 27 - April 2 | Riddell Library and Learning Centre
There will be a sustainability themed book display curated on the second floor of the Riddell Library and Learning Centre between March 27 - April 2 to bring awareness to global climate change.
This activity is free of charge. No registration required.
---
Thank you to our speakers, participants, and SAMRU for sponsoring the Totally Terrarium Workshop.
This event is organized by Sustainable MRU.
Follow @MRUSustainable on twitter.
Contact us at sustainableMRU@mtroyal.ca.