Top Parking Questions
Online Permit Sales
I am trying to purchase a permit online but when I try to pay for it by credit card, the system won't let me. What can I do?
 Parking Enforcement
For any other questions, please contact the Parking Office at parking@mtroyal.ca or 403.440.6914.
---
Top Parking Questions
1.  Why do we need to pay for parking?
The Government of Alberta does not permit the use of tuition or grant revenues to subsidize ancillary operations, which includes parking.
2.  How do MRU parking prices compare to other Calgary post-secondary institutions?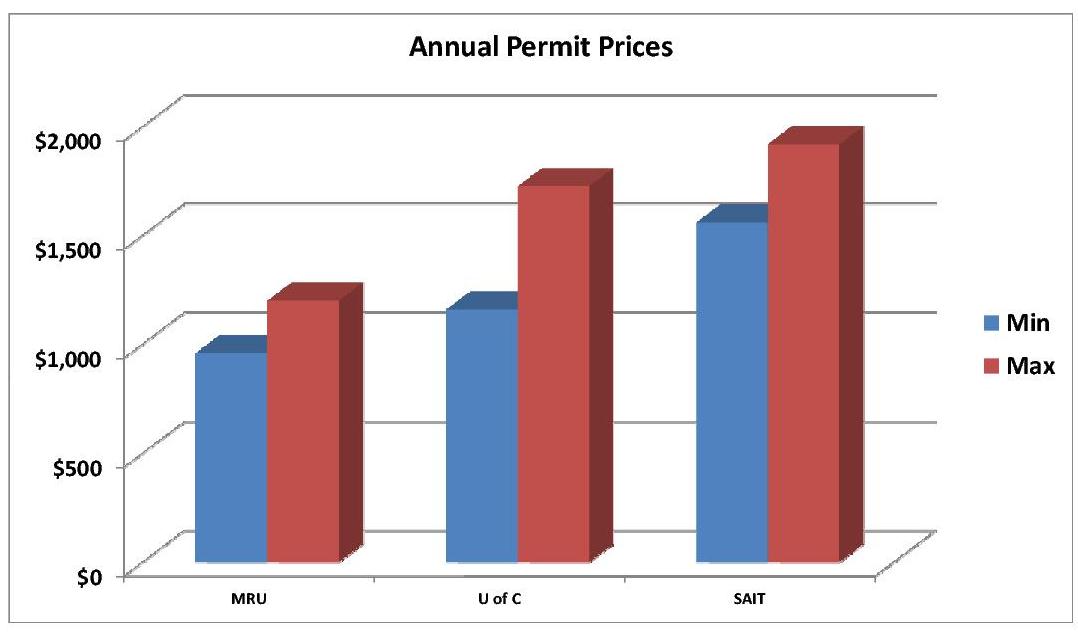 3.  Does my vehicle need to be registered and insured? Do I have to register my vehicle with Parking and Transportation Services?
All vehicles that are utilizing any MRU parking facilities and parking lots must possess active provincial license plates, titles, and registrations; accompanied with active insurance.  Any vehicles that have missing license plates, expired registrations and/or without insurance will be removed/towed from MRU property. 
It is important for permit holders to register their vehicle with Parking and Transportation Services. This ensures that if you forget your permit, we can retrieve your vehicle information in the event that you receive a City parking citation. It also helps us to notify drivers of any problems such as lights left on, or accidents.
A temporary service or rental vehicle does not need to be registered, but you should ensure your parking permit is properly displayed. Long-term use of a secondary vehicle should be registered with Parking and Transportation Services.
4. How do permit renewals work?  Will I automatically get the same tier when I renew?
In May, anyone holding an annual (12 month) permit is given the opportunity to renew for the upcoming year. When renewing, you are automatically eligible for the same permit type. If you wish to change permit types, you will need to make a new purchase during the regular sales period, or add your name to the waitlist when it opens.  
Semester permits are not renewable, and are sold on a first-come first-served basis.
If you have an Permt Lot Permit and forgot your permit, you are only permitted to park in Permit Lot 6. Please e-mail the parking office with your name, campus ID number, vehicle information, and plate number of your vehicle. This information will be passed to MRU parking enformcemen personnels to avoid vioation tickets.
If you have a Gated Lot, East Gate Parkade or RMCCL Parkade permit and you forget your access card, you need to enter the East Gate Parkade as a visitor.  Take a ticket from the ticket dispensers, located at the entrance to the parkade.  When you are ready to depart, please use the intercom at the exit to contact a parking service representative.
6.  What if my permit/access card is lost or stolen?
Lost or stolen permits/access cards must be reported to Parking & Transportation Services. Lost permits will be replaced at the following cost: 
1. Window Placard - $50
2. Prox Card (white) - $25
3. RFID Card (grey) - $50 
*Parking & Transporation Services reserved the rights to refuse for replacements should there be any suspicions on permit misuses.
7.  I don't need my permit anymore. What should I do?
Refunds can only be processed in-person at the Parking service counter located inside the Cougar Campus Store (H100).  Please have your valid photo ID, parking permit placard, access card, and a type of payment card (credit or debit card).  Refunds will not be given once the permits have reached the last month of validity.   For further information, please contact the parking service counter.
8. Can I sell my permit to a friend or relative?
No. Permits remain the property of Mount Royal. Parking permits may not be sold or transferred to another individual. This may result in suspension or cancellation of parking privileges. A permit displayed on a vehicle other than that for which it was issued will result in ticketing and/or towing of that vehicle.  If you no longer need your permit, you can return it to the Parking Office for a refund of the remaining value (refunds will not be given once the permits reach the last month of validity).
9. Can I repair my vehicle inside MRU parking facilities and parking lots when I possess a valid permit?
No, even if you possess a valid parking permit, parking spaces are solely used for parking your vehicle while you attend to your businesses at MRU campus.  Unless authorized by the Parking and Transporation Services, any mechanical repairs and maintenaces are not allowed in the parking facilities and parking lots.
---
Online Permit Sales
1. I can log into myMRU.ca but my login and password do not work for the online permit sales. Why not?
If you are a first-year student, you need to be registered in classes at Mount Royal before you are eligible for parking services. Once you are registered in classes, the registration information is passed to the Parking Office system overnight through an automated batch interface. This means that if you register for classes on a Monday, the Parking Office will not receive your information until Tuesday at the earliest.

2. I am trying to purchase a permit online but when I try to pay for it by credit card, the system won't let me. What can I do?
You may need to adjust your internet browser security settings. To do this:
Highlight and copy this web address: www3.eigendev.com
Click on Tools > Internet Options
Select the Security tab
Select Trusted sites, and paste in the web address
3. If permits sell out online, should I try going to the Parking service counter to purchase in person?
No, only limited quantities are to be sold through the Parking service counter.  Majority of the permits will be sold online with our easy online portal.  If the permits are sold out online, a wait list will be created and you can add yourself to any available wait lists

---

Parking Enforcement 
1. What do I need to know about ticketing and towing? 
Parking enforcement is conducted by Mount Royal's Parking & Transportation Services and by the Calgary Parking Authority. City tickets will be issued if any Mount Royal parking regulations are contravened, regardless of a permit.
Purchase of a permit means that you will be responsible for your vehicle while it is parked on campus, will ensure the permit is appropriately displayed, the vehicle is legally parked, and that you are responsible to pay all traffic offense notices issued to your vehicle.
Not knowing the rules is not considered a reasonable excuse for having a traffic offense notice cancelled. Vehicles will be ticketed and/or towed for the following infractions:


Failure to display a valid permit
Failure to provide proof of payment via HotSpot app
Displaying an altered or copied parking permit or dispenser ticket.

Displaying a permit that has been reported lost or stolen.

Parking in Accessible or Carpool stalls without a proper placard. 

Parking in fire lanes, roadways, loading zones, or outside designated stalls. 

Having an expired plate registration as confirmed by the Calgary Parking Authority.
2.What do I do if I received a parking ticket?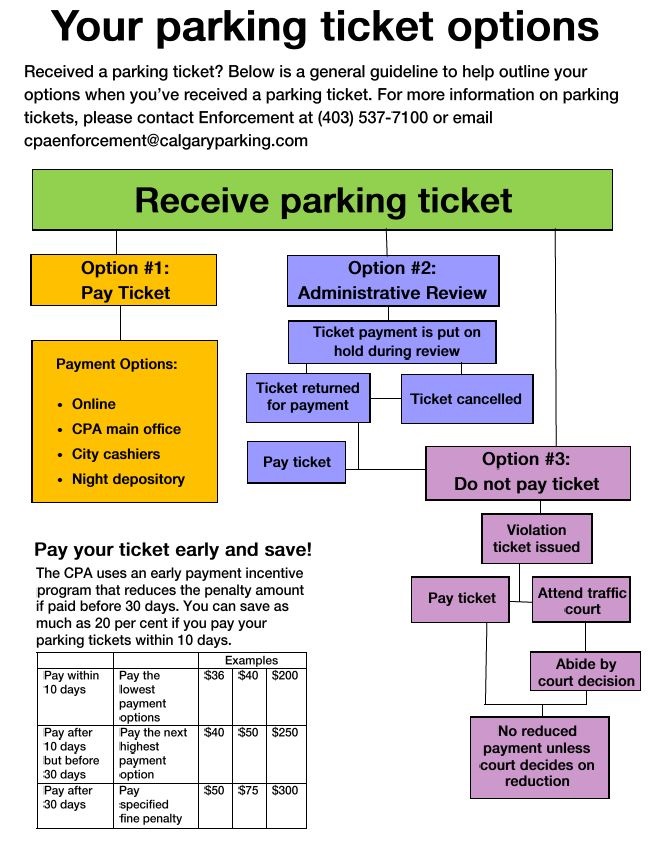 1. You can pay your parking ticket. If you don't pay for your parking ticket within 21 days, the higher penalty amount indicated on your parking ticket will apply.  Payments are accepted at the Calgary Parking Authority online, at city cashiers, and/or night depository.
2. You can request an Administrative Review to examine any errors related to your ticket. If we find an error, either in the applicability of the bylaw or in the way it was enforced, we won't pursue the ticket any further. Applications for Administrative Reviews can be completed online on the Calgary Parking Authorities website at www.calgaryparking.com

3. You can appeal your parking ticket in court. If you don't pay your parking ticket, you will receive a violation ticket in the mail. At this point, you have the option to appeal your violation ticket through the Provincial Court Appeal process.If you require additional information regarding your parking tag, please visit Calgary Parking Authority website or contact Calgary Parking Authority office at 403-537-7100 during business hours, Monday to Friday from 8:00 a.m. to 4:00 p.m.