C-Choices - Cycling and Walking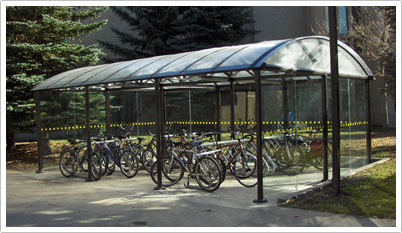 Bike parking on campus
Mount Royal offers cyclists two bike parking options:
Bike lockers provide a bicycle with extra security and protection from the elements. Bike lockers can be rented from the Parking and Transportation Office for $144 for the year plus a $50 refundable key deposit.
Bike racks are conveniently located throughout campus. Does your building need a bike rack? Suggest a rack location.
Mount Royal also has a bike shelter at the West Gate to protect bikes from rain and snow. The shelter is free to use and is available on a first-come, first-served basis.
Check out the campus bike parking map for bike locker and rack locations.
Bike racks on buses
All buses on Route 20 - Heritage/Northmount are equipped with bike racks, capable of transporting 2 bikes in front of the bus.
Route 20 serves MRU, so commuters can use a combination of bus and bike to get to campus. Learn more about Calgary Transit's Bike Racks on Buses program.
Bikes are also allowed on the C-Train during off-peak hours, and bike lockers are available for rent at selected C-Train stations. Learn more about Calgary Transit's Bikes on Board program.
Emergency bike repair kits
Need some air? Want to patch your flat? The Parking and Transportation Office has basic bike repair kits that can be borrowed free of charge by presenting your Campus Card.
Plan your route: Bikeways and Pathways Map
Visit the City of Calgary website to use their interactive Bikeways and Pathways Map.
For details on other C-Choices programs: