Historic Convocation at Mount Royal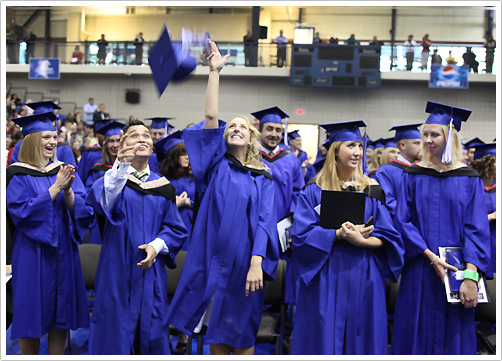 Time-honoured Convocation traditions filled the Triple Gym on June 5 as Mount Royal's class of June, 2009 crossed the stage.
Graduates tossed their caps into the air; Mount Royal's carillon played; family and friends cheered, brushed away tears and smiled with pride as they gathered to celebrate the accomplishments of our 748 newest alumni.
But several important firsts also stood out during the two ceremonies.
The very first student to cross the stage during the morning ceremony, Michelle Coupal, was also the first graduate to receive one of Mount Royal's own bachelor's degrees.
Coupal received her Bachelor of Business Administration in Accounting, and was joined by 28 other students who graduated with university-level Mount Royal degrees from three programs: the Bachelor of Business Administration, the Bachelor of Arts - Criminal Justice, and the Bachelor of Communication.
Celebrating a first
This was also the first appearance of the new black hoods that all future graduates of Mount Royal bachelor's degree programs will wear. These striking hoods have the traditional black background with a blue and white lining in a chevron pattern.
Several graduates jumped to their feet when, from the podium, Mount Royal President Dave Marshall encouraged them to model the new hoods.
In his address, Marshall noted that, for the first time in many years, students are graduating during a time of continuing economic uncertainty and a contracting job market. Then he shared some of his own experiences.
"I always have trouble with this 'presidential words of wisdom' part of my role, but it is actually appropriate that I try and leave you with a few words of wisdom on the topic of graduating into a recession - because my timing to graduate has always been about as good as yours," Marshall said, explaining he graduated with his first degree during a recession in the 1970s and with his PhD during the bust of the early 1980s.
"I'm not telling you this to get any sympathy - I've clearly done alright in the 39 years since my first degree," Marshall said. "But that's the point I want to leave you with today. As each of you graduate into the middle of this economic crisis, I - and many others like me - have done alright, despite some incredibly bad timing about entering the workforce."
Then, for the first time, Marshall shared his presidential advice to graduates in the form of a tweet (the name for messages posted on the social networking site Twitter).
"So here it is - in 85 characters, not including spaces: 'Just do it, work hard at it and learn from it. And the world will truly be your oyster; ideal job or not; recession or not,' " Marshall said.
Valedictorian: Just say yes
Mount Royal's 2009 Valedictorian, Meghan Stalker, also shared a hopeful message with her fellow graduates.
A graduate of the Bachelor of Applied Ecotourism and Outdoor Leadership program, Stalker opened her address with a quote from David Polis: "Must we always teach our children with books? Let them look at the mountains and the stars up above. Let them look at the beauty of the waters and the trees and flowers on earth. They will then begin to think, and to think is the beginning of a real education."
"I selected this quote…as it rings true to the quality of education that is possible at Mount Royal," Stalker said. "The idea that students are able to and encouraged to learn by experience, jump at opportunities and continually challenge themselves is what makes Mount Royal such a special place to learn.
"What started to make a huge difference for me was the decision to start saying 'yes' to opportunities that were thrown my way," Stalker said.
She challenged her fellow graduates to continue to live in the moment. "Strive to be better, to learn more and to face each day as a potential for learning."
Stalker ended her speech (video) with a second quote, this one from Kurt Hahn: "There is more in us than we know. If we can be made to see it, perhaps, for the rest of our lives we will be unwilling to settle for less."
"So, class of [June] 2009, let's make this quote a reality when we move on to the next chapter of our lives," Stalker said. "And let's all celebrate today, because today, we are college graduates! Congratulations!"
- Nancy Cope, June 5, 2009

More cool grad stories