Mount Royal University completes its fifth and final Convocation of 2017 Nov. 3

The heralded event celebrated 377 Cougars completing their undergraduate experience. Those in attendance witnessed 198 graduates cross the stage to officially become Mount Royal alumni.
As is generally the case with the fall festivities, the largest cohort was represented by the Faculty of Business and Communication Studies, with 138 of its students transferring from graduands to graduates.
One of those newly minted graduates was Caiden Ellice, who recently completed his undergraduate journey with a Bachelor of Communication majoring in public relations. Ellice represented his classmates as Valedictorian for the fall ceremony. While on campus he was a high achiever, receiving numerous academic awards, earning a 3.9 grade point average and spots on the President's and Dean's Honour Rolls. As well, Ellis worked in Recreation while also volunteering with Enactus and the Canadian Public Relations Society.
During his address, Ellice took the opportunity to relate to those in attendance that his experiences at Mount Royal led to lessons learned in and outside of the classroom. He pointed out the importance of continuous learning and thanked his classmates for their constant support.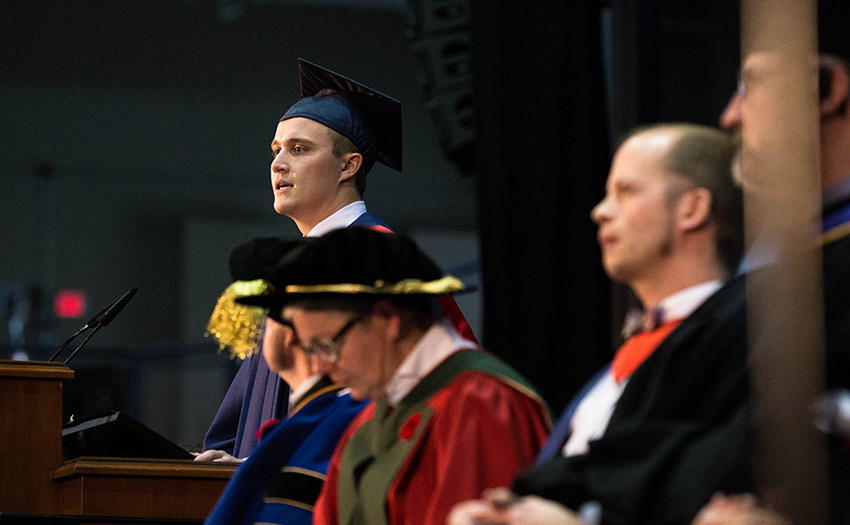 "Although what we learned in the classroom is without question extremely valuable, it is only one of the building blocks that we now possess to create promising careers and futures for ourselves," said Ellice.
"Learning does not stop now that we have graduated. The education, experiences and opportunities provided here have prepared us to be excellent employees, entrepreneurs, parents, friends or, possibly, students."
Currently employed as the standards and safety coordinator with the Lifesaving Society - Alberta and Northwest Territories, he reminded the afternoon guests that Mount Royal grads need to not fear what the future holds.
"While it may seem terrifying, we can face challenges in the future because we are the Cougars: we will never stop being a force to be reckoned with. If I've learned one thing while being here, it's to never undervalue yourself and always trust your intuition."
As has become customary since his arrival, President David Docherty partook in the piping in of graduands with his fellow bagpipers before honouring former National Hockey League goaltender, Kelly Hrudey as the ceremony's Honorary Degree recipient.
Roles as NHL goaltender, broadcaster, community and mental health advocate @KellyHrudey strives to be best #HonouraryDegree #MRUgrad pic.twitter.com/238G1LUqBj

- Mount Royal U (@mountroyal4u) November 3, 2017
While offering well wishes to the students, staff, faculty, friends and family on his favourite day of the year, Docherty congratulated the new alumni on their achievements and wished congratulations, but made sure to encourage them to remain connected to campus.
"When you exit the gym, you will be welcomed by the Alumni Relations team on the upstairs concourse. If you stay in Calgary, please come by campus frequently - mentor students, take a night class, watch a Cougars game or take in a performance at the Bella Concert Hall. This is not goodbye, just see you soon," said Docherty.
As the Honorary Degree recipient, Hrudey was awarded a Bachelor of Arts with a major in Psychology. He has long been an active advocate for mental health issues, often speaking out against ingrained stigmas. Hrudey shared a message of support and understanding with those in attendance.
"I am humbled and honoured to receive this distinction. The more we can talk about the importance of mental health the better. Thank you to Mount Royal University for placing importance on the subject," said the Gemini Award winner, Hockey Night in Canada analyst and recently published author.
As the commemoration neared completion, Mount Royal's newly appointed provost Lesley Brown told the recent graduates that their Convocation regalia - the gown, hood and mortarboard - is a time-honoured symbol of graduation. Until students receive their parchment, the tassel on their mortarboard is worn on the right side. At the conclusion of the ceremony, it is "tossed" to the left.
"It is my distinct pleasure to congratulate you on your remarkable achievements and ask that you now move your tassels from the right to the left," said Brown.
And with that the completion of the final Mount Royal convocation ceremony had occurred, and caps were thrown with jubilation.

Check out our Convocation ceremony archives.

Nov. 3, 2017 ― Jonathan Anderson