A view of the graduating class of the Fall 2015 Convocation Ceremonies before crossing the stage to receive their parchments. ~ Photo by Michal Waissmann
Tassels were tossed, smiles were wide and plenty of high-fives were handed out as 425 Mount Royal University students officially became alumni on Nov. 6
The graduating class of Fall 2015 was well represented in Mount Royal's Triple Gym with 236 recent grads returning to campus to receive their parchments.Provost and Vice-President Academic, Kathryn Shailer suggested the high
| | |
| --- | --- |
| | |
| | Honorary Degree recipient Hunter Wight is presented his parchment by Bryan Pinney, chair of Mount Royal's Board of Governors and master of ceremonies. ~ Photo by Michal Waissmann |
turnout is a direct example of the longstanding sense of pride Mount Royal students have for their alma mater.
"Please know that we are equally proud to welcome you to our growing alumni family," said Shailer, PhD, who invited the newest grads to use the skills and relationships earned while at the University to make a difference in the professional community.
"Become a leader and a mentor. Hold fast the friendships you have made here. They will be among your most lasting," she said.
Perhaps David Docherty, president of Mount Royal, had the grandest entrance of the afternoon. Docherty joined the ceremony with the party platform in his customary fashion, alongside the afternoon's bagpipers.
President Docherty, PhD, started his speech by thanking Bryan Pinney, chair of the Board of Governors for serving as master of ceremonies. He then thanked honorary degree recipient and long-time Mount Royal employee Hunter Wight for his outstanding service to the institution.
The president continued his speech by reminding MRU's newest graduands that four years ago he addressed them as first year students. Docherty reminisced about that day, a day in which he encouraged the students to embrace change and "not be afraid to take risks."He thanked each of the students for successfully taking multiple risks as they completed their undergraduate degrees, and concluded his address by expressing to the crowd that graduating from Mount Royal does not mean "good bye, just see you soon."
| | |
| --- | --- |
| | |
| | Valedictorian Mario Jean poses with Bryan Pinney, chair of Mount Royal's Board of Governors and master of ceremonies. ~ Photo by Michal Waissmann |
"Ideally you'll forge life-long a life-long connection with us," said the president. "You will continue to be a part of the change that will happen here at Mount Royal."

Honorary degree recipient Hunter Wight was a familiar face to the platform party, having been engrained in the fabric of Mount Royal for 23 years. Wight began his career at Mount Royal in 1988 when he spearheaded the Department of Public Affairs and Development.

After the final graduate crossed the stage to receive their parchment, valedictorian Mario Jean took to the podium.

With a deep degree of emotion, Jean addressed his classmates and professors, thanking them for providing an experience he will never forget.

"I'm so proud to be part of this community. I've had the pleasure of immersing myself in MRU culture for four years now," said Jean. "I couldn't imagine pursuing my goals anywhere else."

Jean, who earned a General Science major to go along with minors in both, Physics and Chemistry regularly volunteered with the Mount Royal community. He also worked for Residence Services as a senior advisor. In that role Jean participated in Walk a Mile in Her Shoes to raise awareness for domestic abuse of women and children. He frequently served food at the Mustard Seed and at the Drop-In Centre, and helped organize community events and volunteer opportunities. At the 2015 Crowchild Classic, his strong school pride and community involvement enabled him to win free tuition for the spring semester.

"If Mount Royal has taught us anything, I hope, above all, that it taught us to live with kindness, passion, respect and love. Let's take this wherever we go," said Jean.

View the Mount Royal social media Storify recapping the events.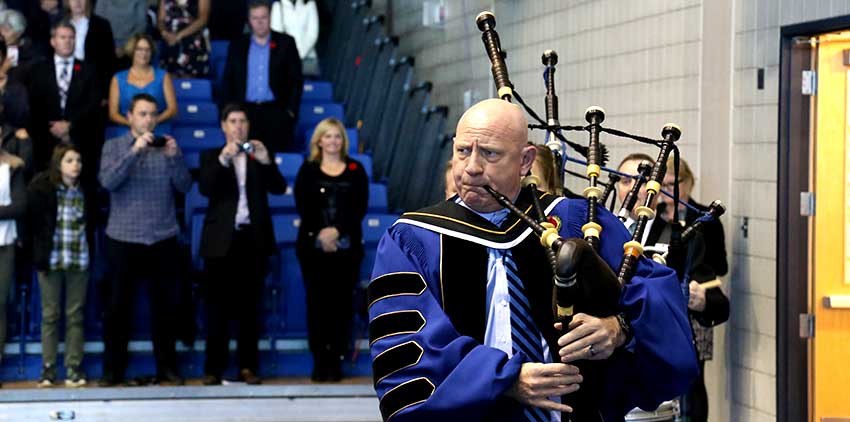 Mount Royal president David Docherty led the graduands in traditional style. ~ Photo by Michal Waissmann


Nov. 6, 2015 - Jonathan Anderson