Proud family and friends of Mount Royal University's newest alumni filled the Triple Gym to capacity during the Fall 2012 Convocation on Nov. 2.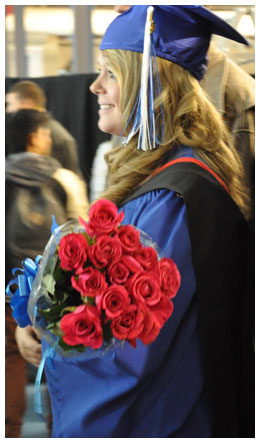 Many hearfelt congtatulations to all of Mount Royal's grads.
More than 250 graduates crossed the stage during the lively celebration, which began with a procession led by the Calgary International Airport Pipe Band, the Cochrane Men of Vision Pipe and Drums, and Mount Royal President, David Docherty, PhD.
It's Docherty's personal tribute to the success of Mount Royal's grads on a day he calls "one of my favourite days of the year."
In his President's Address, Docherty invited the capacity crowd to "make it a fun day" and encouraged graduates to continue to share their talents and their time.
"You have been blessed with a tremendous educational experience - now pay it forward in the way you live your lives," Docherty told the graduates.
During his address, Docherty also recognized the contributions of two members of the platform party: Mount Royal Provost and Vice-President, Academic Robin Fisher, PhD, and Norma MacIntosh, dean of the Faculty of Continuing Education and Extension.
Calling it a bittersweet day, Docherty explained that Fisher will retire on Dec. 31.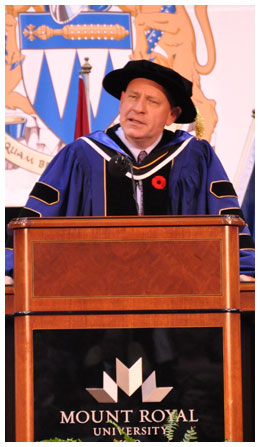 President David Docherty addresses the graduands.
"He's been with us since 2005 and he's really helped build Mount Royal during its transition from college to university," Docherty said. "I really want to acknowledge and thank him for all his service and dedication to Mount Royal University."
Fisher himself paid tribute to Norma MacIntosh - who is also retiring from Mount Royal - during his remarks. Calling her a fabulous colleague, Fisher said the Continuing Education students crossing the stage are the best testament to MacIntosh's many contributions to the University.
Recognizing collaboration
Fisher also pointed out that the final cohort of graduates had crossed the stage with collaborative Bachelor of Arts and Bachelor of Nursing degrees from the Athabasca University at Mount Royal program.
"I want to recognize that Athabasca has been a fabulous partner for us en route to developing our own degrees," Fisher said.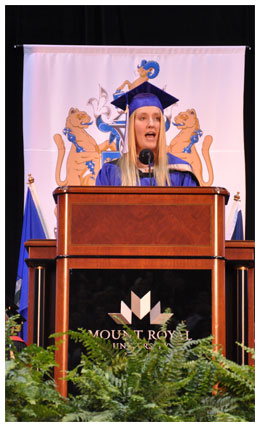 Valedictorian Christa Phibbs.
The Convocation ceremony ended with a valedictorian speech by Christa Phibbs, who graduated with a Bachelor of Business Administration and majored in General Management.
In her speech, Phibbs focused on the theme of lifelong learning and how lessons can be gained from every experience.
"I hope that we all start the next chapter of our lives open to learning and growing through whatever lies ahead - always accepting and applying these lessons that are given in the situations and experiences that lie before us," Phibbs said.
"The more you learn, the more it helps you develop skills and grow into an extraordinary individual who can drive change within a community.
"This change can be small or big, but as long as you are helping and making a difference in people's lives, it has value - to them, to those around them and, hopefully, to you as well."