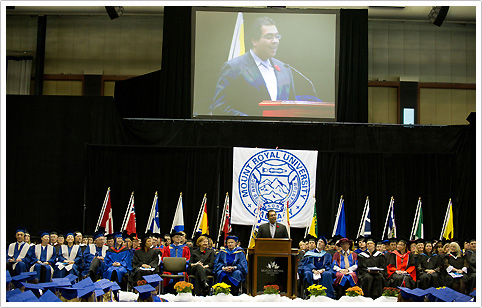 The swirl of bagpipes and smiles of pride filled the Triple Gym on Nov. 5 as family and friends celebrated the success of the 261 Mount Royal University graduates who crossed the stage during the fall Convocation ceremony.
In his speech, President Dave Marshall told graduates that they are leaving Mount Royal as students and joining more than 75,000 Mount Royal alumni. View the video of Marshall's speech.
"As Mount Royal grads, you are now forever a part of the fabric of this institution, and now a part of our history," Marshall said.
"And you will play a special part of that history in being the first graduates to cross the stage in Mount Royal's centennial year."
Among those crossing the stage were the first seven students to graduate from Mount Royal's Bachelor of Arts program with degrees in Policy Studies and Psychology.
Triumphant return
The ceremony also marked the first time that Calgary Mayor Naheed Nenshi has returned to campus since being sworn into office on Oct. 25.
Most recently an associate professor at Mount Royal's Bissett School of Business, Nenshi told the audience it was "great to be home."
He then went on to assign the graduates homework.
"The homework is, as you start your professional life, I want you to remember the importance of being involved in your community," Nenshi said. "I want you to make you sure you volunteer and actively participate in debate and discussion.
"Make it an integral part of your life."
Pay it forward
The Minister of Justice and Attorney General, the Honourable Alison Redford, MLA for Calgary Elbow, brought greetings to the graduates on behalf of the Government of Alberta.
"It's a privilege to be on the stage again and to be able to be here to celebrate Mount Royal's incredible journey in this city," Redford said. "Now, in Mount Royal's centennial year, it's a real honour to be able to be part of the continuing tradition of this university in this city."
Like the Mayor, the Minister encouraged graduates to be active and engaged as volunteers, and that theme was continued by Camille Dow Baker, who was awarded an honorary Bachelor of Business Administration for her outstanding contributions to the business sector.
The honorary degree also recognizes Dow Baker - the volunteer CEO and co-founder of the Centre for Affordable Water and Sanitation Technology - for her work providing innovative and sustainable solutions to water and sanitation access in developing countries.
"F" words - future and fear
Once every graduate had crossed the stage and received their parchments, Valedictorian and graduate of the Bachelor of Communication - Journalism program, Nori Sinclair, took to the stage with an insightful speech that focused on a couple of "F" words - "future" and "fear."
Sinclair shared a story about fear with fellow graduates.
"In my first year of the journalism program, I had an eye-opening conversation with one of my [professors]. I was telling him how scared and nervous I was about going out to interview strangers, and how this must mean I simply wasn't cut out for the journalism program," Sinclair said.
"In response, my capable, successful, seasoned [professor] told me that, when he was starting out as a reporter, he threw up before every single interview he did. I was stunned. Was it really possible to feel that kind of fear and keep going back until it's just not scary anymore?"
Sinclair answered her own question by asking graduates to remember how they each successfully faced their fears.

"I bet every one of you can think of a time during your years here when you wrestled with your nerves. Maybe, like me, it was before dialing the phone to call up a stranger for an interview. Maybe it was handing in that 25-page research paper that took you all semester to write. Maybe it was getting up in front of your whole acting class to deliver a monologue. Whatever your own personal demon, I know you have all felt fear and conquered it.
"I think that's a big part of how you grew into the person who is leaving Mount Royal today - older, a little wiser and a heck of a lot more brave.
"And look around you. See that aura of accomplishment that you and your classmates now share with 100 years worth of Mount Royal graduates? That aura comes from having the skill, knowledge and confidence to look fear in the eye and then walk right past it," said Sinclair.
- Nancy Cope, Nov. 5, 2010
Check out just some of the interesting students who crossed the stage at Convocation:
Honorary degree

Camille Dow Baker is the recipient of a Mount Royal University honorary degree.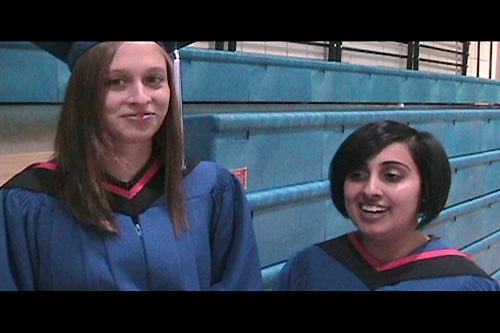 Watch the video that has grads talking about their favourite Mount Royal memories.