Convocation recap


The first snowfall of the season could not dampen the excitement and pride at Mount Royal University's fall Convocation.
More than 170 graduates crossed the stage in this colourful ceremony, held in the Triple Gymnasium on Nov. 4.
The afternoon began with the presentation of Mount Royal's new Coat of Arms and ended with a surprise as the University's newly-installed president, David Docherty, brought out his own set of bagpipes to join the Calgary International Airport Pipe Band in piping out the graduates.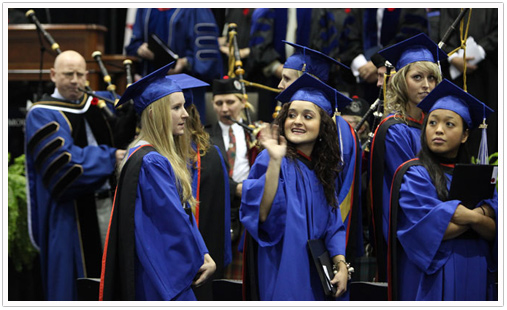 It could be the start of a new tradition - one to match the display of Mount Royal's new Coat of Arms, which graced the platform as part of Convocation.
An emblematic description of the University's founding, Mount Royal's Coat of Arms was granted by the Chief Herald of Canada, Claire Boudreau, in April, 2011, and will now be part of all ceremonial occasions, including future Convocation ceremonies.
The Coat of Arms was unveiled earlier in the day by His Honour, The Honourable Donald S. Ethell, Lieutenant Governor of Alberta, during the ceremony that officially installed David Docherty as Mount Royal's ninth president.
Docherty spoke about his installation during his President's Address - his first at a Mount Royal Convocation.
"My presidential Installation Ceremony took place this morning, and I can't help but stand here and feel a strong connection to all of you and the emotions you are experiencing this afternoon," Docherty said.
"I feel in some ways as if I'm an honorary member of the Class of 2011. As you all sit before me, thinking about the next big steps you will take in your lives … I can honestly say I feel a bit of the same myself."
In a charming moment, Docherty asked the graduates to stand, turn to the audience, and applaud "those who have been by your side since you started your first day at Mount Royal."
Those in the standing-room-only audience waved and applauded in response.
After recognizing Mount Royal's faculty and the support they provide inside the classroom, Docherty spoke of the importance of citizenship and involvement in the community.
"It is my hope that Mount Royal continues to play a role in your lives for years to come," he told graduates.
"Whether you become a mentor to new students, take a Continuing Education class as a working professional, or enrol your child in music classes at the Conservatory, you are forever a part of this institution."
Valedictorian Rance Williams also spoke of the importance of community involvement and social responsibility.
"It is clear that as graduates of Mount Royal University, we have all undergone a degree of personal change," said Williams, who has graduated from the Bachelor of Business Administration program.
"I would argue that it cannot stop at graduation and that the drive and motivation necessary for completing a Mount Royal program can be applied to all individual pursuits.
"By leveraging the work ethic that students have proven to be capable of, we can continue to achieve, develop as leaders, and become experts, mentors and valued citizens."

- Nancy C ope, Nov. 4, 2011

---
Profiles: valedictorian cool grads
---