Thurs. June 1 — Faculty of Health Community and Education
Spring Convocation 2017 is officially underway! The time-honoured tradition began Thursday morning with the usual pomp, circumstance and pipers.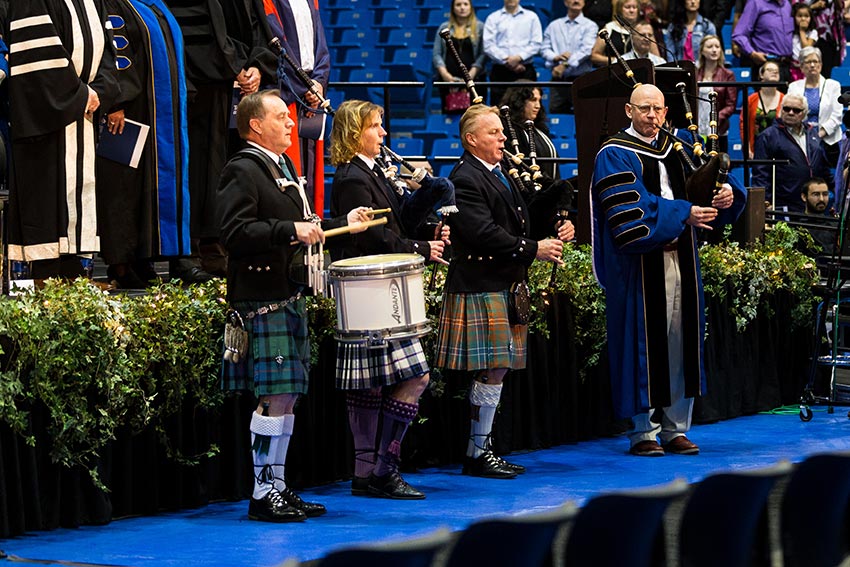 This year's new alumni of the Faculty of Health, Community and Education kicked off two days of ceremonies as the largest graduating cohort of 2017. In total, 333 students crossed the stage to receive their parchments, joining more than 90,000 other Mount Royal graduates over 117 years of education.
This year Mount Royal is proudly celebrating the 50th anniversary of its distinguished nursing program. The annual intake for the Bachelor of Nursing ― the first four-year degree to be offered at Mount Royal ― is 210 students, with many unfortunately having to be placed on waiting lists. By comparison, in 1967 Mount Royal Junior College welcomed a class of 25 students.
President David Docherty, PhD, made mention of the special occasion, noting that each year nursing graduates cheer on their fellow comrades with passion.
"In my experience at Mount Royal, there is no other louder, more excited group than our nurses. And this year marks our 50th anniversary of nursing at Mount Royal — a 50-year legacy that you're all very much a part of. So, let's make sure what I always say about the nurses holds true, and let's make this a ceremony worthy of a half-century celebration!" Docherty said.

Honorary Degree recipient
Fittingly, during the kick-off celebration an Honorary Bachelor of Nursing was awarded to Elder (Grandmother) Doreen Spence.
Grandmother (as she prefers to be called) has been recognized nationally and internationally many times for her advocacy on behalf of Indigenous Peoples. Originally from the Saddle Lake Cree Nation in northern Alberta, Grandmother is a retired nurse, an accomplished author and an active Elder for the United Nations. She has worked tirelessly to advance human rights and protect fundamental freedoms for Indigenous Peoples throughout the world. Grandmother served as president of the Plains Cultural Survival School for 18 years, and also founded and ran the Canadian Indigenous Women's Resource Institute, both in Calgary. Her many accomplishments include a Nobel Peace Prize nomination for the 1000 Women of Peace Project, and receiving, along with His Holiness the Dalai Lama, an award at the New Zealand Spiritual Elders Conference. In 2017, Grandmother received the highest honour available within the Indigenous community in Canada ― the national Indspire Award for Culture, Heritage and Spirituality.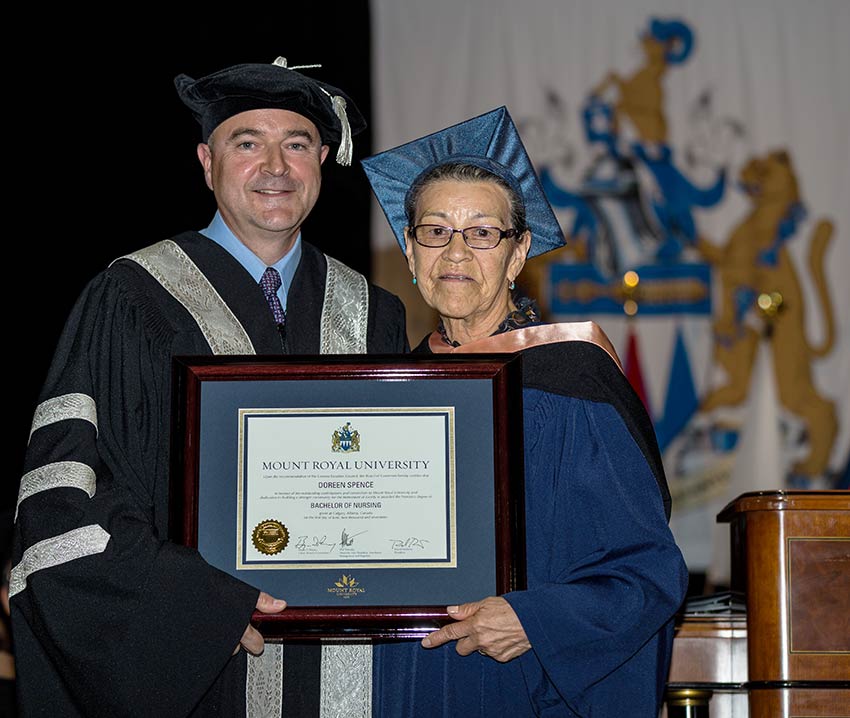 Grandmother has dedicated her life to building understanding, collaboration and reconciliation among all peoples. A highly respected speaker, healer and mentor, she has shared her vast experience and knowledge with the Mount Royal community, working to help indigenize the nursing program, providing workshops to social work students and delivering intensive training to faculty. Having spent over 40 years in the nursing field despite extreme barriers, Grandmother delivered an impactful message, saying that no one human being is above another.

"Whatever you do, do with unconditional love. We are here for the betterment of the whole," she said.
"When I reflect back and wonder what I could share with the graduates today it would be that life is a gift. Treat it as if it is the best and most precious present you ever received."
Class valedictorian
Roisin Dillion represented the first graduating class of spring 2017 as the ceremony's valedictorian. Dillon began her studies at at Mount Royal University in 2011 looking to pursue a career in healthcare, and began her nursing degree in 2012. Dillon completes her time at Mount Royal with a GPA of 3.60, having been added to the Deans' Honour Roll for excellence in academic achievement each year in the program.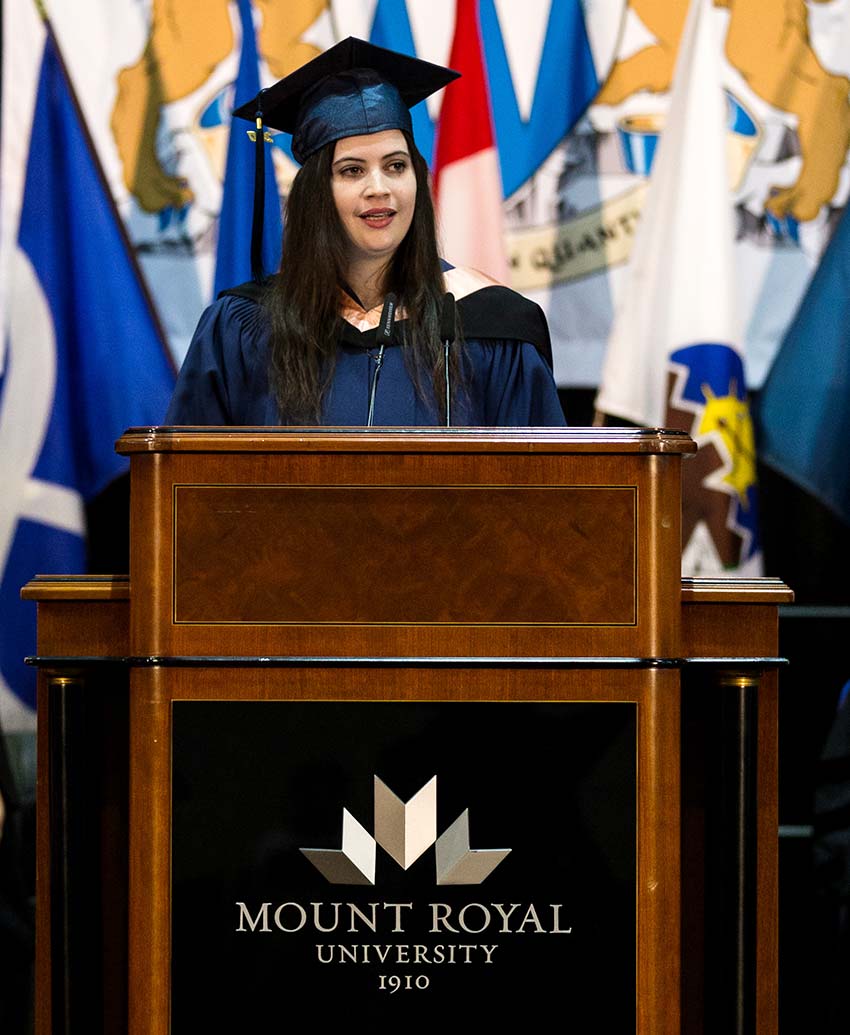 Further distinguishing herself, Dillon volunteered as a peer health educator and helped raise funds to support a student-led, not-for-profit event simulating a World Health Organization summit. She has presented at a number of conferences on campus, as well as at the 85th Annual Congress of Humanities and Social Services in Calgary. During Dillon's time at Mount Royal she was awarded $8,000 in scholarships, and she plans to continue with graduate studies at King's College in London, England.
Dillion asked her counterparts to continue pushing the limits, not settling but rather striving for greatness. The crucial themes of her speech were "courage" and "curiosity."
"Your intention, your voice, even in the simplest of interactions, has power, so don't ever be complacent because you feel you lack impact," she said, saying she feels privileged to be able to make a difference in people's lives through health care.
"It is my wish that you don't fear failure, but rather complacency. Do not let your fire or passion dim, or for the existing status quo to become an excuse for stasis."
Governor General's Academic Bronze Medal Award
The ceremony also saw the presentation of the Governor General's Academic Bronze Medal Award to Julie Martin.
The Governor General's Academic Medal recognizes the outstanding scholastic achievements of Canadian students graduating with the highest grade point averages in diploma and degree programs at approved colleges and universities. The medal celebrates and encourages academic excellence across the nation.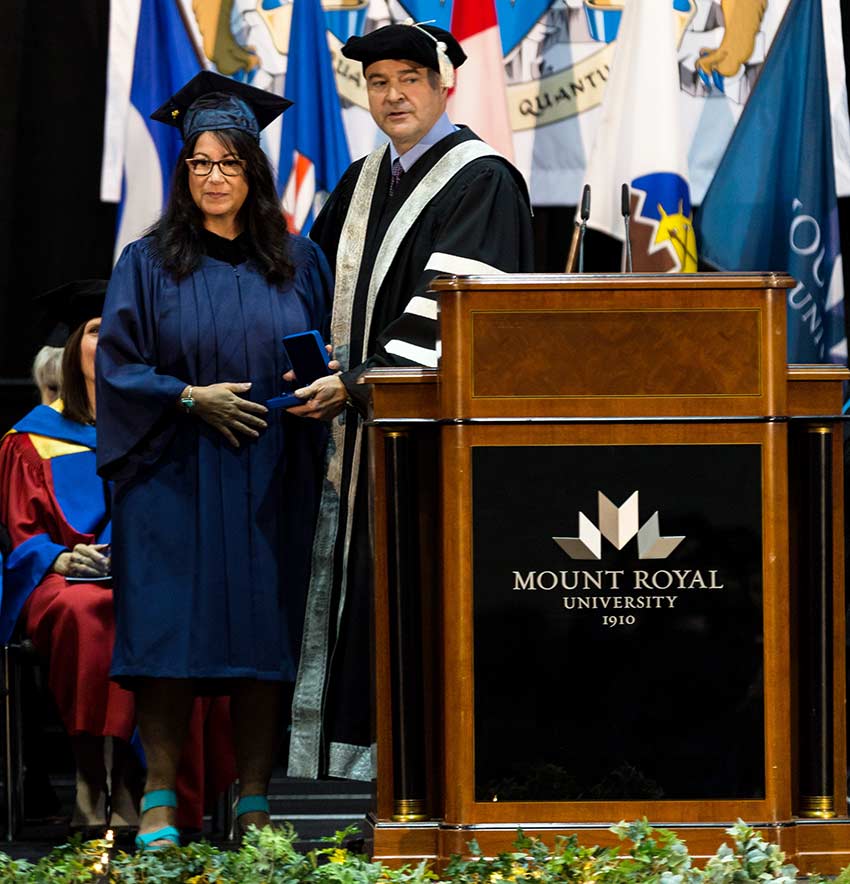 Martin completed her academic journey at Mount Royal with a Social Work diploma. Her perfect GPA of 4.0 is the highest among all graduates of diploma programs for this year's graduating class.
Watch the June 1, 10 a.m. ceremony on YouTube
Discover the programs of the Faculty of Health, Community and Education.

---
Thurs. June 1 — Bissett School of Business
Spring 2017 Convocation's second ceremony saw 307 Bissett School of Business grads across the stage. With what has become tradition for Mount Royal University Convocation ceremonies, President David Docherty, PhD, joined the pipers in leading the graduand procession in to the Triple Gym. Before names were called and pictures taken, the Thursday afternoon ceremony began with a moment of silence honouring the lives of Jeffrey Michael Bird and Reynold (Reyn) Johnson, two devoted instructors from the Aviation program who tragically lost their lives in a training accident February 13. Aviation students were among those receiving their parchments.
Honorary Degree recipient
An Honorary Bachelor of Business Administration ― General Management was bestowed to Evan Hu. The business community describes Hu as a mentor, investor and entrepreneur. He has been the go-to catalyst for the development and diversification of Calgary's entrepreneurial community for more than a decade. Hu has launched successful businesses in industries as diverse as music publishing, bicycle manufacturing and information technologies (IT). His two IT startups were eventually acquired by multinational corporations.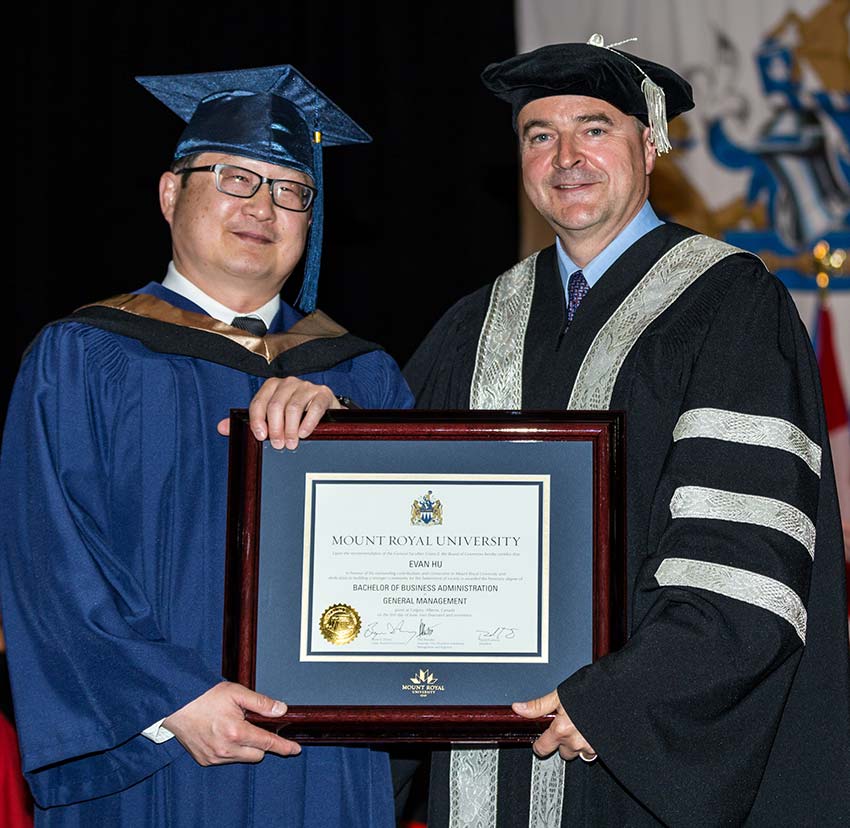 The Bissett School of Business is fortunate to have benefited from Hu's success and dedication firsthand. For five years he was an adjunct professor of entrepreneurship and is now an advisor to the Institute for Innovation and Entrepreneurship. He said during the ceremony that teaching was one of the hardest jobs he has ever had. As a role model, Hu has led by example, demonstrating how students can launch their own ventures successfully. Always generous with his time, he has been a mentor and 'angel investor' for many Mount Royal student and alumni ventures, supporting students in their enterprises and hiring many into his own businesses.

Hu is a key player in the local entrepreneurial community, central to helping shape Calgary's new economy. In addition to the leadership he provides his two current ventures and his volunteer work at Mount Royal, he currently serves as a board chair for Innovate Calgary and is a founding fellow for Alberta Rainforest.

While addressing the crowd of business minded students Hu made mention of one thing in particular.

"What stuck and what made the difference in my education was not so much the facts and figures, the formulas and case studies, the hard stuff … it was the soft stuff. It was the experiences, the personal revelations, the team work, the friendships. It was all about people stuff," he said.
Hu also spoke of the benefits of curiosity. "Lift the covers off, ask lots of questions, see what lies beneath and ask why," he said. "Try stuff. Once you've lifted the covers, take a taste."
Additionally, he cautioned to not "buy what the fear merchants are selling.
"Life isn't planned, it's discovered," he said. The world isn't a great place yet, but it's a better place than it has been in our short history."
Thursday afternoon was also President Docherty's last ceremony of the spring celebrations. The president will miss Friday's ceremonies as he will be Nova Scotia watching his son graduate from Dalhousie University.

During his address to the president thanked the graduating students for embracing change and encouraged the newly minted alumni to keep in touch.

"I urge you, as alumni, to stay connected, get involved and access some excellent alumni programs. If you remain in Calgary, I hope we will see you on campus frequently. Whether you mentor new students, take a continuing education class, come watch a Cougars game or enroll in music classes at The Conservatory, you're forever part of Mount Royal. This is not goodbye, just see you soon. You will always belong here," said Docherty.
Class valedictorian
Before the ceremonial tassel toss, Zachary Champox, a general management grad, former JMH LaunchPad winner and current entrepreneur with Nomad EcoProducts, took to the stage as class valedictorian.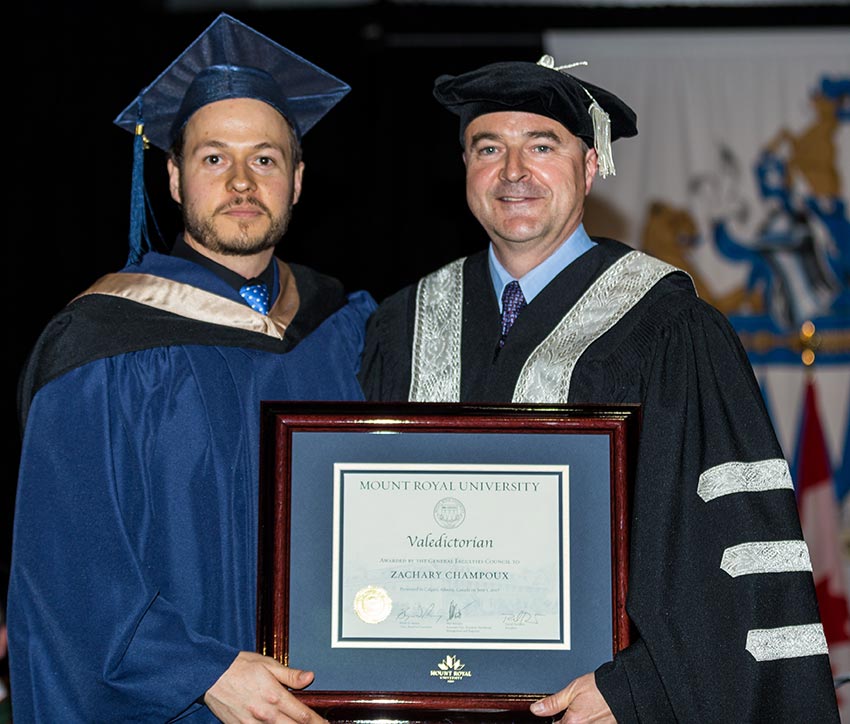 Champoux made sure to mention his appreciation for both Grant Sommerfield, associate vice president of Facilities Management and President Docherty, both of whom he worked with on several projects, including the revitalization of Main Street. He also took the time to express his gratitude to faculty, family, friends, mentors, Mount Royal staff and the external community.
Finally, he said, "Thank yourselves, for committing to accomplishing something, consistently applying effort and executing on your goal."
Champoux also asked his fellow graduates to appreciate the moment.
"Mount Royal University has provided us with a solid and diverse educational foundation. We have all made friends over the last number of years, and those friendships will continue past graduation. But this particular stage of our lives is ending. And this is a perfect time to pause and reflect," he said.
"As you walk the stage with your degree in hand, you join a great number of Canadians who make up arguably the most educated country in the world per capita. It is a great thing you have done, and, as all in attendance I am sure agree, it is great things you will go on to do."

Governor General's Academic Silver Medal Award
Accounting and general management double major Clayton Rubie was awarded the Governor General's Academic Silver Medal for achieving a perfect 4.0 GPA, the highest among all graduates of degree programs.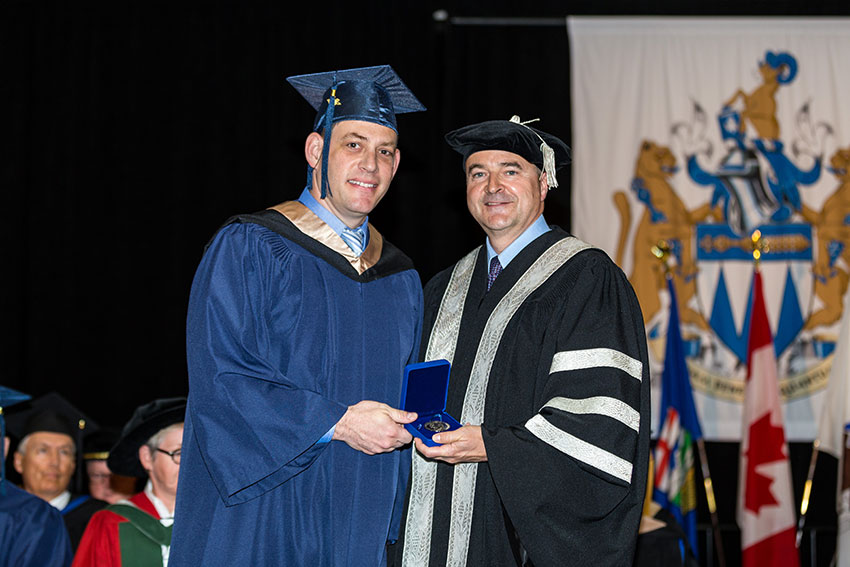 The Governor General's Academic Medal recognizes the outstanding scholastic achievements of Canadian students graduating with the highest grade point averages in diploma and degree programs at approved colleges and universities. The Medal celebrates and encourages academic excellence across the nation.

Watch the June 1, 2 p.m. ceremony on YouTube
Learn more about Mount Royal's Bissett School of Business.
---
The third of Mount Royal University's four Spring Convocation ceremonies was reserved for students from the Faculty of Arts.
The third ceremony of spring 2017 began with the presentation of this year's single Professor Emerita. The distinction was granted to former professor Kelly Hewson, who was referred to as an invaluable resource during her introduction, one who will continue to enhance the reputation of the University.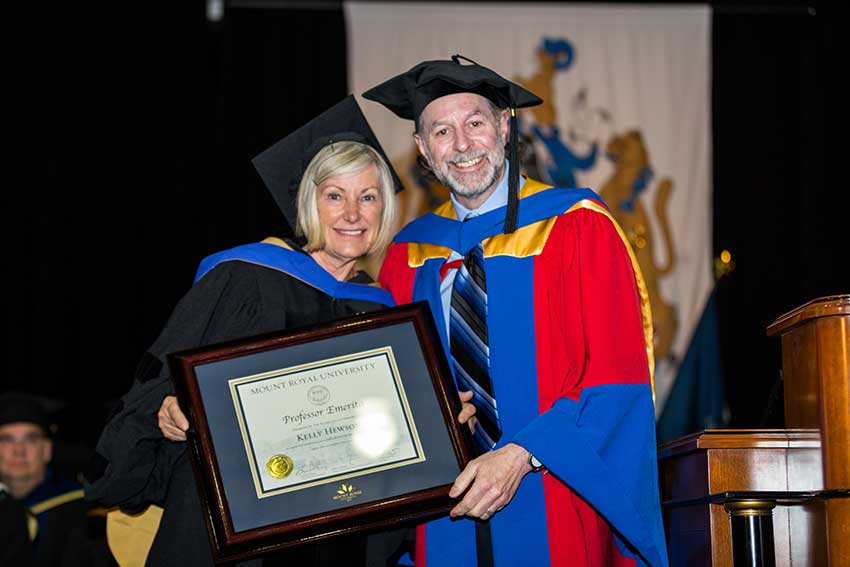 The presentation of Hewson's designation acknowledges her as a faculty member who provided significant contributions during her long-term association with Mount Royal. Hewson started her at the institution in 1992 when she was appointed as a full-time instructor in the then Department of English. Hewson later became a tenured professor, recognized for her expertise in postcolonial literature.
From Hewson's earliest days on campus, she used her voice to support both her department and the University. Hewson served on numerous committees, including the Board of Governors. She invigorated the programs of English and General Education, and was responsible for acquiring Giller Prize-winning Canadian author Austin Clarke as the inaugural Writer in Residence in 2007.
Closely connected with the Commonwealth Book Prize, Hewson also helped to bring the prestigious event to Mount Royal in 2003.
Her passion for teaching and pedagogy is evident in her ongoing work in the scholarship of teaching and learning. Hewson is currently a co-investigator on a research project focusing on the intersection of film studies pedagogy and Canadian identity.
With the Friday ceremonies underway Jeff Goldberg, PhD, Mount Royal's interim provost, assumed the usual role of President David Docherty. The ceremony was injected with an extra shot of nostalgia as was Goldberg's second-to-last Convocation, as he is set to head in to retirement.
While addressing the 214 students in attendance, Goldberg used his platform to pose three requests to the waiting graduands: to continue life-long learning; to be decisive and always moving forward; and to lastly stay linked to Mount Royal.
"When I first walked in the door in 2011, I immediately said to myself, 'Wow, I wish I went to school here.' We can only sustain what sets Mount Royal apart with your help. As you leave here today as our newest group of MRU alumni, please develop what I hope will be the life-long habit of remaining connected to Mount Royal," said Goldberg.
Honorary degree recipient
Todd Hirsch, chief economist at ATB Financial since 2007, was awarded with an Honorary Bachelor of Arts with a major in policy studies.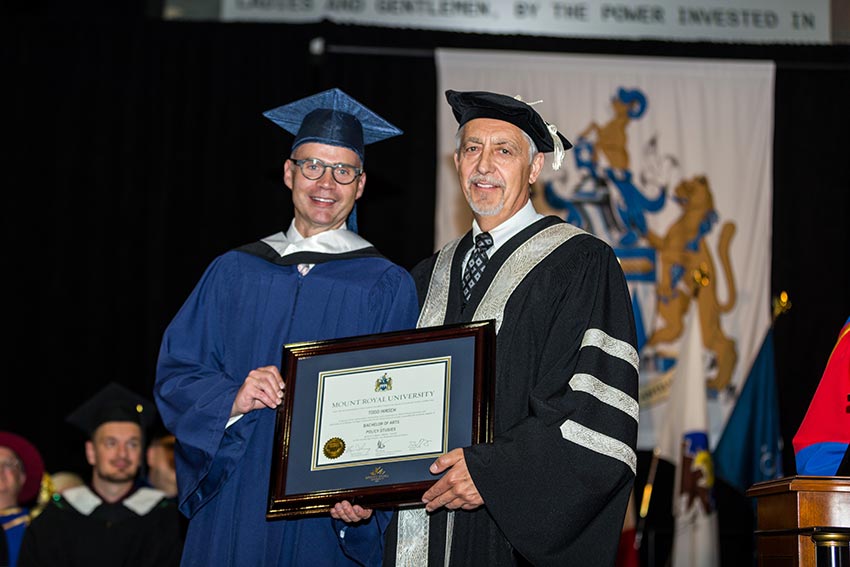 Hirsch is considered one of the most prominent economists in Alberta, and is in high demand as a public speaker and an authority on economics and public policy. He regularly provides commentary for news outlets throughout Canada and in 2012, he was named one of Alberta's Most Influential People by Alberta Venture magazine.
Hirsch's public policy interests and roles are diverse. He has served as chair the Alberta Premier's Council on Culture, board chair of the Calgary Arts Academy, and is currently a member of the Alberta Economic Development Authority. A regular volunteer at Mount Royal University, Hirsch has previously participated in many events organized by the Department of Economics, Justice and Policy Studies and the Mount Royal Alumni Association.
To go with today's honorary degree, he has also previously been a recipient of the Queen's Diamond Jubilee Medal for outstanding contributions to society.
Hirsch started off by taking of selfie with the graduands in the background, and moved on to say that he wouldn't be talking about the economy or how to get a "hot job." Rather, the topic of his speech was four simple pieces of punctuation.
First was the period. "It is a time to stop, to pause and to reset. In your careers and your lives, remember to take the occasional pause. Do nothing, put down your phone, be mindful and still. Just pause."
The second was the question mark. "Wisdom is not measured by the answers we give, but rather the questions we ask," he said, reminding students to also always questions themselves, their motives and their actions.
The third was the exclamation point, which he said every successful career employs.
"Success in life requires enthusiasm. It demands we live each day aware of the possibilities and opportunities."
And finally … there was the ellipses. "Whenever you dig in your heels and harden your views on religion and politics, remember the ellipses," Hirsch said. "It reminds us that there is always something yet to be considered."

Class valedictorian
The Faculty of Arts was represented by Oluwademilade "Demi" Okuboyejo who leaves Mount Royal with a Bachelor of Arts majoring in policy studies to go along with her minors in both business and political science.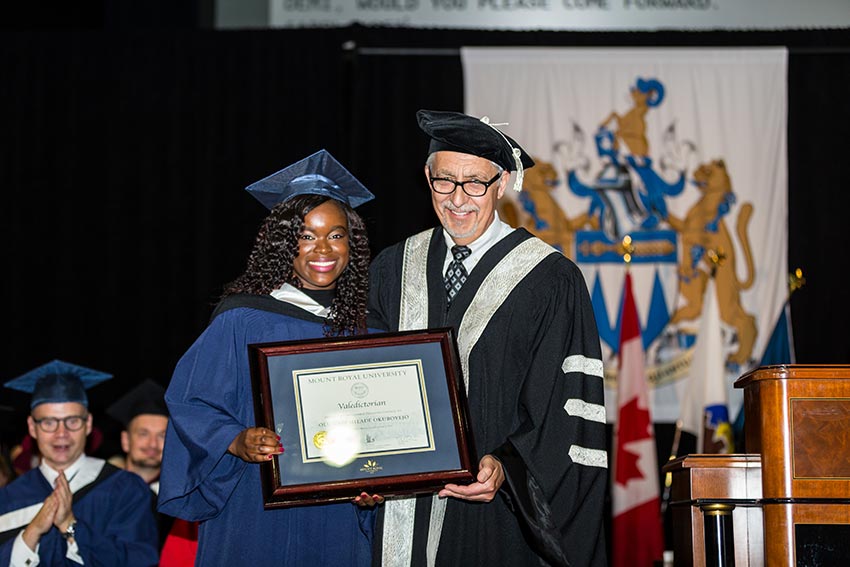 Okuboyejo began studying at Mount Royal University in 2014, having spent the previous two years at the University of Alberta. An accomplished, well-rounded student, she achieved President's Honour Roll status for the past two consecutive years and leaves with a 3.9 GPA. During her time on campus, Okuboyejo was active as the president of the Policy Studies Students' Society and secretary of the Afro-Caribbean Students' Society. She also participated in the Alberta Intercollegiate Model United Nations Conference, at which Okuboyejo received an award for her opening speech. Additionally, she was the recipient of the prestigious General John de Chastelain Scholarship for superior academic achievement and contributions to community.
While addressing the crowd, Okuboyejo used humour to keep her classmates entertained. She said, "If your family is anything like mine, almost daily you are asked some common questions. 'Do you have a job yet? Are you going back to school? When are you going to move out?'"
She reminded her cohort not to focus too much on the "perfect plan," as quite often they have flaws.
"While planning is necessary and important, we must accept the fact that plans change. And that's ok.
"My altered plan has resulted in me standing here, graduating from this university and I couldn't be more proud and honoured. My 'perfect plans' were altered but as a result I gained so much more. I got the opportunity to come to this incredible institution, meet amazing people, and learn from passionate professors about something I love," said Okuboyejo, who will be entering law school at the University of Calgary next fall.
"Change is inevitable," she finished with. "And embracing it is always the best option."

Watch the June 2, 10 a.m. ceremony on YouTube
Find out more about Mount Royal's Faculty of Arts.
---
Fri. June 2 — School of Communication Studies, Faculty of Continuing Education and Extension, Bachelor of Education and Faculty of Science and Technology
The last ceremony of Spring Convocation 2017 had many special guests attend, but one in particular officially opened the fourth and final student commemoration. The Honourable Lieutenant Governor of Alberta Lois E. Mitchell entered convocation to the Vice-Regal Salute with her aide de camp and sheriff at her side.

Mitchell was on hand to present the first Lieutenant Governor of Alberta Social Studies Education Graduate Student Award.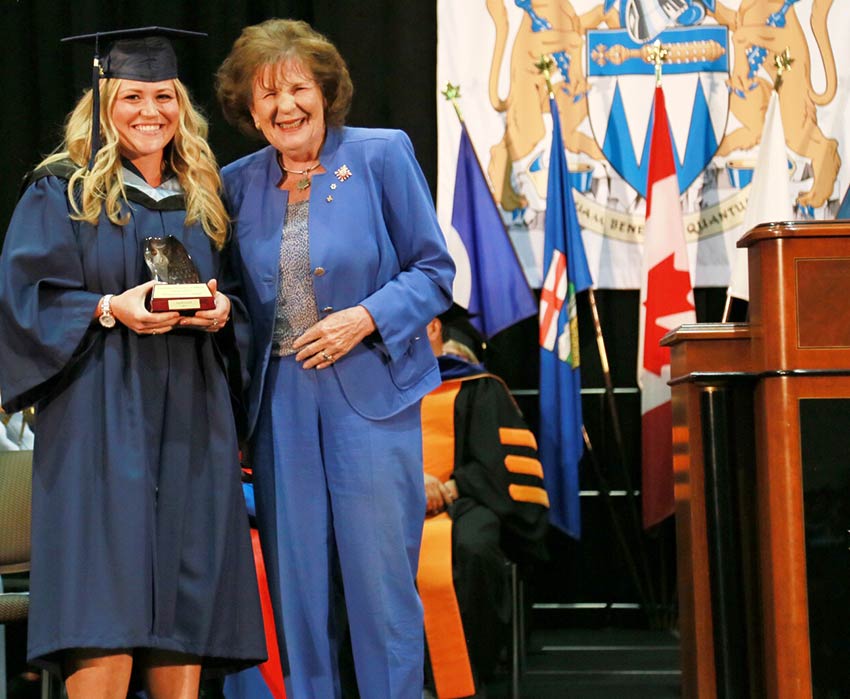 This new accolade was granted for the first time at Mount Royal Friday afternoon, and will continue to be presented annually among education faculties across Alberta. The recipient of the new award demonstrated superior academic achievement related to social studies curriculum and is a generous volunteer within the community.

The award was presented by Mitchell to Layla Leard, who left MRU this afternoon with a Bachelor of Education – Elementary with a minor in history.
Honorary degree recipient
The second special guest joining the platform party was well-known Calgarian Mark Tewksbury, who is celebrated by Canadians for his gold medal in the 100-metre backstroke at the 1992 Summer Olympics. Following the '92 Games he was named Canadian Athlete of the Year. His additional accomplishments include three Olympic medals, 21 national titles and seven world records. He is also a member of the Canadian Olympic, Canadian Sports and International Swimming halls of fame.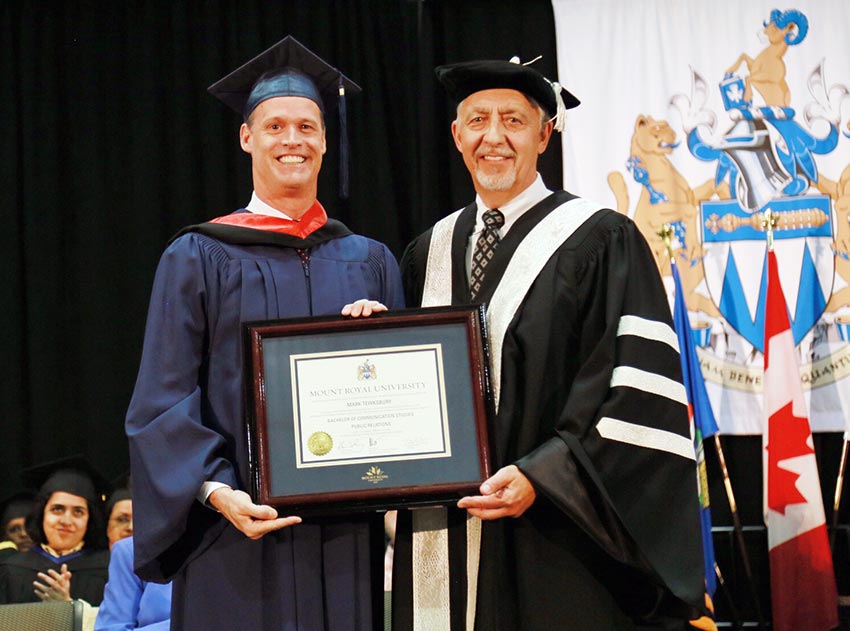 Tewksbury, who was awarded an Honorary Bachelor of Communication ― Public Relations, said, "This means so much to me. As proud of I am of my athletic career, I am much, much, prouder of my public relations career after athletics."
Nominated for a Canadian Screen Award following his work as a commentator at the Rio 2016 Summer Olympics, Tewksbury is currently serving as vice chair of Special Olympics Canada and is a director of the Canadian Olympic Committee. He is also a principal of Great Traits, a professional development company. A vocal critic of corruption within the International Olympic Committee and an avid supporter of gay rights, particularly in athletics, Tewksbury was co-president of the first World Outgames in 2006. He is the author of three books, a global leader in the LGBTQ community and has addressed the United Nations on human rights matters.
Speaking about the power of words, Tweksbury told the graduands, "Sometimes words can define us, and sometimes not in the best way. Especially in the words we choose." He recalled a time he found a homosexual slur written on his locker, and how he allowed "that word" to define him for a very long time.
"I remember trying to run away from 'that word.' 'That word' defined me as afraid, self-hating, anxious and terrified of the world around me."
In 2005, Tewksbury helped launch Positive Space at Mount Royal, a campaign designed to build awareness about sexual orientation and gender diversity.
"Thanks to campaigns like Positive Space, the world is changing," he said.
He acknowledged how proud he was to have been involved in the project and that the creation of another "positive space" for him by one of his coaches was instrumental in his gold medal-winning performance. His coach was the first person he had ever felt comfortable enough with to tell that he was gay, and he used her support combined with the hatefulness and negativity of "that word" to propel him forward.
"That 'thing' that had been my liability became my strength and my most competitive aspect." It was "human rights power" that allowed him to post his best time ever.
Tewksbury finished his speech by saying that the words that define us will evolve and change over the course of a lifetime.
"But the rest is up to you," he said. "What will you choose to be and what words will you choose to define yourself?"
Class valedictorian
After the final 216 graduands crossed the stage and officially became Mount Royal graduates and alumni, Maryam Yaqoob stoof behind the podium to deliver her valedictorian address.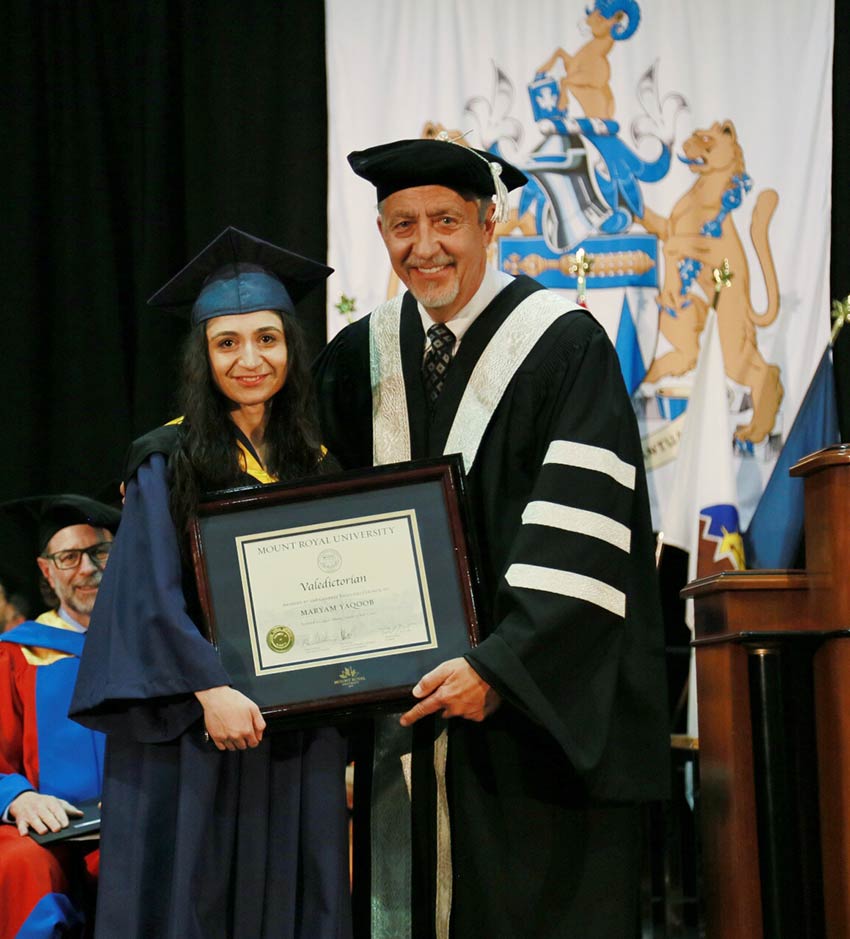 Originally from Iraq, Yaqoob immigrated to Canada via a Syrian refugee camp in 2011. She began her academic journey at Mount Royal University in 2013. Yaqoob was a member of the President's Honour Roll all four years of her undergraduate degree and has become a member of the Golden Key International Society – an invitation reserved for the top 15 per cent of Mount Royal students.

On campus Yaqoob volunteered with START,Student Learning Services and spent time as a peer health educator. She acquired a Bachelor of Science and earned a cumulative GPA of 3.86. During her academic career at Mount Royal, Yaqoob contributed to the University's scientific endeavors by having completed a year-long independent project with John Chik, PhD and biology professor. She is this year's recipient of the Centennial Gold Medal and has been accepted into University of Calgary's Cumming School of Medicine for post-graduate studies.

Throughout her speech, Yaqoob connected with the crowd by showing her gratitude for the found safety Canada. She stressed how much the community at Mount Royal meant to her and asked her fellow classmates from the Faculty of Science and Technology, Faculty of Health Community and Education, Faculty of Continuing Education and the School of Communication Studies to reflect on how to give back to Mount Royal.

"I was fortunate to have found refuge in Canada. I got support from our community and had an opportunity to reach my dreams. I was worried that I'd never have a chance to go to university and I am fortunate to have found my place and this wonderful institution," said Yaqoob.

"My peers, you have been beyond supportive and always made me feel like I was home. Mount Royal has an atmosphere of inclusion, diversity and unconditionally allowing different opinions to be shared. To me, Mount Royal reflects the face of our beautiful country. Leaving Mount Royal, we are privileged to be a representation of model citizens; a very bright, kind and good people. Collectively, we are going to produce a social change and to promote Canadian values of harmony, diversity and inclusion in the community ― locally and abroad."

Watch the June 2, 2 p.m. ceremony on YouTube
Explore Mount Royal's School of Communication Studies, Faculty of Continuing Education and Extension, Bachelor of Education and Faculty of Science and Technology.
June 2, 2017 ― Jonathan Anderson