Mount Royal University's spring Convocation holding several firsts

After 105 years, one might assume that Mount Royal University has seen it all. However, spring 2015 Convocation means celebrating many firsts, some for the University - and even one for the province of Alberta.
| | |
| --- | --- |
| | |
| | Mount Royal University President David Docherty leads bagpipers into the 2015 spring convocation ceremonies. |
On June 4, Alberta's first and only Bachelor of Midwifery graduates tossed their tassels in front of family, friends and professors.
Mount Royal's Midwifery program launched as the University's ninth baccalaureate degree in 2011. The Bachelor of Education - Elementary, announced earlier that year, also saw its first graduates cross the stage on June 5.
"Seeing our newly established programs' first graduates walk the stage is a testament to Mount Royal's commitment to providing an exceptional undergraduate experience," said Kathryn Shailer, PhD, provost and vice president, academic.
"When I look out at all of you graduates, I see representatives of many disciplines and credentials. Together you showcase the strength, breadth and evolution of Mount Royal's programs. Many of the certificates, diplomas and applied degrees we award today are in program areas that will or have already developed into four-year baccalaureate programs."
President David Docherty welcomed Mount Royal's largest cohort of graduates in a century-plus of academic history. An unprecedented three-quarters of the 1,565 graduating students returned to campus to celebrate their accomplishments. For the first time, the University held four ceremonies over two days to honour its grads.
"Four years ago at orientation, I spoke to many of you and told you, 'Don't be afraid to take risks.' This leads me to my one piece of advice today: embrace change," Docherty, PhD, told the crowd. "As a matter of fact, if we (both faculty and staff) did our job well, you'll be more confident running toward change, not running away from it.
"The vision of our new Strategic Plan is to provide students with an exceptional undergraduate experience. A big part of this is preparing you for the future - helping you grow from within - giving you the skills to embrace change … With proud hearts, we send our best out in to the world."
View the Mount Royal social media Storify of the events.
Bachelor of Midwifery
The soon-to-be midwives walked the stage in pride, celebrating the closing of a four-year educational chapter that will see them providing primary health care to women from the time of conception to the first six weeks of new babies' lives.
"The caliber of the first graduating class of the Midwifery program is a testament to the incredible collaboration between students, faculty and preceptors that took place over the past four years," explains Pam Nordstrom, PhD, director of the School of Nursing & Midwifery.
The program received provincial approval in May 2011, and it quickly set its wheels in motion bringing 14 students on board in September of the same year.
"In many ways, we got to shape the program ... We could see things changing year after year thanks to the faculty who did a great job implementing feedback from students," said Elizabeth Finn, who is among the eight students graduating from the Bachelor of Midwifery program.
View the videos of the Spring 2015 Valedictorians

Alyssa Denis - Faculty of Health and Community Studies (Disability Studies)
Victoria MacPhail - Bissett School of Business (Accounting)
Kristin Gee - Faculty of Arts (Anthropology)
Olivia Grecu - Faculty of Communication Studies (Journalism)
View the videos of the Spring 2015 Convocation Honorary Degree Recipients
Honourable Donald S. Ethell, 7th Lieutenant Governor of Alberta
David Marshall, Past-President, Mount Royal University (2003-2011)

Spring 2015 Convocation Professors Emeriti
Anne Scrimger - Faculty of Teaching and Learning
Thomas E. Brown - Faculty of Arts (Humanities)
Irene Naested - Faculty of Teaching and Learning (Education - Elementary)

Bachelor of Education - Elementary
More than 50 new Bachelor of Education - Elementary program teachers will be looking for their first positions in classrooms this summer, and they're prepared.
"It's wonderful to see our collective effort culminate in the graduation of our first cohort," said Jim Zimmer, PhD, dean of the Faculty of Teaching and Learning. "We believe that a four-year immersion in a program focused on the elementary setting provides our students with an excellent preparation for entry to the profession."
Students of the program get classroom experience from their first year of study at Mount Royal, after four years, they've had extensive training in classrooms working with elementary students under the leadership of their mentor teachers.
"Being in a classroom is really comfortable," said Luke Irwin, one of the program's first graduates. "I feel ready."
Chair of the Department of Education, Jodi Nickel, PhD, said that the Mount Royal program is based on research that supports classroom collaboration and instructional design.
"Our students are placed in practicum sites in cohorts of approximately four to six other teacher candidates with whom they meet for weekly seminars led by their faculty supervisors. This contributes to that critical collaboration and support that is advocated in the research," she said."(Students) also take eight curriculum courses so they have a strong grounding in instructional design in a variety of subjects. This has been applauded by local school boards."
The program complements teacher education programs offered by other providers in the province, while giving students with an interest in elementary education a distinct alternative.
Bachelor of Science in Environmental Science
This year's Convocation also highlights the growth of programs that were once applied studies. The Bachelor of Health and Physical Education, launched in 2014, graduated its first student, who fast-tracked to finish ahead of the inaugural class.
On June 5, Mount Royal also celebrated its first (11) graduates of the Bachelor of Science in Environmental Science (the program transitioned to a baccalaureate degree in 2013). The new grads will be ready to tackle issues facing our environment today and in the future.
"Environmental sustainability has become a critically important challenge worldwide and the need for highly-skilled environmental scientists has never been higher," said Jeff Goldberg, PhD, dean of the Faculty of Science and Technology.
Much like Mount Royal's new crop of midwives and teachers, the science graduates will be ready to hit the ground running in their new careers.
"We are proud to produce graduates who will enter the workforce with excellent experience and high-level skills that will enable them to assess environmental threats and create solutions for environmental health," Goldberg adds.
Honorary degrees
On June 5, Alberta's 17th Lieutenant Governor, the Honorable Donald S. Ethell, received an Honorary Bachelor of Arts (Psychology) Degree for his exceptional community service and commitment to the University.
David Marshall, PhD, Mount Royal's eighth president who oversaw the institution's transition into a university, will also receive an Honorary Bachelor of Education in Elementary for his dedication to launching the institution's Education program.
Read more about Mount Royal's 2015 spring Convocation honorary degree recipients.Valedictorians
Read more about Mount Royal's exceptional spring Convocation valedictorians: Alyssa Denis, Disability Studies diploma; Victoria MacPhail, Bachelor of Business Administration - Accounting with a minor in Finance and Economics; and Kristin Gee, Bachelor of Arts - Anthropology and Olivia Grecu - Faculty of Communication Studies- Journalism.
Spring Convocation 2015 Professors Emeriti
Read more about Mount Royal's spring Convocation 2015 professors emeriti: Anne Scrimger, Academic Development Centre; Thomas E. Brown, PhD, Department of Humanities; and Irene Naested, PhD, Department of Education in the Faculty of Teaching and Learning.
Award winners
On behalf of His Excellency the Right Honourable David Johnston, Governor General of Canada, Mount Royal University was pleased to congratulate two students for their outstanding academic achievements.
Jennifer Shaw was presented with the 2015 Silver Medal after graduating with a Bachelor of Business Administration - Marketing Co-operative Education. Shaw earned the highest GPA of all graduates of degree programs for 2015 with a GPA of 4.00.

Social Work Diploma student Melanie Angulo received the 2015 Bronze Medal. Angulo earned the highest GPA of all graduates of Mount Royal diploma programs for 2015 with a GPA of 4.00.
The Governor General's Medal, established in 1873, is one of the most prestigious awards that can be earned by a student in a Canadian educational institution for exceptional academic achievement.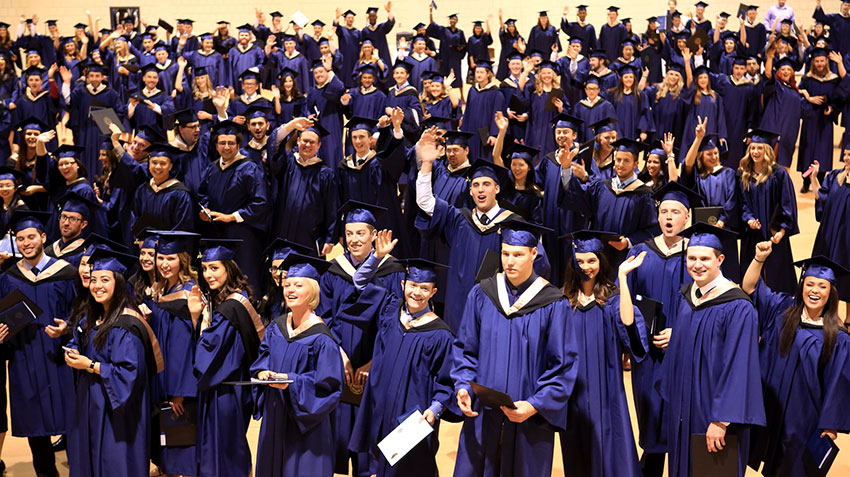 June 5, 2015 - by Laura Camelo, Marlena Cross, Bryan Weismiller