Cheers, applause, the clang of a cowbell and the blare of an air horn filled Mount Royal University's Triple Gym during Convocation ceremonies on June 6 and 7, 2013.
The Spring 2013 cohort is one of Mount Royal's largest, with more than 1,570 students graduating.
During three Convocation ceremonies, capacity crowds of proud families and friends gathered to watch graduates from every faculty cross the stage.
Graduates shared handshakes, high-fives and hugs with the faculty members who lined up on stage to congratulate them - a distinctive feature of Mount Royal's Convocation celebrations.
And the more audiences cheered, the bigger the smile on Mount Royal President David Docherty's face.
Presidential advice
In his remarks at each ceremony, Docherty encouraged the graduates to have fun crossing the stage. But he also gave some solid advice.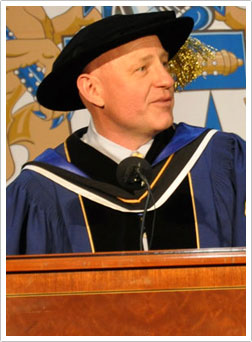 President Docherty addresses the crowd at Convocation.
"Your parchment is not the end - it is the challenge to continue to work hard, not just for yourself, but for your community and your country," Docherty said during the June 6 celebration.
"Hang your parchment on your wall, graduates and alumni. Let it serve as a reminder of how fortunate you were to have this experience, this knowledge and this opportunity - and how important it is that you do not squander this privilege by thinking only of yourself.
"Engage in your community. Give back, and you will find that you take things from your actions that will live with you forever."
Honouring scholastic excellence
During the ceremonies on June 7, Mount Royal Board of Governors Chair, Richard Shaw, presented the Governor General's Academic Medals. These are among Canada's most prestigious awards for exceptional academic achievement.
The Medals recognize students graduating with the highest grade point averages in degree and diploma programs at approved Canadian universities and colleges.
Carrie Doreen McManus is Mount Royal's 2013 Bronze Medal recipient. A student in the Social Work Diploma program, McManus graduated with a 4.0 grade point average, the highest GPA of all 2013 Mount Royal diploma graduates.
Francesca Gabaldon received the Governor General's Silver Medal, which is awarded to the Mount Royal undergraduate degree student with the highest grade point average. Gabaldon graduated from the Bachelor of Business Administration program with a grade point average of 4.0.
Honorary degree honours achievement
At the morning ceremony on June 7, Mount Royal bestowed an honorary Bachelor of Business Administration on WestJet President and Chief Executive Officer, Gregg Saretsky, in recognition of his exemplary leadership and his commitment to Mount Royal.
Honorary degree recipient Gregg Saretsky.
Saretsky regularly visits with Aviation and Business students and, earlier this year, a
bursary in his name was created at Mount Royal
in recognition of his receiving the Alberta Venture Business Person of the Year Award for 2012.
Saretsky started his remarks by sharing the story of his own career, a path "filled with twists and turns" since graduating from the University of British Columbia 31 years, two countries and four companies ago.
"My message to you students is to not worry about what you do next, because life has a strange and mysterious way of helping you find that for yourself," he said.
"Your work is going to fill a large part of your life, and the only way to be truly satisfied is to do the work that you believe is great work. And we only do great work when we do what we love."
Saretsky concluded by encouraging graduates to explore, dream and discover.
"Follow your passions. Work hard. Continue to learn and develop skills … and come to understand that success always comes to those who follow their passions," Saretsky said.
Honouring the Chief
It was the second honorary degree of Spring Convocation. At the June 6 ceremony, an honorary Bachelor of Arts - Criminal Justice was presented to Calgary Chief of Police Rick Hanson.
Hanson completed his police recruit training at Mount Royal in 1975. Appointed Chief of Police in 2007, he has been instrumental in building safer communities through programs such as Start Smart Stay Safe, a collaboration between the Calgary Police Service, Mount Royal, the Calgary Catholic School Board and the Calgary Board of Education.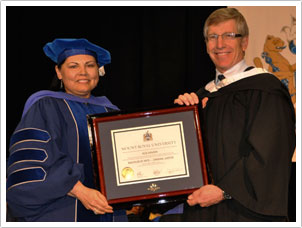 Police Chief Rich Hanson receives his Honorary Degree.
In his remarks, Hanson spoke about the importance of understanding, respect and compassion.
"In today's complex world, we never truly know what stressors or challenges an individual may be experiencing, nor will we ever really appreciate how much impact a single act of kindness may have on another's life," Hanson said.
"Technology has allowed us to be far more efficient, but compassion and respect are what truly make a difference in the quality of life we all want. So never put off what you know in your heart needs to be done today.
"The opportunity for each of you to create a rewarding career is better than it ever has been. But the quality of life in this city will be determined not by economic success, but by the sense of community which you establish through your interactions with each other," Hanson said.
Professor Emerita named
Mount Royal's Board of Governors also named Mardy Roberts as Professor Emerita during the June 6 ceremony.
This designation recognizes retired faculty members for their significant contributions to Mount Royal, and the University's Acting Provost and Vice-President, Academic, Manuel Mertin, paid tribute to Roberts as he announced the award.
"Mardy exemplifies excellence in teaching and learning, and was instrumental in helping to build Mount Royal's reputation," Mertin said.
"Among faculty and staff, her dedication to students, her colleagues, her faculty association and the University is renowned."
Roberts retired in 2012 after teaching psychology at Mount Royal for more than 40 years, but she continues to teach one class per semester with the Department of Psychology.
"Mardy will continue to enhance the reputation of the University as Professor Emerita where she will continue to guide, mentor and direct new faculty and students," Mertin said.
Lessons in citizenship
Each of the three June Convocation ceremonies featured a Valedictorian speech.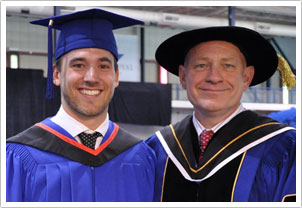 Valedictorian Mike Wenzlawe celebrates with President Docherty.
At the afternoon ceremony on June 7, Valedictorian Michael Kurt Wenzlawe began by taking a panoramic photo from the podium of his fellow graduates.
"I'll post that on Twitter later," promised Wenzlawe, who is graduating from the Bachelor of Applied Ecotourism and Outdoor Leadership program.
His speech touched on themes of reflection and being present in the moment.
"We already know that the past shapes who we have become, and we can agree that it is the 'now' that determines who we are. But it is within the future that we can dream about the limitless," he said.
"If there is one lesson I have learned through my time at Mount Royal, it is the importance of ignoring the very idea of restrictions. Anything you take on in life, good or bad, is beneficial as you have the ability to learn from it.
"Refuse the notion of satisfactory. Play outside your comfort zone. Welcome failure, because in failure we acknowledge our pursuit of the unknown," said Wenzlawe.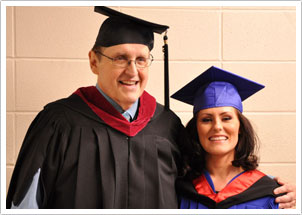 Valedictorian Michelle Dennis with Dean of Communications Marc Chikinda.
Bachelor of Communication - Public Relations graduate Michelle Dennis spoke at the morning ceremony on June 7.
She began her remarks by welcoming graduates, their supporters, and Mount Royal faculty, staff and administrators. Then she confessed that she had struggled with what to say, even though she has dreamed of being Valedictorian from the age of 10.
"I didn't know whether to give you the quintessential speech of 'We worked hard and we made it!' or whether to shock you with the reality of what you are about to experience as new grads," Dennis said.
Ultimately, Dennis assured her fellow graduates that every lesson they have learned at Mount Royal is applicable to life beyond university.
"We realized that our responsibility is to change the world, starting with ourselves. And we proved that miracles happen one day at a time; one assignment at a time; one keystroke at a time," Dennis said.
"I hope you remember where you came from and I want you to carry these words with you as you leave: live with integrity. Take risks. Don't be so hard on yourself. And remember, it's not what you do but how you do it."
Her closing words were greeted with a standing ovation.
Dennis also received the Mount Royal 2013 Centennial Media, presented to a student graduating from a Mount Royal degree program who simultaneously demonstrates academic excellence and leadership in campus and community activities.
On June 6, the Valedictorian was Megan Duffy, who is graduating with a Bachelor of Arts in Psychology.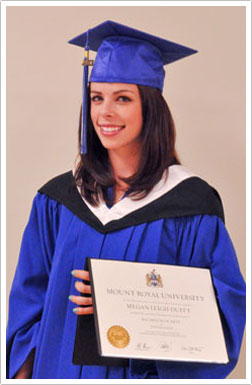 Valedictorian Megan Duffy.
Her speech focused on themes of kindness as she described the delight she gets from the daily greeting provided over the speaker system by one particular LRT driver as his train enters the downtown core.
"This small gesture from a man I wouldn't know to look at reminds me that we don't need to be Mother Theresa or Ghandi or Bill Gates to make an impact on the world," Duffy said.
"It is not our achievements that make us great. It is our day-to-day choices that make us who we are, rather than a bachelor's degree in the Sciences, or the Arts, or Justice Studies."
Duffy concluded by talking about the lessons and the tools students have gained through their time at Mount Royal.
"Just as the train conductor can reach a few hundred people with his kind words and brighten their days, I hope that, as Mount Royal graduates, we can carry forward the lessons in community and citizenship and make this world a brighter place."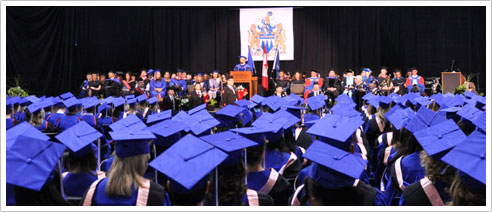 Congratulations to the class of Spring 2013!
To see more photos of the ceremony, visit the Convocation Photo Gallery.