Fall ceremony - Nov. 6, 2009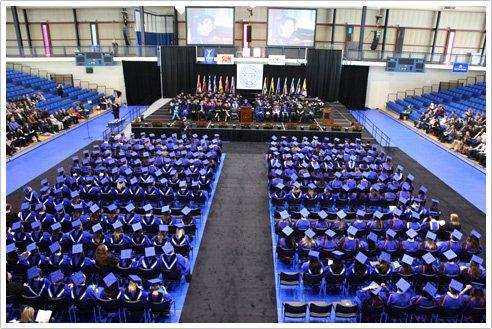 Mount Royal's first Convocation as a University was full of celebration, emotion and surprise.
Family and friends of more than 250 graduates filled the Triple Gym for the afternoon ceremony on Nov. 6. They burst into spontaneous applause as Board of Governors Chair, Cathy Williams, announced the importance of the occasion.
"Today is a milestone day in the history of this fine institution as we celebrate our very first Convocation as Mount Royal University," Williams said.
She went on to introduce former Mount Royal student, the Honourable Alison Redford, Minister of Justice and Attorney General and MLA for Calgary-Elbow, who brought greetings and congratulations from the Government of Alberta.
A surprise presentation
Following the Minister's remarks, the ceremony took an expected turn as Board Chair Williams returned to the podium.
"On behalf of the Board of Governors, I want to recognize one person who was instrumental in getting us to university status," Williams announced. "Becoming a university required the work and dedication of many people and it took the leadership of [Mount Royal University President] Dr. David Marshall."
She presented Marshall with a sculpture of a small blue chair, created by Calgary artist Jeff de Boer. The chair motif is central in the celebrations and advertising around Mount Royal's name change.
"This chair is becoming an emblem of what we stand for at Mount Royal University: ordinary chair, extraordinary possibilities," Williams said.
"With my thanks, I say to you, Dave: ordinary chair, extraordinary leadership."
Clearly moved by the standing ovation that followed, Marshall said, "Well, there goes my speech."
He confessed that the presentation was a complete surprise.
"What an honour it's been to work with the team at Mount Royal - the faculty, the staff, the management, the Board and all of you," he said, acknowledging the students.
"It's absolutely been wonderful and I'm glad that all of you, our students, are here at the end of one journey and the beginning of another."
Grads share memories: VIDEO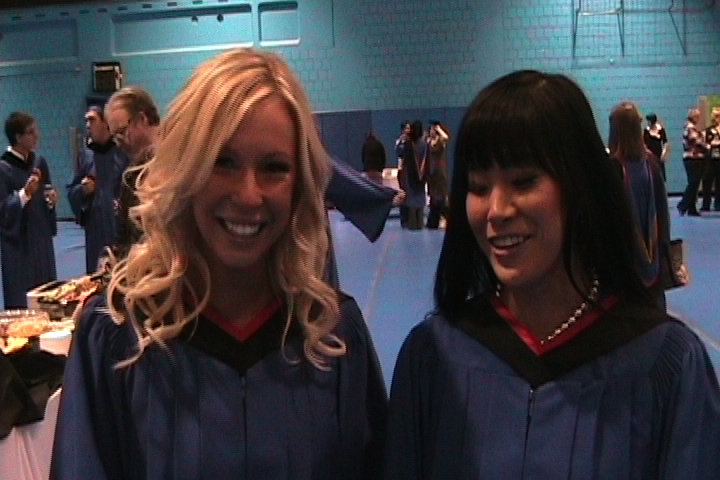 Inspirational words
As he continued his address to the graduates, Marshall focused on expectations.
"We have always intended that our graduates learn much during their time at Mount Royal," Marshall said.
"But we have always expected just a little bit more than simple knowledge accumulation from our graduates. Now more than ever, our society and our world are characterized by diversity, in political ideologies, environmental dictates, cultural practices, religion - I could mention many more.
"Sometimes those diverse perspectives lead to strife and serious conflict. But under the guidance of Mount Royal's faculty, you had the opportunity to explore and debate these differences, whether they be environmental, or in science, literature, business - whichever program you were in.
"From this experience, and your new knowledge, we would expect that you have come to a new understanding of the complexity of our world. Consequently we expect out of our graduates the ability to recognize that, despite this wide range of diversity and belief, we can all live together on this wonderful planet.
"I would like to assure you, and everyone here today, that the new Mount Royal will not change in either its expectation of the kind of student experience we provide or this outcome that we expect from our graduates.
"You are our first graduates of Mount Royal University and that comes, quite frankly, with a tremendous responsibility. We provided you with the experience, and now, we expect you to show the world notions like peace, and hope, and generosity, and sustainability -not just as phrases, but as a way of life.
"Here's where we get to this little tidbit of presidential advice: We want you to become the Mount Royal University graduate who will demonstrate to the world that as a Mount Royal University grad, it will be your human qualities, not the credential or even whether it's from a college or a university - it will be your human qualities that will ultimately determine your mark on humankind."
Convocation includes several firsts
In a break from tradition, graduates did not shake hands with President Marshall as they crossed the stage. Intended to help prevent the spread of the H1N1 virus, this measure resulted in each student standing proudly next to the President as they posed for a photo to mark the occasion.
In another first, Mount Royal's website featured live streaming video of the event. It continues to repeat following the close of the ceremony.
Valedictorian closes ceremony on a high note
Once every graduate crossed the stage, valedictorian Mariam Kadri took to the mike.
A graduate of Mount Royal's Broadcasting Diploma program, Kadri's light-hearted speech was inspired by the book Love is a Mix Tape by Rob Sheffield.
"In it, he writes, 'There are many different kinds of mix tapes. There is always a reason to make one,'" read Kadri before presenting her own imaginary grad mix tape to the audience.
"Track one: The Beatles. Hard Day's Night.
"I'm sure many of us have had a few bumps along the way. We've been through a lot and struggled with a lot," Kadri said.
"We were able to overcome these obstacles and achieve our goals by working hard. We did this with the help and support of our family, friends and instructors - which brings me to the next track."
That track was Don't You Forget About Me by Simple Minds, which Kadri used to urge grads to keep in touch with the people they have met at Mount Royal - both friends and instructors.
"Don't forget about your instructors - although I'm sure some of us probably want to forget a few," Kadri said, drawing laughter from the audience.
"What makes Mount Royal an amazing school is that we are lucky to have instructors here who teach what they love," she continued. "They were there to push us to do our best and to motivate us. I would not have had the success that I've had here without the help and guidance of my instructors."
The final track on Kadri's mix tape? Journey's Don't Stop Believin'.
"I'm sure many of us have been looking for work, and I'm sure many of us are still looking for work," Kadri said. "It's hard right now, and it's hard to stay motivated and not feel discouraged."
"The best advice that my instructors told me as well as my classmates is to have fun, be confident in yourself, be passionate about what you do and love what you do," Kadri said.
- Nancy Cope, Nov. 6
Cool Grads
Check out the stories of these cool grads.
Honorary Degree
The Nov. 6 ceremony also included an honorary bachelor of arts degree awarded. See video footage of Hal's acceptance speech.
Professor Emeritus
Check out stories, video and photos from the June 2009 Convocation.