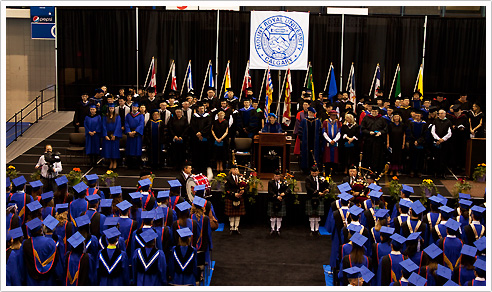 Convocation June 2010
The Triple Gym was full of quiet - and not so quiet - pride on June 4 as family and friends gathered to watch more than 500 Mount Royal University graduates cross the stage during two Convocation ceremonies.
Applause, cheers and joyful tears greeted the first graduating class of 2010 as they received their degrees, diplomas and certificates on what University President Dave Marshall calls "the best day of the year at Mount Royal."
In his remarks, Marshall read from a recent letter that was sent from a parent to a Mount Royal professor.
"A portion of the letter states, 'Although my son never said it, I know he felt that you believed in his ability, you believed that he could complete the program, and more importantly, you believed in him as a person … When a student feels validated in such a way, that is the greatest gift a teacher can ever give … He will not remember everything you told him, but he will never forget how you made him feel.'
"And I don't think anything represents the 99-year-old Mount Royal traditions of dedication to the success of our students better than the faculty, who have believed in each of you and your ability to learn and succeed," Marshall told the graduates, who responded with sustained applause.
Mount Royal "firsts"
There were many firsts at this Convocation, including the first graduate of Mount Royal's Bachelor of Science program to cross the stage.
As well, two students graduated with Honours Distinctions. Coincidentally, both are graduates of the Bachelor of Arts - Criminal Justice program.
"This is a first for the University and it is testament of the calibre of students at Mount Royal who will go on to pursue scholarly studies," said Chad London, acting dean of the Faculty of Health and Community Studies, as he recognized the achievements of the two honours students, Ann Belisle and Jessica Mercier.
This year, two students received Governor General's Academic Medals, which recognize the outstanding scholastic achievements of Canadian students graduating with the highest grade point averages in diploma and degree programs at approved colleges and universities. These prestigious medals celebrate and encourage academic excellence across Canada.
Leanne Hill is the 2010 Governor General's Collegiate Bronze medal recipient. She graduated from Mount Royal's Social Work diploma program with a 3.98 grade point average.
For the first time, Mount Royal awarded a Governor General's Academic Silver medal to an undergraduate degree student with the highest grade point average. Tania Robitaille graduated from the Bachelor of Business Administration program with a major in marketing - and a 3.99 grade point average.
Professor Emerita named
Mount Royal's Professor Emerita award was presented to Shirley King, PhD, in recognition of her distinguished 21-year career in the School of Nursing.
As he presented the award on behalf of Mount Royal's General Faculties Council, the University's Provost and Vice-President, Academic, Robin Fisher said it recognizes retired faculty members for significant contributions and exceptional service.
"During Shirley's career at Mount Royal, she placed a large emphasis on student learning and achievement," Fisher said.
"She was one of the first faculty members to infuse technology into the curriculum through the pharmacology course that she taught. She also introduced Personal Digital Assistant hand-held devices, also known as PDAs, to the clinical area."
Honorary degrees presented
Two honorary degrees were also presented. Renowned Calgary playwright Sharon Pollock received an honorary Bachelor of Arts during the morning ceremony for her outstanding contributions to the development of Canadian theatre.
In her remarks, Pollock recalled living "within spitting distance" of Mount Royal's original location on Seventh Avenue.
"And that connection with Mount Royal continued to grow over the years as I saw the vital role played by the institution, which some of my family benefited from. The institution provided opportunities, second starts, a supportive environment for students of diverse backgrounds and ages," Pollock told graduates.
"Truth be told, Mount Royal's contribution to the greater community extends and impacts in areas far beyond the strictly educational and academic. As its alumni, you now have much to be proud of - and much to live up to."
During the afternoon ceremony, an honorary Bachelor of Arts was bestowed on pre-eminent Canadian scholar J. Fraser Mustard in recognition of his outstanding contributions to research and policy on human development.
The honorary degree also recognizes Mustard's connection with Mount Royal through his work with the Centre for Child Well-Being. Established by the Faculty of Health and Community Studies in 2009, the Centre researches how to better support children and youth and the adults in their lives. It has recently created the Fraser Mustard Chair in Childhood Development - Knowledge of Early Brain Development.
"As post-secondary institutions attempt to establish early human development programs for families with young children, this university can be a leader in educating its students in how experience-based brain development in the early years … sets trajectories for mental and physical health, learning and behaviour throughout the life cycle," Mustard said.
"I hope to take part in your program to ensure all your future graduates will understand the importance of your work on early human development with families with young children."
Valedictorians share inspiration
Each Convocation ceremony ended with a valedictorian speech. At the morning ceremony, Bachelor of Applied Financial Services graduate James Vultaggio spoke of how his fellow graduates have come from many different backgrounds to share in a common goal - the pursuit of knowledge.
"We have all come from different places and paths in life, yet we all ended up answering the same call, the call that society has issued, the call for the next generation of educated people," Vultaggio said.
"Today, we can officially close this chapter of our lives - a milestone, if you will - and look forward to writing the next … We have worked hard, we are prepared, and the graduating class of 2010 is ready and eager to take on the world."
During the afternoon ceremony, Child and Youth Care Counsellor Diploma graduate Debra Raoufian gave a deeply personal valedictorian speech.
"When I dropped out of high school at the beginning of Grade 12, I never thought I would need to know the pronunciation of the word valedictorian, let alone be chosen to be the valedictorian for Mount Royal University," Raoufian said.
"Almost four years ago, at the tender age of 36, I hesitantly decided to attempt the world of academia again. Since I hadn't finished high school, I wasn't academically qualified but, thankfully, two program directors were willing to take a chance on me.
"For close to a hundred years, Mount Royal has been willing to give countless students a chance and that legacy continues on through me today. Thank you for the opportunity to fulfill a dream I never, ever thought would be realized."
- Nancy Cope, June 4, 2010
Grads talk about some of their favourite MRU memories ...
| | |
| --- | --- |
| | |
| Video - morning ceremony. | Video - afternoon ceremony. |
Speeches
Watch President Dave Marshall's speech.
Watch valedictorian Deb Raoufian's speech.
Learn more about Dr. J. Fraser Mustard and Sharon Pollock who have both been recognized with a Mount Royal University Honorary degree.
Governor General's Academic Medals
For more than 125 years, the Governor General's Academic Medals have recognized the outstanding scholastic achievements of Canadian students. Awarded to the students graduating with the highest averages in approved university, college and high school programs, this prestigious award celebrates and encourages academic excellence across the nation.
Congratulations to the Mount Royal University recipients of the Governor General's Academic Medals:
Tania Robitaille is graduating with a Bachelor of Business Administration with a major in marketing. She loves the blend of business and creativity that marketing offers - and, in marketing terms, a Governor General's Medal is a pretty impressive testimonial to have on your resume. "It's validation for all the hours studying and spending so much time on every assignment, every essay and every project," Robitaille says. "It's nice to make my family proud. It's a nice finish to the school year, knowing that my hard work is appreciated and recognized."
Leanne Hill has had a lifelong interest in helping people, but when she graduated from high school in 1979, she didn't have the opportunity to continue her studies. Today, she graduates with a Social Work Diploma and she has applied to the University of Calgary's Bachelor of Social Work program. "It's really exciting to know that my hard work has paid off," Hill says. "Winning this medal is such an enormous honour."
- Nancy Cope, June 4, 2010