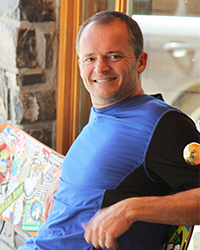 Glen Hogan
Critical Systems Supervisor, Building Operations

Glen Hogan started his career with Mount Royal University in 1982 - 35 years ago! He is the Critical Systems Supervisor for the Building Operations team and holds a master electrician certificate. Glen was the last apprentice with our Building Ops team, completing his term in 1989. The people at MRU is what has kept Glen coming back for 35 years. He loves working with all the different groups at the university and has built several life-long friendships with co-workers, staff and students. Everyday is a new day.

Glen was born in Thunder Bay, Ontario and moved to Calgary when he was 8 years old. He is happily married with 4 wonderful children - two boys and two girls. Glen is extremely passionate about tennis. When he is not working, you can catch him on the tennis court. He has played competitively for several years. In addition, he teaches tennis and sits on a local tennis club committee. Glen also has keen interest in astronomy. He enjoys setting up his telescope for all the big sky events and taking in the views. Other interests of Glen's include traveling, gardening and sustainable living
---
Candice Merrill
Security Manager

Candice Merrill has worked for Mount Royal University for 13 years (started in 2005). Candice started her career at MRU working part-time as residence security. Her current position at MRU is Security Manager. A proud moment for Candice at MRU was when she approached Mount Royal President, Dr. David Docherty about raising the Treaty 7 and Métis nations flags. She works closely with the Iniskim centre and was delighted to be a part of making these flags a permanent feature on campus. Candice's favorite part of working at the University is getting to know, and working with the staff and students. She has built several strong friendships throughout her years working here.

Candice was born and and raised and Calgary and studied Criminal Justice at Lethbridge College. She has been in a relationship with her highschool sweetheart for 18 years, they plan to get married when they reach the 20 year milestone! On her free time, Candice loves the best of both worlds - you can find her exploring the outdoors with her two siberian huskies, Finley and Nyah or lounging on the couch and catching up on Netflix. Other interests of Candice include: diy crafts, organizing things, meditation and collecting crystals.
---