Office of Academic Indigenization
Notice of Temporary Closure
Due to the evolving pandemic, OAI has elected to close our physical space and practice social distancing recommendations from Alberta Health Services and MRU. We are still here to support you and to connect via email through our "contact us" page. Please see further information at COVID19/index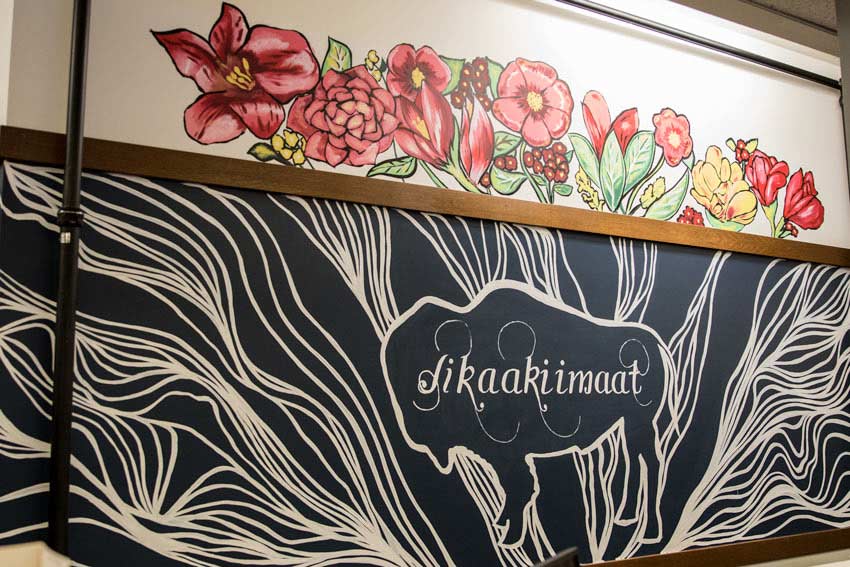 mural: Lauren Crazybull
Oki, Âba Wathtec, Danit'ada, Welcome! The Office of Academic Indigenization (OAI) opened in 2017 as part of Mount Royal University's Indigenous Strategic Plan. Our mandate is to contribute to the implementation of the academic goals listed in the Indigenous Strategic Plan, especially Goal 5: Respectful and Inclusive Curricula and Pedagogies. Guided by community advisory groups, Elders, students and faculty we provide leadership for curriculum development, professional development for faculty and staff, and academic support for current and prospective students. Our goal is to help decolonize post-secondary education by creating space for Indigenous voices, perspectives, and knowledges within Mount Royal.
The OAI acknowledges the partnerships with, and generous collaboration from, Indigenous community members across Treaty 7 to respectfully propel these developments forward.  We work regularly with citizens of the Niitsitapi (Blackfoot) confederacy (the Siksika, Piikani, and Kainai First Nations) the Tsuut'ina Nation, the Îyârhe Nakoda (which includes the Bearspaw, Chiniki, and Wesley First Nations), and Métis communities to help foster inclusive experiences for Indigenous students, faculty, and staff at Mount Royal. This in turn nurtures all relationships campus-wide. 
There is much work to be done across all areas of the University to honour the knowledges and pedagogies of Indigenous peoples; we hope to contribute to that learning for faculty, staff, and students alike.